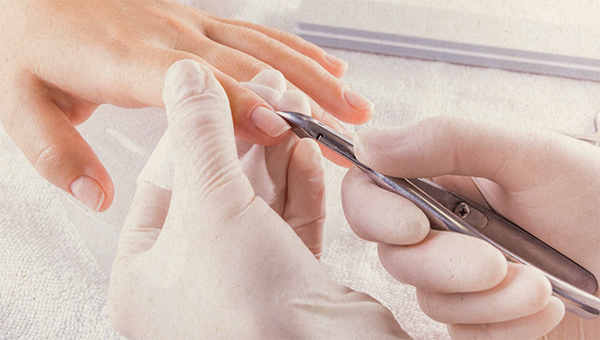 Good Evening, Petaluma –
And happy fall! The crisp mornings and clean air this past week have been breathing new life into our community. We love seeing the leaves begin to turn and watching Petalumans find new and creative ways to support one another during these unusual times.
Tonight's email is brimming with information we think you will find useful, informative, and maybe even inspiring. This evening, we are pleased to announce yesterday's decision to allow nail salons to operate indoors. We'll also share an update on COVID in Sonoma County and what it means for reopening, take a look at upcoming heat and high winds, point you to tips on dealing with wildfire smoke, review announcements from our Parks and Rec Department, and much more.
Please enjoy, share with friends, and have a lovely evening. We'll see you back in your inbox next Wednesday!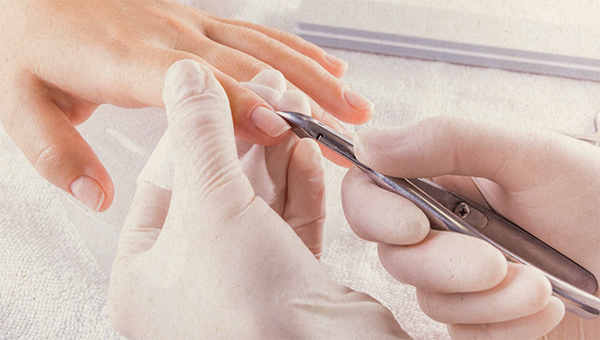 NAIL SALONS GET THE GREENLIGHT
Ready for a manicure? As of yesterday, per a change in State guidelines, nail services and physician-ordered electrolysis may be performed indoors. CLICK HERE for more information.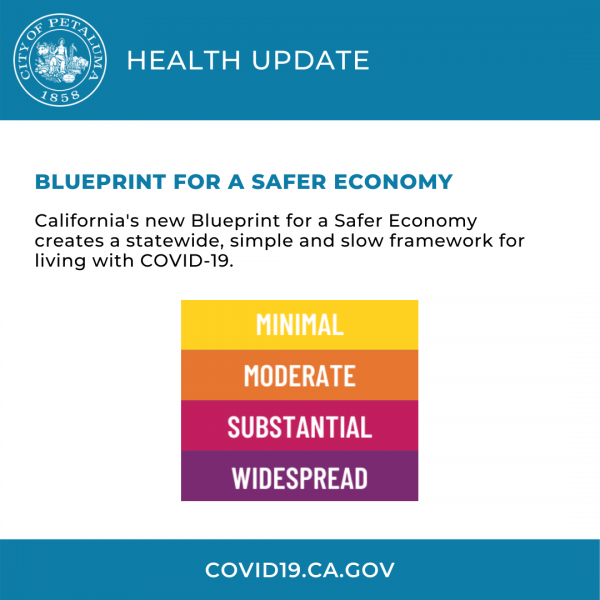 SONOMA COUNTY COVID-19 UPDATE
A message from the County of Sonoma:
California's new Blueprint for a Safer Economy creates a statewide, simple, and slow framework for living with COVID-19. While we continue to make progress in slowing the spread of Covid-19, Sonoma County remains in the purple tier of California's Blueprint for a Safer Economy. This is the most restrictive level based on 2 metrics: daily cases per 100,000 and test positivity rate.
As of this week, we are at 8.3 daily cases and our test positivity rate is 4.6%. We need both to be below 7 daily cases AND have a test positivity rate below 8%. For more information on our current status and which activities are allowed by the state, CLICK HERE to visit the California Blueprint.
TOGETHER WE CAN FIGHT THE SPREAD
Kaiser Permanente has put together a video outlining simple things each of us can do to fight the spread of COVID-19. Check out the video above and please remember to:
Wear a mask
Wash your hands
Stay 6 feet apart
Stay out of crowded spaces
CLICK HERE for more information from Kaiser Permanente.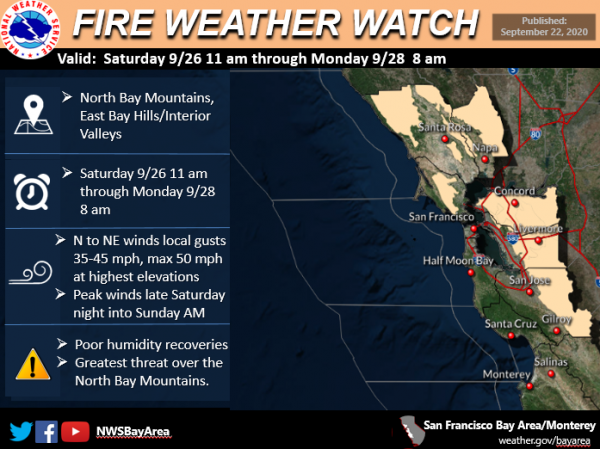 HOT TEMPS & HIGH WINDS
County officials and the National Weather Service are warning that hot weather and high winds could be headed our way this weekend. Anticipated to develop Friday and last through Tuesday, temperatures are expected to reach 90° – 100° F and will likely be accompanied by strong winds.
CLICK HERE for a video with more information from the National Weather Service.
It is possible we will experience a Red Flag warning, heat advisory, and power safety power shutoffs. Please spend some time reviewing our new Emergency Prep & Response webpage to be prepared should any of these things occur.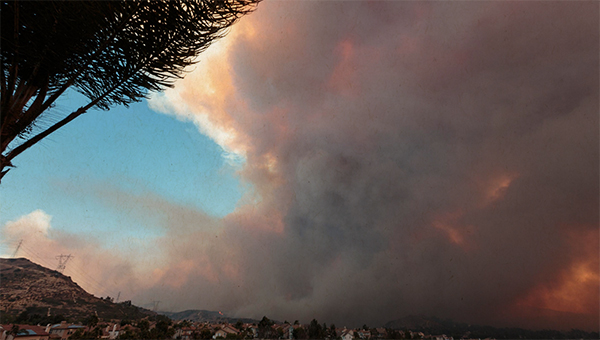 HOW TO PREPARE FOR WILDFIRE SMOKE
Air quality like we experienced earlier this month is no fun. It can be disconcerting (and downright scary) to not feel safe opening your windows or spending time outdoors. The Bay Area Air Quality Management District has put together a list of ways to prepare for dealing with wildfire smoke. CLICK HERE to read it.
While we hope we have seen the last of smoke in our skies for 2020, let's all do our best to be prepared should it return.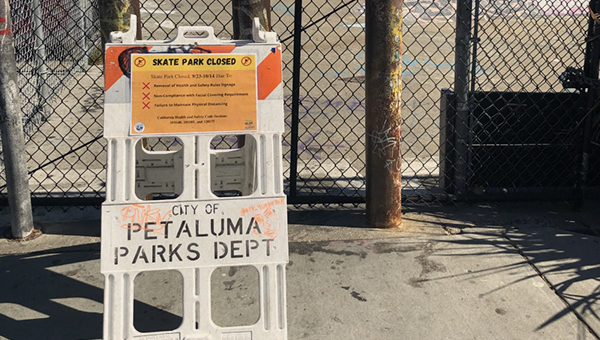 PARKS & REC UPDATE
Skate Park Closure
The Petaluma Skate Park will be closed, 9/23-10/14 due to the following:
Removal of Health and Safety Rules Signage
Non-Compliance with Facial Covering Requirement
Failure to Maintain Physical Distancing
Questions may be directed to Parks and Recreation staff at 707-778-4380 or [email protected]
Petaluma Boo
We all know and recognize that Halloween 2020 is going to be much different than years past. However, that doesn't mean that it can't still be fun and memorable. We are excited to share information about an upcoming community-involvement event called "Petaluma Boo" that involves anonymously gifting your friends and neighbors with a Halloween surprise!
For more information about this event and to participate, visit petalumaprograms.com/our-services.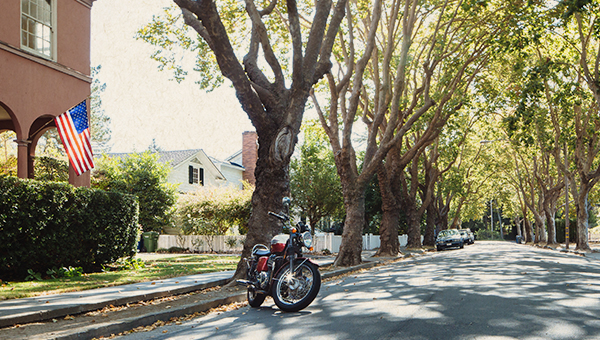 URBAN LAND INSTITUTE PANEL VISIT
As we shared last week, the City has partnered with the Urban Land Institute (ULI) to explore ways to facilitate housing development that maintains the character of our community and protects the environment.
This past week, we welcomed a ULI San Francisco Technical Advisory Panel (TAP) of urban designers, architects, developers, and economists, each leaders in their respective fields, to offer objective and expert advice on ways to create housing while respecting our commitment to responsible smart growth, which includes sustainable development within our City .
The ULI TAP delivered a presentation and final analysis of their findings to the City Council, the Planning Commission, and the community at large at the virtual joint Planning Commission Meeting and City Council meeting, on September 22, 2020 at 7:00 pm. CLICK HERE to watch a video of the meeting and presentation.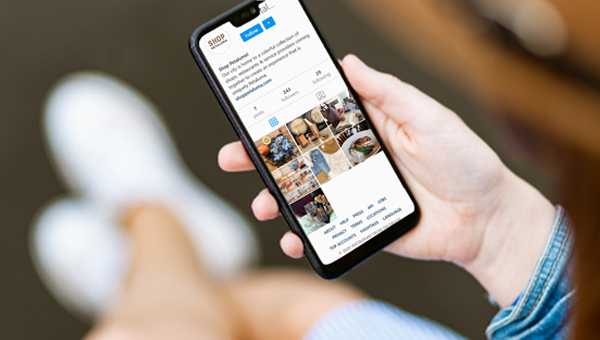 REMEMBER TO SHOP LOCAL!
2020 has been challenging for many of our beloved local businesses. Please remember to support local shops and service providers when you are making purchase decisions. These small businesses are an integral part of our community – let's show them we care!
Wondering what local businesses have to offer these days? Check out ShopPetaluma.com to find out!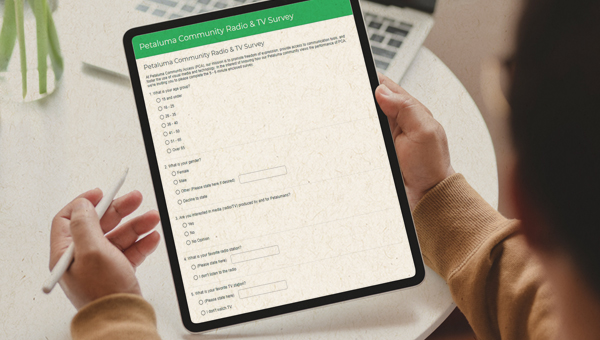 FILL OUT THE PCA SURVEY
Do you know that Petaluma has our own television and radio stations? We do!
Petaluma Community Access (PCA) has been running television stations, manning the broadcast of our City meetings, and broadcasting content provided by our neighbors for nearly 25 years!
There is NOWHERE else that you can listen to LOCAL voices on LOCAL issues and nowhere else that you can have your voice heard by THIS community. PCA has a brief survey asking questions about what you know about them, what you like about them, and how they can serve you better.
Please answer these questions for them, but more importantly, share them with your friends and neighbors so that they can continue to strive to be the BEST they can be. PCA loves Petaluma!!
CLICK HERE to take the survey.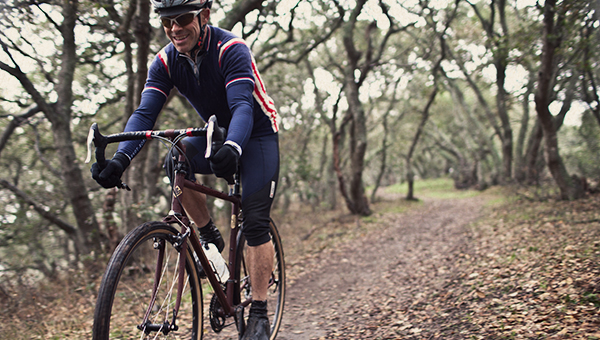 BIKE TO WHEREVER DAYS
Join the Sonoma County Bicycle Coalition – and thousands of folks throughout the Bay Area – in a host of cycling activities, challenges, and classes throughout the month of September. Set goals, track rides and mileage, join the month-long scavenger hunt, and more!
CLICK HERE for more information.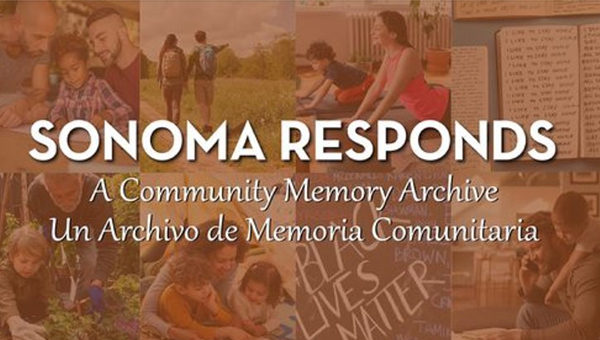 HELP BUILD THE MEMORY ARCHIVE!
The Sonoma County Library invites our communities to collectively build the historical record of living through COVID-19, Black Lives Matter, and the impacts on daily life locally. The library is launching an English/Spanish online portal where you can preserve your stories through a variety of media. The project is called: Sonoma Responds.
CLICK HERE for more information.

WE'RE HIRING!
The City of Petaluma is looking for talented people to join our team! Please click the links below for more information about our open positions. CLICK HERE for a full list of career opportunities.
Assistant City Attorney
Associate/Senior Civil Engineer
Housing Manager
Police Officer (Current Academy Attendees & Graduates)
Police Officer – Lateral
UPCOMING MEETINGS
The City of Petaluma is hard at work for our community. Please check out our upcoming meetings and click on the links below for more information:
September 23, 6:30pm – Regular Joint Transit Advisory and Pedestrian & Bicycle Advisory Subcommittee
September 24, 6pm – Public Art Committee
September 28, 7pm – SPECIAL Technology Advisory Committee
October 1, 4pm – Transit Advisory Committee
October 1, 6pm – Airport Commission
Check for upcoming meetings, agendas, and how to participate on the City's meeting webpage: https://cityofpetaluma.org/meetings/