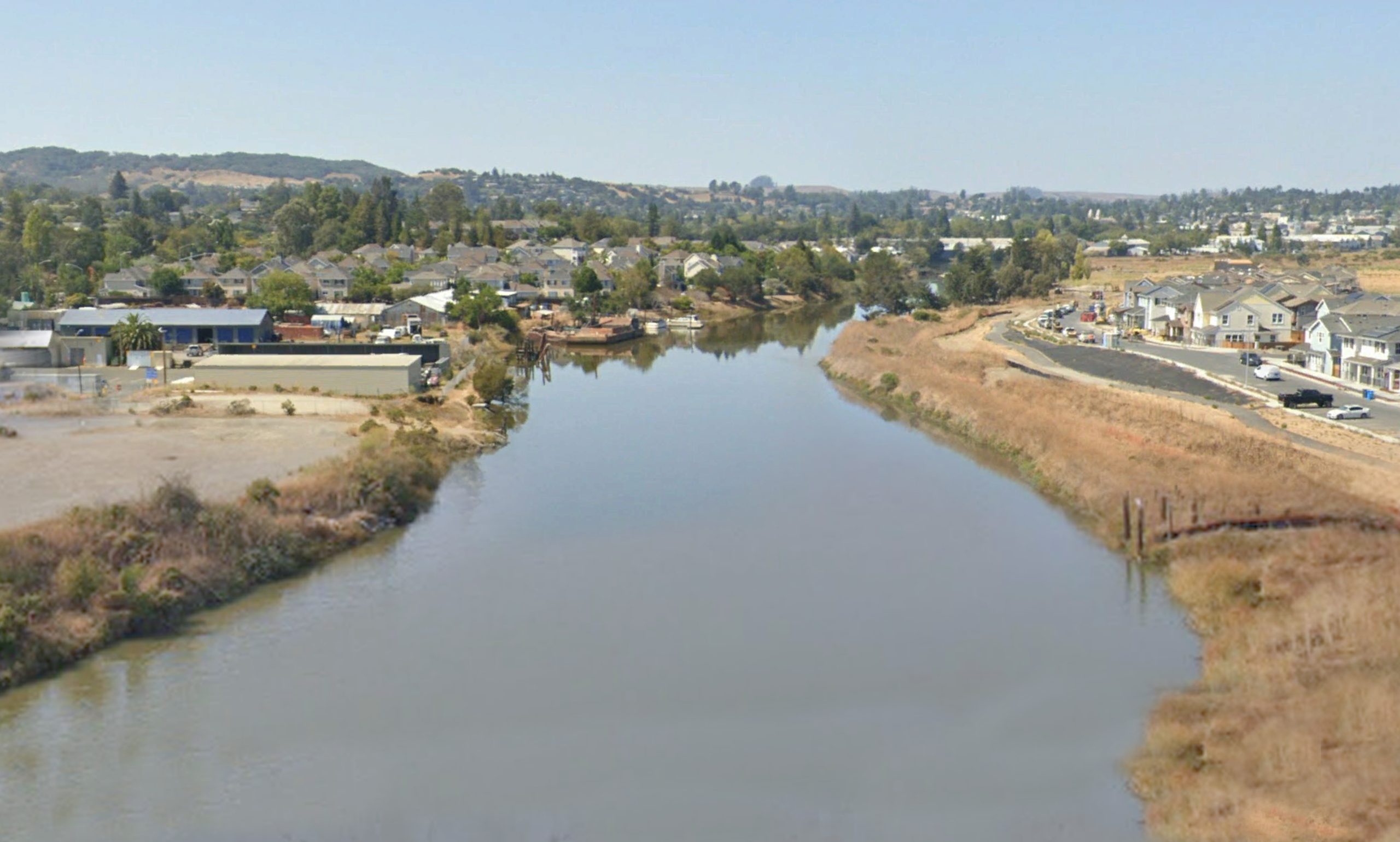 Happy Friday, Petaluma!
We hope you're enjoying the crisp fall mornings and the first taste this week of the coming rainy season! Here at the City, it's the perfect time to roll up the sleeves of our fleeces and buckle down to work. We have lots of updates for you in this issue of the Community Update, from crosswalks to cross-town connectors. Learn more about how you can get involved below!
Kentucky Street Crosswalk Improvements
The crossing in the middle of Kentucky Street is getting an upgrade!
Starting Monday, October 9 through the 19th, the City will have a team working to improve the sidewalk ramps around the crosswalk on Kentucky Street between Western Avenue and Washington Street. This is to help make the crossing easier and safer for people with disabilities. They'll take out the old ramp and put in a new one that's designed with safer slopes and yellow raised markers. The project will also coincide with the work a property owner is doing on a sidewalk nearby to remove cracks that can lead to tripping.  
There are two trees near the curb ramps that we might need to remove. They're not native to our area, and they're causing problems – they're growing too close to a fire hydrant, branches are hanging too low, and the roots are damaging the sidewalk. We will plant new trees in their place and add root protectors and water bags to keep them healthy.  While the team is working, some parts of the sidewalk and crosswalk might be closed off, and it might get a bit noisy. But when it's all done, walking downtown will be safer for everyone. 
Remember the Pride Crosswalk? That colorful street art we all love? It's getting a fresh coat of paint to make it last longer! Renee HO from the local group, Amor Para Todos, is heading this up. She's teaming up with city experts to make sure the new paint sticks around. This will be done in a few months after the sidewalks are fixed, and when the weather is good for painting. 
If you have questions or concerns, contact Ken Eichstaedt, at 707-776-3672 or KEichstaedt@cityofpetaluma.org.  
Lucchesi Skatepark Plan Approved by RMPC
On September 20, the Lucchesi Skatepark project team presented an update to the Recreation, Music, & Parks Commission at its regular meeting, focusing primarily on the latest version of the proposed concept plan. Commissioners unanimously adopted the plan and referred it to the City Council for approval.
Meeting materials and a recording are available on our project webpage, cityofpetaluma.org/skatepetaluma, under "PROJECT UPDATES." 
The project team is tentatively scheduled to present the proposed Lucchesi Skatepark concept plan to City Council at its regular October 16 meeting. Meeting details will be posted to the project webpage and shared via email when available.
Visit cityofpetaluma.org/skatepetaluma to learn more and sign up to receive project updates.
Explore Ellis Creek During Shollenberger Closure  
PG&E has plans to upgrade an important gas main underneath Shollenberger Park. The upgrade will make the gas main safer and more reliable for our community. Work will begin in October and is expected to last through December. During that time, the southern portion of Shollenberger Park will be closed to the public on weekdays with limited access during weekends.
Want to enjoy a walk in the wetlands while Shollenberger is closed? Head down the road to Ellis Creek Pond Loop at our Ellis Creek Water Recycling Facility. Located less than a mile from Shollenberger's main parking lot, Ellis Creek offers over 2 miles of trails and a wonderful array of birds and wildlife to observe. Signs directing Shollenberger patrons to the Ellis Creek Pond Trail will be posted throughout construction. Learn more about Ellis Creek HERE.
CLICK HERE to learn more about the project and closures at Shollenberger Park.
Daily Acts: Land Resilience Partnership
Join the Land Resilience Partnership!
Is there a place in Petaluma where you live, work or play that would benefit from the addition of rain gardens, greywater reuse systems, turf conversions, or planting habitat and shade trees? 
Daily Acts is partnering with the Land Resilience Partnership to help Petaluma renters, homeowners, and businesses build climate and drought resilience, focusing on areas where there has been the greatest drought and flood related impacts. 
A total of 150 sites will receive planning and design support, and 75 of those selected will receive materials support. If you're in Petaluma and you'd like to be considered as one of the project sites, learn more and apply today!
Upcoming City Meetings
Our City staff is continually working to improve our community – whether it's making much-needed upgrades to our roads, redesigning community parks, or planning for the future needs of Petalumans – and your input is an essential part of our process! Read on for opportunities to have your voice heard (or simply learn more about) some projects that are currently underway.
Climate Action Plan: Open House
Thursday, Oct. 12
4:30-6pm at City Hall (before the Climate Action Commission Meeting)
Join us for a community open house to learn more about the Blueprint for Carbon Neutrality, the City of Petaluma's Climate Action Plan, before it's presented to the Climate Action Commission. We'll have food trucks and childcare available, provided in partnership with Cool Petaluma!
Learn More about the New Caulfield Bridge October 17
We're building a bridge, Petaluma! The Caulfield Bridge Crosstown Connector Project will create a new 500- foot moveable bridge (like the D Street bridge) over the Petaluma River connecting east and west Petaluma via Caulfield Lane to Petaluma Boulevard South. 
This bridge will provide a safe, convenient route for people walking, bicycling, and driving across town and will help to reduce traffic congestion on existing crosstown connectors. We want to design the bridge in a way that best serves the needs of the community.
PLEASE JOIN US FOR AN OPEN HOUSE OCTOBER 17  TO:
Learn more about the project 

Share your input on the bridge design 

Weigh in on overall look and feel (materials, colors, shapes, and art) 

Discuss amenities and bicycle/pedestrian accommodations 

Discuss accessibility components (benches, lighting, and bike lanes) 
WHEN: Tuesday, October 17, 6pm – 8pm
WHERE: Petaluma Community Center, 320 N. McDowell Blvd. 
Spanish interpretation is available upon request. To arrange for interpretation, please email: [email protected].
To RSVP and learn more about the project, please click here or visit the website cityofpetaluma.org/caulfieldbridge.
Community Events
With so many exciting community events going on this fall, the City is now hosting a Community Events calendar with films, gatherings, and more hosted by our nonprofit and community partners. CLICK HERE to see what's going on in Petaluma and how you can get involved!
Have an event that you'd like to submit for consideration? The City promotes events from our direct partner organizations, like ReLeaf Petaluma, Daily Acts, and more. Email [email protected] to find out if your event qualifies – and don't forget that the Downtown Association also hosts an event calendar at visitpetaluma.org!
JOIN OUR PETALUMA TEAM! 
The City of Petaluma is looking for talented people to join our team! Please click the links below for more information about our open positions. CLICK HERE for a full list of career opportunities.
Associate/Senior Civil Engineer
Police Officer (Current Academy Attendees and Graduates)
Public Safety Dispatcher – Lateral
Senior Administrative Assistant
Senior Transit Planner (Grants Management) / Transit Planner II
UPCOMING MEETINGS
The City of Petaluma is hard at work for our community. Please check out our upcoming meetings and click on the links below for more information:
October 2, 6:30pm – City Council/PCDSA Regular Meeting
October 3, 4:00pm – Historic & Cultural Preservation Committee Meeting
October 4, 6:30pm – Pedestrian & Bicycle Advisory Committee Meeting
October 10, 6:00pm – Planning Commission Meeting
October 12, 6:30pm – Climate Action Commission Meeting
October 16, 6:30pm – City Council/PCDSA Regular Meeting
October 18, 3:30pm – Tree Advisory Committee Meeting
October 18, 6:00pm – Recreation, Music & Parks Commission Meeting
Check for upcoming meetings, agendas, and how to participate on the City's meeting webpage: https://cityofpetaluma.org/meetings/