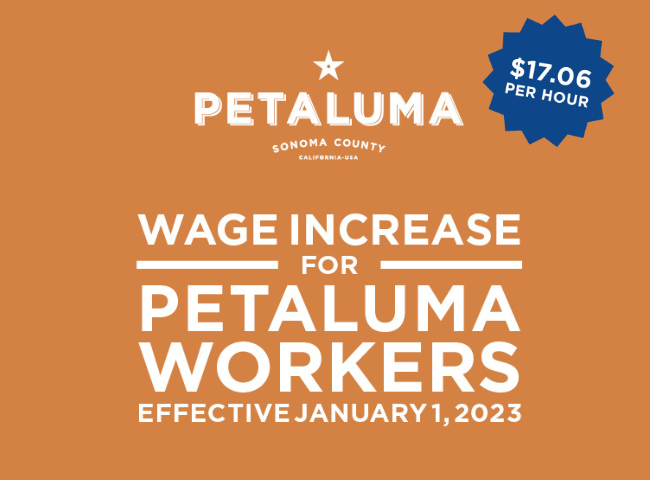 Happy Wednesday, Petaluma – 
We hope you were able to stay cool and enjoy your long weekend. As the heat continues, we are glad to see so many of you staying hydrated and taking the proper steps to avoid heat related injuries. Make sure to look out for your pets and loved ones and be sure to visit cityofpetaluma.org/heat for useful information about extreme heat.
Tonight's update includes a reminder for Monday's City Council meeting, an opportunity to learn more about the City of Petaluma Housing Element Draft, information about the upcoming minimum wage increase and new Pathway to Income Equity program, a chance to provide input on Kenilworth Park's renovation, and more!
Please enjoy, share with friends, and have a wonderful evening. We'll see you in your inbox next Wednesday! 
JOIN US MONDAY SEPTEMBER 12 TO DISCUSS PROPOSED OAK HILL WELL, TENANT PROTECTIONS, AND MORE
Please join us Monday, September 12 as the City Council reviews the proposed Oak Hill Well project, Residential Tenancy Protections, an Independent Police Auditor contract, and more. The Council will also issue a proclamation honoring Latinx Heritage Month.
Stay tuned to https://cityofpetaluma.primegov.com/public/portal to view the agenda when it becomes available. The agenda includes information about each agenda item and instructions on how to attend the meeting virtually. Spanish language interpretation of the meeting will be provided. 
HOUSING ELEMENT PUBLIC DRAFT FEEDBACK SURVEY & VIRTUAL OPEN HOUSE
The City of Petaluma is excited to share the draft of the Housing Element! The Housing Element addresses Petaluma's housing needs for the next 8 years, identifies opportunities to support the development of needed housing, and establishes clear goals and policies to inform future housing decisions.
The purpose of the Housing Element is to facilitate the production of a variety of housing types for different income levels, households, and family types. The Housing Element seeks to support housing production, improve and preserve existing housing in the community, and promote fair housing.
Since 2020, the City of Petaluma has been engaging the community to develop this policy document required by the State of California. To continue this, we want to hear more from you! Please take a moment to review the Draft and let us know your thoughts via the Housing Element Draft Survey available from 8/29/2022 – 9/28/2022.  Both the Draft and Survey can be found here: www.planpetaluma.org.
Mark Your Calendars!
Housing Element Public Draft Open House
Tuesday, September 20, 2022 – 6:00 PM
The City will host a Housing Element Public Draft Open House during which we will:
Discuss how we developed the Public Draft of the Housing Element

 

Inform the community about housing needs, sites identified for housing, and the many tools the City will use to support housing for our community 

 

Receive input from community members

After registering, you will receive a confirmation email containing information about joining the meeting. Spanish language interpretation will be available

 
PETALUMA MINIMUM WAGE TO INCREASE JANUARY 1, 2023
Starting January 1, 2023, the hourly minimum wage for all employees working within the Petaluma city limits will be $17.06. The 2023 wage reflects a 7.6% cost of living increase on the 2022 wage, based on the Bay Area Consumer Price Index for Urban Wage Earners and Clerical Workers (CPI-W). The annual CPI increase aligns with the State (July – June) using the prior year's Bay Area CPI-W.
For more information about the City's minimum wage ordinance, to download posters for noticing, and for answers to related questions, go to cityofpetaluma.org/minimum-wage. 
PATHWAY TO INCOME EQUITY PROGRAM APPLICATIONS ARE NOW OPEN
Working alongside Santa Rosa, Petaluma, and Healdsburg, the County of Sonoma is launching Pathway to Income Equity, a program that will provide a $500 monthly income to 305 low-income families. Over the next two years, the City of Petaluma will study how this approach helps reduce poverty and create economic stability in our community.
Guaranteed minimum income programs provide unconditional, guaranteed monthly payments to support recipients' fundamental needs. These programs have been tested in multiple jurisdictions in California, including Stockton, Oakland, San Francisco, and Marin County.
Payments will come from a $5.4 million fund pooled together by the county, nonprofit groups, and participating cities. The nonprofit, Fund for Guaranteed Income (F4GI), will disburse the funds. Applications opened on September 1 and will remain open through midnight, October 31. To apply, visit www.pathwaysonoma.org/apply. 
PROVIDE YOUR INPUT WITH THE KENILWORTH PARK RENOVATION SURVEY
The City of Petaluma is excited to announce plans to rehabilitate Kenilworth Park! Kenilworth Park is located just outside the Sonoma-Marin Fairgrounds, adjacent to the Petaluma Regional Library and Kenilworth Recreation Center.
Kenilworth is the largest community park serving the mid-town area and is in need of overall site improvements to better serve the community's growing needs. Improvements may include but are not limited to reimagined play spaces, improved access, drainage enhancements, tree work, park amenities, and pathway repairs.
Thanks in part to Proposition 68: California Drought, Water, Parks, Climate, Coastal Protection, and Outdoor Access for All Act, in combination with the voter-approved Sonoma County Measure M: Parks for All Initiative benefiting local parks, the city has an opportunity to invest these funds and engage the community to create a shared vision and address the parks most critical needs.
Generations of Petalumans have made memories with their friends, families, and loved ones at Kenilworth Park and we look forward to hearing from you and working together to help create an equitable, diverse, and inclusive space for future Petalumans to enjoy!
Click here to take our survey aimed at gathering community feedback and creating an exciting new play space that serves all of Petaluma. Please be sure to check back regularly for opportunities to provide input, get informational updates, and to track the project's progress! 
PETALUMA RECEIVES FUNDING FOR RECYCLED WATER PROJECTS
The City of Petaluma was awarded $6.9 million from our regional water partners, the North Bay Water Reuse Program, to expand our water recycling program. The money will pay for three projects that will allow us to recycle and distribute more treated wastewater that would otherwise be discharged to our river.  
The first project will allow us to treat and recycle 2.12 million additional gallons per day. 

 
The second and third projects will pay for new pipelines that will allow us to use recycled water in more areas along Maria Drive and along Adobe Road. 

 
To learn more about the North Bay Water Reuse Program, visit: www.nbwra.org. 
INTERESTED IN UPLIFTING THE VOICES IN OUR COMMUNITY? JOIN PECAC!
Interested in becoming involved in the future of equitable transportation in Petaluma? Apply to join Petaluma's Equitable Climate Action Coalition (PECAC) here!
PECAC is a platform to give input and issue recommendations on how the City can prioritize policies, programs, and resources to address transportation equitably. PECAC is launching the second phase of its program, which will be funded by the City of Petaluma.
Who is an ideal participant? 
You are interested and/or concerned about the links between equity, transportation, and climate change

 

You have the desire to participate in local government decision making

 

You have participated in community-building activities and are excited to give back to the local community
What support will you receive? 
Training on core concepts, listening session support, and guidance from Equity First Consulting & Daily Acts

 

Relationship building with local leaders, engaged community members, and elected officials

 

A stipend of $1,800
Applications are due on September 8. More information can be found here. 
REGISTER YOUR BASKETBALL TEAM FOR RIVERTOWN HOOPS!
With firework sales being banned in 2019, Petaluma People Service Center is offering a replacement fundraising opportunity for our local non-profits – Rivertown Hoops!
Rivertown Hoops is a 3on3 streetball basketball tournament with the inaugural tournament being held Saturday, September 24, 2022 at Petaluma Junior High School. All non-profits who participate in the tournament by supplying volunteers will receive a portion of the profits.
This year at least 88 teams are already expected to participate. If you have a team and would like to participate, submit your completed registration form on or before September 12, 2022.
To register your team and learn more about Rivertown Hoops, click here! 
UPCOMING EVENTS & ACTIVITIES
Whatever you like to do, Petaluma has an event you'll enjoy! Whether it's shopping at the Farmers Market, joining a docent-led walking tour of downtown Petaluma, or attending fundraisers or festivals to enjoy great music, delicious food, and local beverages, there's something for everyone to do in Petaluma.
This September, Petaluma is loaded with special events such as the Petaluma River Craft Beer Festival (Sept. 10), Fall Antique Faire (Sept. 23), and more. Go to VisitPetaluma.com to find activities to fill your fall calendar!
JOIN OUR PETALUMA TEAM!
UPCOMING MEETINGS
The City of Petaluma is hard at work for our community. Please check out our upcoming meetings and click on the links below for more information:
September 8, 8:30am – Senior Advisory Committee
September 8, 4:00pm – Transit Advisory Committee
September 8, 6:30pm – Climate Action Commission
September 12, 6:30pm – Meeting of the Petaluma City Council and Petaluma Community Development Successor Agency
September 13, 4:00pm – Historic and Cultural Preservation Committee
September 13, 6:30pm – Youth Commission
September 13, 7:00pm – Planning Commission
September 14, 6:30pm – Regular Joint Transit Advisory and Pedestrian & Bicycle Advisory Subcommittee
September 15, 4:00pm – Airport Operations / Master Plan Subcommittee
September 15, 6:30pm – General Plan Advisory Committee
Check for upcoming meetings, agendas, and how to participate on the City's meeting webpage: https://cityofpetaluma.org/meetings/