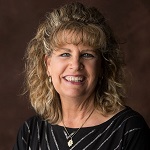 Email
Phone
Position
Tiny Tots Preschool Director
Roberta Guerra
Roberta has been teaching at Tiny Tots Preschool since 1992, and has been the Director for the last 8 years. She was born and raised in San Francisco, where she attended San Francisco State University. Roberta then moved from San Francisco with her family to be closer to her parents and brother's family. She attended Santa Rosa Junior College for her Early Childhood Education units. Roberta has 3 sons: Christopher (35), Matthew (32), and Joshua (31), and 2 grandchildren: Hunter (4) and Rose (2).
One of Roberta's many passions is to be able to bring music and song through playing the guitar and singing in the classroom. Throughout her life, she has dedicated her time to take care of children, and she's loved every minute of it! Some of the most important skills in working with preschool children are patience, love and flexibility. She believes that she tries to bring those qualities to Tiny Tots every day.
Roberta has a strong passion for teaching and making sure every child's needs are met, respected, and validated. She loves seeing smiles on children's faces when they learn something new. The Tiny Tot teaching staff is dedicated to the social and emotional development of each child, and as a team, they make it a goal to make sure that each child receives the best care and love that they all deserve.