Good Evening, Petaluma –
Tonight, we are pleased to bring you more news on the amendment to park closures. As the weather continues to get warmer, we look forward to being able to walk, bike, and jog in our neighborhood parks once again – all while adhering to social distancing guidelines! While this isn't a complete return to normal, it feels nice to be taking a step in that direction.
We've also included updates on COVID-19 statistics in Sonoma County, facial covering reminders, links to useful resources, and a great interview with the CEO of Redwood Empire Food Bank. Please, enjoy and have a lovely evening!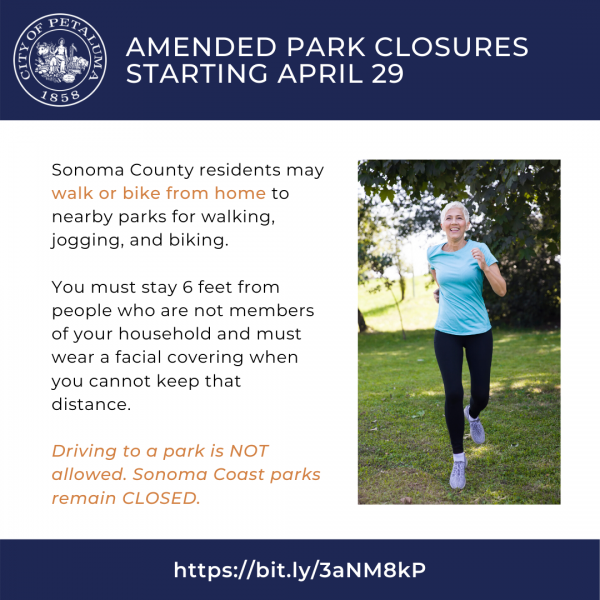 A WELCOME CHANGE TO PARK CLOSURES
Great news, Petaluma! Parks throughout Sonoma County are open today in a limited capacity. ​An amendment to the ​local parks closure health order​ has been issued to allow Sonoma County residents to walk or bike from home to nearby parks for walking, hiking, jogging, bicycling, horseback riding, and fishing. Driving to a park is not allowed and Sonoma Coast parks remain closed.
CLICK HERE to read the full Amended Parks Closure Order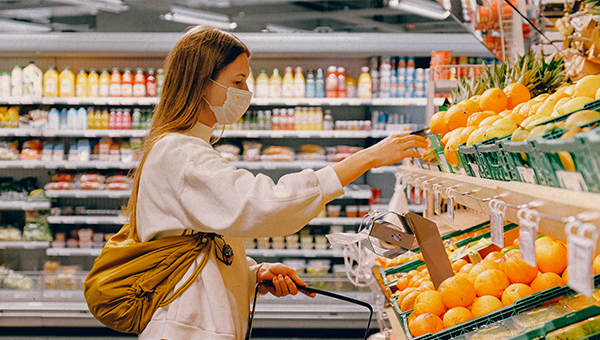 FACIAL COVERING REMINDER
A friendly reminder from the County of Sonoma:
The Health Officer has issued a Health Order ​requiring that everyone wear facial coverings​ to stop the spread of Coronavirus (COVID-19) locally. The Order became effective April 17 and states people must wear a facial covering before they enter an indoor facility other than their home, any enclosed space, or an outdoor space where they cannot keep a distance of 6 feet from others at all times. Cloth facial coverings should:
Fit snugly but comfortably against the side of the face.
Be secured with ties or ear loops.
Include multiple layers of fabric.
Allow for breathing without restriction.
Be able to be laundered and machine dried without damage or change to shape.
A NOTE FOR ESSENTIAL BUSINESS OWNERS
Every business has the right to refuse service to someone who isn't wearing a facial covering, although you're not required to by the Order. Keep in mind, there is a small percentage of the community who can't wear facial coverings due to health conditions. Make sure to check in with people who aren't wearing a facial covering.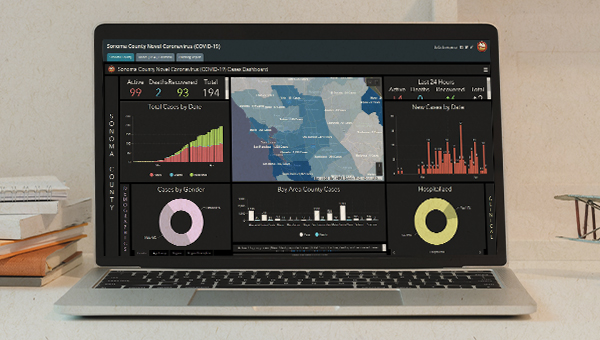 SONOMA COUNTY COVID-19 STATS UPDATE
We're back with our weekly update on COVID-19 statistics in Sonoma County. Per the County of Sonoma, as of April 28,​ there are ​228 cases of confirmed coronavirus, 121 active, 105 recovered, and 2 deaths in Sonoma County. 5,649 coronavirus tests have been completed.
For the most up-to-date information, please CLICK HERE to check out the Sonoma County Coronavirus Cases Dashboard.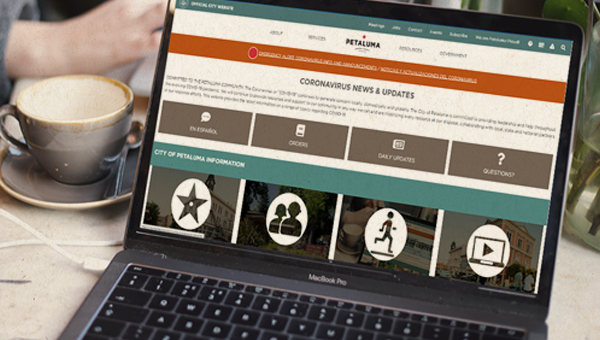 IMPORTANT INFORMATION FOR PETALUMANS
As part of our effort to provide our community the most relevant, up-to-date information on subjects surrounding COVID-19, the City of Petaluma has put together a webpage of resources. This one-stop resource center offers links to government and support services for residents and businesses, as well as links to general information on ways you can help during the crisis, school information, mental health resources, and much more.
CLICK HERE to check it out today!
PUBLIC MEETING TOMORROW: HAZARD MITIGATION PLAN
Would you like to learn more about what the City of Petaluma is doing to minimize the impacts of natural hazards, such as drought, earthquakes, flooding, sea level rise, severe weather, extreme heat, and wildfires. Would you also like to learn how the City will minimize impacts of human-caused hazards, such as hazardous material incidents?
On Thursday April 30th at 4pm, the City will be hosting a virtual public workshop on the Local Hazard Mitigation Plan. A Public Review Draft of the City's Local Hazard Mitigation Plan (LHMP) is now available for public review and comment.
CLICK HERE for more details on the plan and public workshop.
INTERVIEW WITH CEO OF REDWOOD EMPIRE FOOD BANK
Supervisor Gorin, chair of the Sonoma County Board of Supervisors, recently interviewed David Goodman, Chief Executive Officer of the Redwood Empire Food Bank. Check out the video above to learn some interesting facts about the food bank and their response to COVID-19.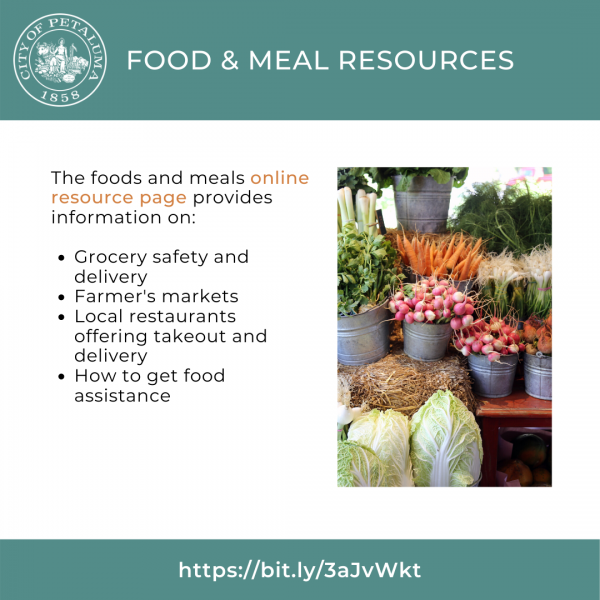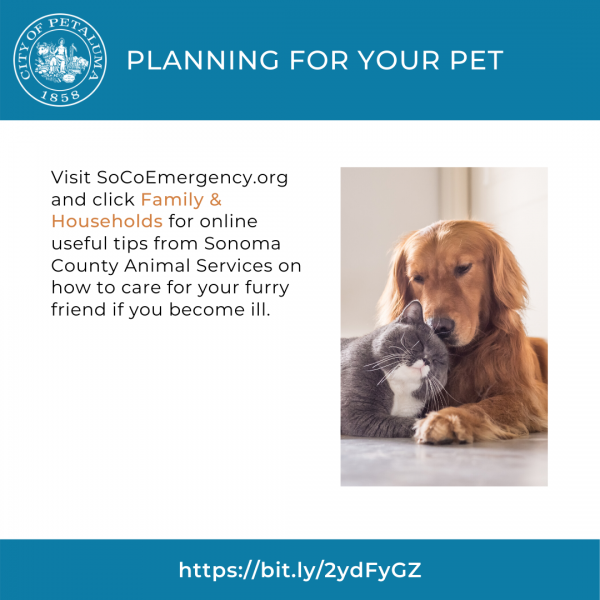 UPCOMING CITY COUNCIL MEETINGS
The City Council continues to work hard on behalf of Petaluma. In May, the Council will hold two regular meetings and one workshop.
On May 4, 2020, the Council will hold a regular meeting which will include discussion and direction on a rental assistance program and will consider an agreement with SMART for the construction of Petaluma's second station.
On May 11, 2020, The Council will review the City's budget and discuss the impacts of COVID-19 on the City's fiscal health and ability to deliver core services.
May finishes out with a May 12, 2020 Planning Commission meeting and another Council meeting on May 18, 2020.