Happy Friday, Petaluma!
And happy first day of May! The sunshine and cool breeze today have us feeling especially grateful for the simple things in life as we head into the weekend. Though social distancing continues, we hope you are able to find ways to connect with nature, family, and friends in the days ahead.
In today's update, we're sharing a recording of Governor Newsom's press conference from this afternoon as well as news about the upcoming extension to the County Shelter-in-Place Order, a delayed fee increase from our City utilities, the inaugural issue of our City Newsletter, resources for business owners, an inside look at the County's Emergency Operations Center, a new way to be #PetalumaProud, and more! Please enjoy and have a wonderful weekend!
IN CASE YOU MISSED IT
Governor Gavin Newson held a live press conference today to address California's response to COVID-19 and plans to move forward. Click on the video above for the full recording.

SHELTER-IN-PLACE UPDATE
Dr. Sundari Mase, Sonoma County Health Officer, will issue an extension to the Shelter-in-Place Health Order. In addition to extending past the current end date of May 3, this new order, which will go into effect on May 4, is expected to modify restrictions for several industry sectors including construction activity, real estate viewing, nurseries, florists, and landscaping/gardening. All businesses will still need to comply with social distancing and face covering requirements. The California Governor's Shelter-in-Place order does not have an end date and extends until further notice. We will share more details as they become available. For the most up-to-date information, please visit: https://socoemergency.org/
CITY DELAYS RATE INCREASES TO SUPPORT COMMUNITY
We at the City understand this health crisis has presented much of our community with new financial stressors. We are doing all we can to try and ease your minds and burdens, through sharing information on available resources and also by implementing several financial assistance measures.
A Transient Occupancy Tax (TOT) deferral program has been offered to hotel operators, the business license renewal due date has been extended, and late fees and payment plans have been waived and offered to all City customers in need.
In addition to these assistance programs, the City is also delaying the annual Consumer Price Index (CPI) fee increase on all user fees until at least October 1, 2020 – an increase that typically goes into effect annually on July 1.
By delaying the CPI increase, all customers that are typically billed for monthly rent or utility service, or who use general city services, will be given a bit of a break. For example, each utility customer will save an estimated $7.00 on their monthly bill. While this delayed fee increase does not provide significant savings, it does provide a reprieve from a cost increase that would have otherwise occurred in the midst of very trying times.

TAKE A LOOK BACK WITH US
Here at the City, we are working diligently behind the scenes to ensure Petaluma continues to thrive as things slowly begin to return to normal after the unprecedented events of the COVID-19 health crisis.
As we prepare for recovery, we are struck by what a strong, capable, caring community we have here in Petaluma. You have truly stepped up, helping those in need and being pillars of strength for loved ones and strangers. We are most certainly proud but, as we review our history, we are not surprised. Please join us today in taking a look back at what we achieved together in 2019 as told through our inaugural Community Newsletter!
The Community Newsletter highlights the achievements of our City from the previous year and outlines plans for the future. Reading through it today has made us feel so hopeful about what our community will achieve in the wake of these most recent unusual circumstances. We are strong. We are resilient. We are Petaluma!
CLICK HERE to read the first edition of our Community Newsletter!

RESOURCES FOR BUSINESS
Additional disaster recovery loans and grants have become available for businesses. Check with your bank or with the Napa-Sonoma Small Business Development Center for more information: https://www.napasonomasbdc.org/covid-19-resources
AN INSIDER'S LOOK AT THE COUNTY OF SONOMA OPERATIONS CENTER
Curious about County Emergency Operations during a pandemic? The Emergency Operations Center is the central location for emergency response activity. This emergency is unique, in that additional safety precautions and social distancing measures have been implemented to ensure employee's health and safety. Click the video above for an inside look!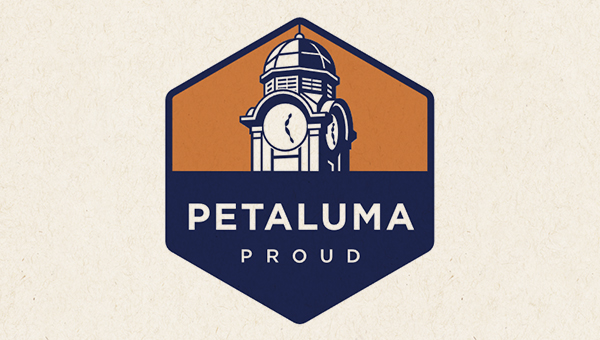 SHARE YOUR #PETALUMAPROUD MOMENTS WITH US!
We've said it before, and we'll say it again, we are incredibly #PetalumaProud of the way our community has come together to support each other through this health crisis. Now we want to hear from you!
During the month of May, share a picture on Instagram of things you, your loved ones, or your neighbors are doing to make Petaluma proud during COVID-19 using #PetalumaProud – we will repost our favorites!
Delivering groceries to a neighbor? Volunteering at the food bank? Having a daily phone call with someone isolated at home alone? Post a photo of it to Instagram and be sure to tag us using #PetalumaProud. We can't wait to see what you're up to!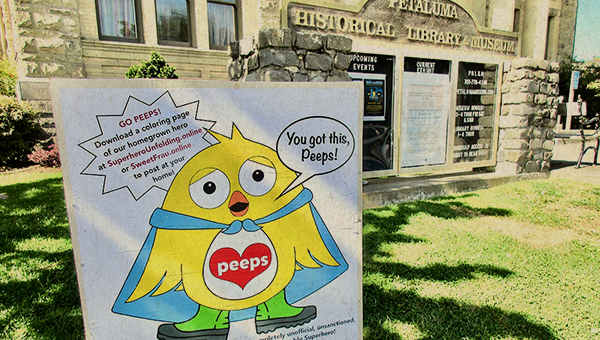 SIGN OF THE TIMES: INSPIRING OUR COMMUNITY
Creativity can be a powerful tool for good. This premise is driving local graphic artist Rayne Madison, aka "SweetFrau," to lift the spirits of her fellow Petalumans with a fun idea.
"I wanted to help others during the COVID crisis," says SweetFrau, who is currently unemployed. "I realized I could bring joy to the community by designing inspirational signs and posting them in public places. The goal is to make people smile and bring a little humor to this time of crisis."
Her signs feature the Petaluma Art Chicks, including "Chick P." who is "Petaluma's first completely unofficial, unsanctioned, unconventional, and unstoppable Superhero!
Chick P. is a plucky, undeterred bird who represents "the tenacity, strength, and bravery of a vulnerable chick entering into an uncertain world". The character hearkens back to Petaluma's days as the "Chicken Capital of the World."
Signs are currently installed at her house, on the lawn of the First Presbyterian Church (B Street), and at the Petaluma Museum. They have been well received by passersby, and have gotten lots of love on social media. The signs also include information on downloading coloring pages of Chick P.
SweetFrau hopes community members will help her identify other venues in highly trafficked areas of Petaluma where her signs would be welcome, and download the coloring pages for a fun activity at: https://www.superherounfolding.online
"I hope this project helps people discover their own joy, resilience, and inner hero," she says.
UPCOMING CITY COUNCIL MEETINGS
The City Council continues to work hard on behalf of Petaluma. In May, the Council will hold two regular meetings and one workshop.
On May 4, 2020, the Council will hold a regular meetingwhich will include discussion and direction on a rental assistance program and will consider an agreement with SMART for the construction of Petaluma's second station.
On May 11, 2020, The Council will review the City's budget and discuss the impacts of COVID-19 on the City's fiscal health and ability to deliver core services.
May finishes out with a May 12, 2020 Planning Commission meeting and another Council meeting on May 18, 2020.
Check for the upcoming meetings, the agendas, and how to participate on the City's meeting webpage: https://cityofpetaluma.org/meetings/
Help Get the Word Out
Please share this information – online or by phone, of course – with anyone you know who might need help now or at any time during this crisis. To subscribe, click here.