Good Evening, Petaluma –
As we progress down the path toward reopening and recovery, we are beginning to enjoy the perks of restrictions being eased. Today, we are happy to share an Amendment to the Parks Closure Order issued by the County of Sonoma! Please keep reading for details on what it means for us here in Petaluma.
This evening, we're also sharing local COVID-19 statistics, information around testing and doctor's visits, some exciting new plans for our streets, and updates on hot topics like highway-widening and river-dredging. Please read, enjoy, and share with friends. We will be back in your inbox Friday!
PARK ACCESS EXPANDED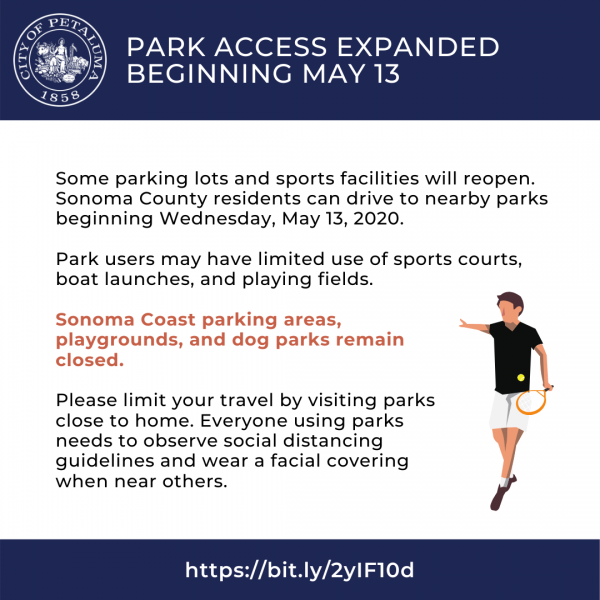 Effective today, the Sonoma County Health Officer has amended the Parks Closure Order to further open parks for outdoor recreation activities that are considered low-risk.
Please see below for what changes are expected here in Petaluma:
The use of sport courts such as tennis, basketball, bocce, and pickle ball is allowed, but only for singles matches or by members of the same household.
Parking lots have been reopened for most parks, with the notable exception of the Petaluma Community Sports Fields.
Park users are still encouraged to stay close to home and initiate their park visits from their place of residence, if at all possible.
Shared park amenities remain closed. This includes most public restrooms, playgrounds, dog parks, skate parks, picnic areas, drinking fountains, and barbecue areas.
Please remember to maintain 6 feet of physical distance when visiting any park and to carry a facial covering with you at all times.
Overcrowding in parks or evidence of widespread non-compliance while using recreational facilities may result in any or all of Sonoma County's parks being closed. We need your help keeping our community safe and our parks open!
CLICK HERE for more information about the amended parks closure Order.
For more Petaluma-specific parks information, please follow @petalumaparksandrec on social media or visit: https://cityofpetaluma.org/departments/parks-recreation/
Please contact Petaluma Parks and Recreation staff with any questions or concerns at 707-778-4380 or [email protected].

SONOMA COUNTY COVID-19 STATISTICS
The following are Sonoma County COVID-19 statistics as of May 13, 2020.
333 cases of confirmed
161 active, 168 recovered, and 4 deaths in Sonoma County
10,682 coronavirus tests have been completed
For the most up-to-date information, please visit the Sonoma County Novel Coronavirus (COVID-19) Dashboard.

WAYS TO GET TESTED
As we've shared over the past weeks, having adequate testing available is an important component of reopening. The County's goal is to test 600-800 people per day. There are now 3 ways for Sonoma County residents to get tested (please click the links below for more information):
County Drive-Thru Testing Sites – for essential workers, healthcare workers, first responders, and symptomatic people 65+ or with underlying health conditions
State-Run Testing Sites in Santa Rosa and Petaluma
Individuals with coronavirus symptoms should contact their medical providers to seek testing and treatment.
ACCESSING HEALTHCARE DURING COVID-19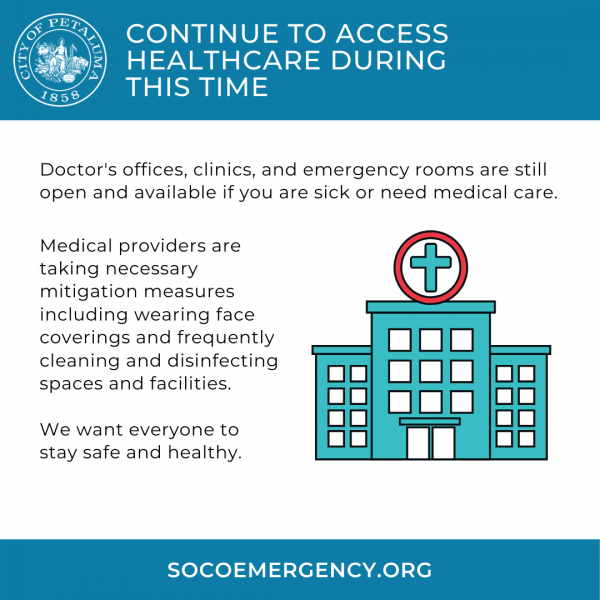 Please remember to continue to access your healthcare during this time. Per the County of Sonoma:
Doctor's offices, clinics, and emergency rooms are still open and available if you are sick or need medical care.
Medical providers are taking necessary mitigation measures including screening, wearing masks and requiring that patients wear facial coverings, maintaining physical distancing, and frequently cleaning and disinfecting spaces and facilities.
Please do go to the doctor or emergency room if you need to.
We want everyone to stay safe and healthy.
The Press Democrat recently reported on the changing landscape of medical visits during the health crisis. The article explains many people worry going to the doctor at the time could be unsafe, but medical facilities are taking extra precautions to ensure a safe environment for patients.
CLICK HERE to read the full article.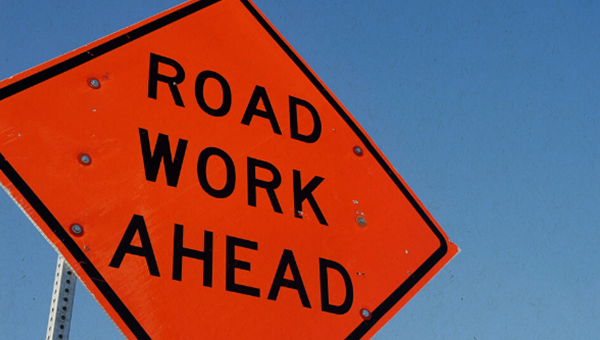 PROGRESS IS BEING MADE ON CITY PROJECTS
We at the City continue to work hard to keep projects moving forward through COVID-19 closures. In fact, some results of the closures (like less traffic) have allowed us to make more progress in a shorter period of time! The Argus Courier recently reported on the progress of some of our top projects, including highway-widening and river-dredging.
CLICK HERE to read the full article.
SLOW STREETS
Petaluma is launching a pilot project to provide more room for bikers and pedestrians to move around outside. The program will discourage driving on selected neighborhood streets with new street signage. The streets will be open to those who need the street to reach a destination and for emergency access. To see where these streets are or to request a designated street in your neighborhood, check out our Slow Streets webpage: https://cityofpetaluma.org/slow-streets-petaluma/
PETALUMA OUTDOORS
The City is looking at ways to support local business as we look towards limited reopening of restaurants and retailers.  To accommodate businesses as they open up in this "new normal" , staff are looking at  expanding business footprints in the public right-of-way which means possibly close portions of streets to make room for outdoor dining and shopping.  We will be sending out more details and a survey for community input this Friday.  Stay tuned and please respond to the survey when you see it.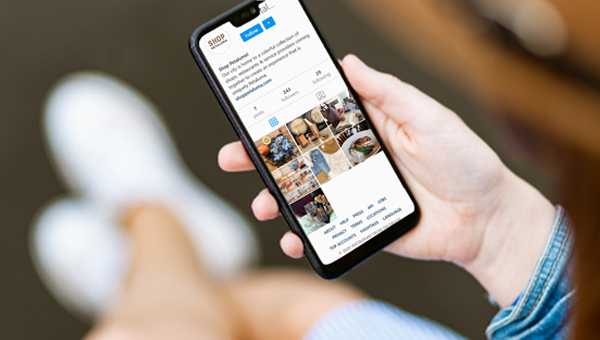 SHOPPETALUMA.COM IS PICKING UP STEAM!
Our new website, ShopPetaluma.com, is a great place to go to learn ways to support local business!  We created the site as a way to support our local business community, and we are so excited at the way Petaluma has embraced it!
Please be sure to follow us on Instagram (@ShopPetaluma.com), share with your friends, and make us your first stop when you have some shopping to do.
Thank you, Petaluma, for continuing to support the shops and service providers that make our community so special!
Want your business featured on ShopPetaluma.com?  It's FREE and easy to sign up.  Simply fill out this form and you'll be live on the site within the next 7 days!
UPCOMING CITY COUNCIL MEETINGS
The City Council continues to work hard on behalf of Petaluma.
May 18 – City Council meeting
Check for the upcoming meetings, the agendas, and how to participate on the City's meeting webpage: https://cityofpetaluma.org/meetings/