Happy Friday, Petaluma!
Today marks California's entry into Stage 2 of the roadmap for modifying the statewide Shelter-in-Place order. Closer to home, Sonoma County has amended our Health Order to more closely match that of the state. We are happy to announce many of our favorite local shops will be able to reopen for curbside delivery just in time for Mother's Day!
In today's update, we're diving deeper into what amendments to our Shelter-in-Place and Parks orders mean for you, sharing some great ways to support local this holiday weekend (our new website ShopPetaluma.com is a good place to start!), giving thanks to nurses, and more. Please enjoy, share with friends, and soak up some of the beautiful sunshine this weekend!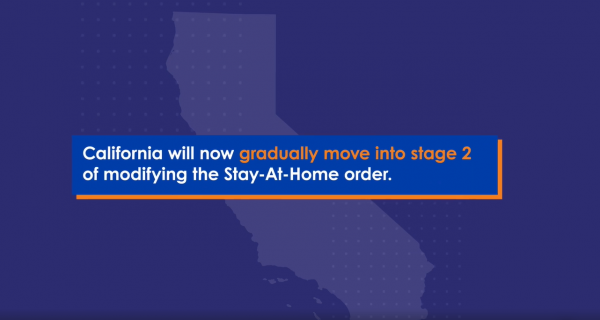 Governor Newsom announced today that the State of California is officially entering Stage 2 of the roadmap for modifying the statewide Shelter-in-Place order. This means some lower-risk workplaces can gradually open with adaptations. The state is issuing guidance to help reopen safely.
For more information, please watch the video above or visit: https://covid19.ca.gov/roadmap/
CLICK HERE for information on reopening plans for specific industries.
CHANGES TO SONOMA COUNTY SHELTER-IN-PLACE ORDER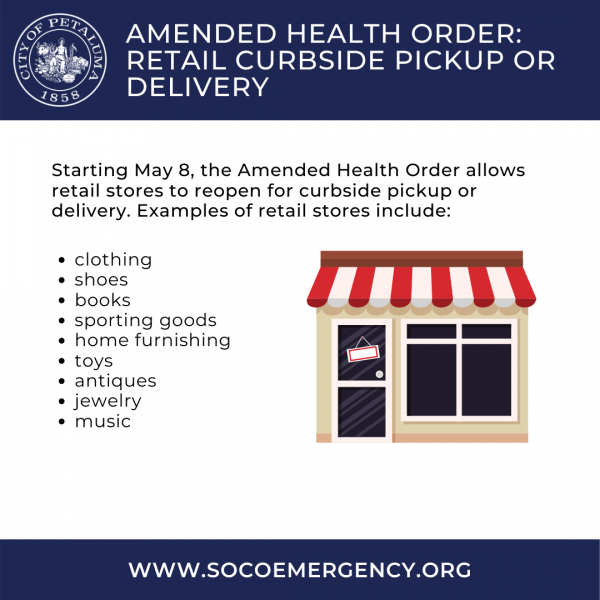 A message from the County of Sonoma:
Effective 12:01 a.m. today, May 8th, The Sonoma County Health Officer ​amended the Public Shelter-in-Place Health Order to reopen retail stores for curbside pickup and delivery.
These businesses include, but are not limited to bookstores, jewelry stores, toy stores, clothing stores, shoe stores, home and furnishing stores, sporting goods stores, antique stores, music stores. In addition, manufacturers that produce goods for essential businesses and retail stores may resume operations. Stores and shopping malls shall remain closed
This expansion was made possible by the Governor moving to the initial phase of Stage 2 of his Pandemic Resilience Roadmap and the success of the Shelter-In-Place order in Sonoma County in interrupting community transmission of the coronavirus.
Petaluma, we are so proud and grateful for all you have done to get us to this point. We are where we are because of your dedication in adhering to the unusual rules and guidelines of these past months. We know it hasn't been easy! Here's to moving along down the roadmap and a return to life as we knew it in the coming months.
CLICK HERE to read the amendment and to view answers to frequently asked questions.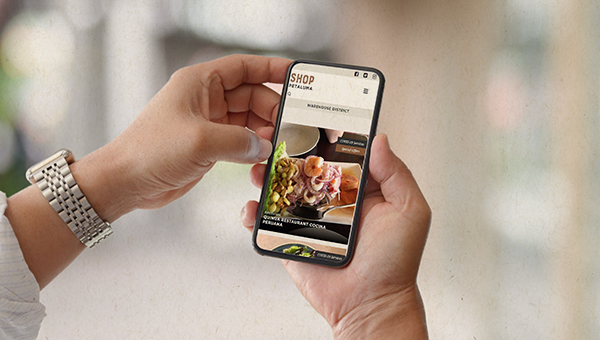 SUPPORT LOCAL AT SHOPPETALUMA.COM
As we shared yesterday, our new website ShopPetaluma.com has officially launched!
ShopPetaluma was born out of a desire to support the local businesses that have contributed so greatly to the culture of our town through the years. COVID-19 has presented many of these shops and service providers with some unique challenges and it is our goal to raise awareness for all the wonderful things they have to offer through Shelter-in-Place and beyond.
ShopPetaluma.com is a FREE service from the City of Petaluma and will soon expand to include gift cards for your favorite local shops and restaurants!
And there's more – ShopPetaluma is now on Instagram! Please give us a follow and share with your friends: @ShopPetaluma
If you would like your business listed on ShopPetaluma.com, please fill out this google form: https://forms.gle/Xm8afnKzV2V5zsui8
FISHING NOW PERMITTED AT CERTAIN LOCATIONS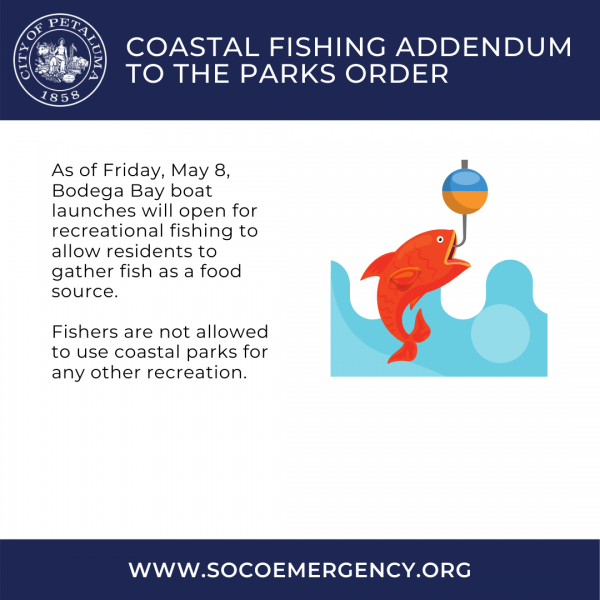 An addendum to the April 19 parks closure order ​​allows park managers to open Bodega Bay boat launches for recreational fishing beginning at 12:01 a.m. Friday, May8.​ The intent is to allow residents to gather fish as a food source.
The Westside Regional Park boat launch and Spud Point and Mason's Marinas are open. The launches at Doran Regional Park and the Sport Fishing Center are closed.
Boat occupants are limited to those sheltering in place together. Fishers are not allowed to use coastal parks for any other recreation.
CLICK HERE to read the full addendum.
 
IT'S A GREAT TIME TO GET OUTSIDE
All the sunshine lately has many of us itching to get outside and breathe some fresh air. Thanks to the recent amendment to the Parks Closure Order, we are able to do just that!
Per the County of Sonoma, parks throughout Sonoma County are now open in a limited capacity. ​An amendment to the ​local parks closure health order​ has been issued to allow Sonoma County residents to walk or bike from their homes to nearby parks for walking, hiking, jogging, bicycling, horseback riding, and fishing. Driving to a park is not allowed. Sonoma Coast parks remain closed.
Please remember to follow social distancing guidelines when you are visiting parks and other public spaces!
Please CLICK HERE to read the full Order.
CLICK HERE for answers to frequently asked questions.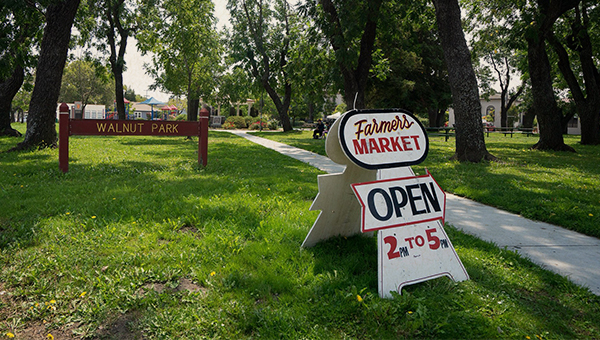 WALNUT PARK FARMERS MARKET REOPENS
Speaking of getting outside, how about shopping for food and other essential items outdoors beneath the trees? Head down to Walnut Park this weekend for the reopening of their weekly Farmers Market.
Be sure to visit their website (ilovefarmersmarkets.org) to learn about the health and safety protocols that all markets in Petaluma are adhering to, and visit Walnut Park (with your facial covering) this Saturday between 2:00pm and 5:00pm to explore local vendors.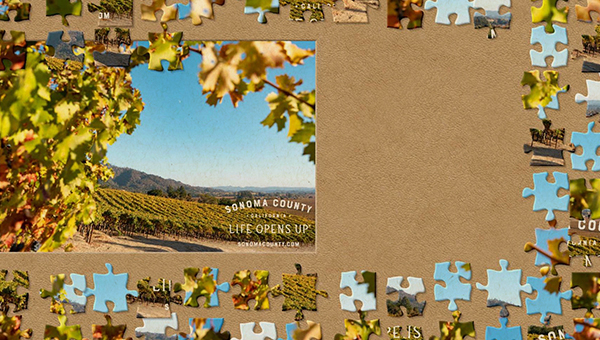 PUZZLED ABOUT WHAT TO DO THIS WEEKEND?
No plans this weekend? Try a digital puzzle! Doing puzzles can bring a sense of peace and calm. SonomaCounty.com has some great digital puzzles available.
Check them out here: https://www.sonomacounty.com/digital-puzzles
FOREVER GRATEFUL FOR OUR NURSES!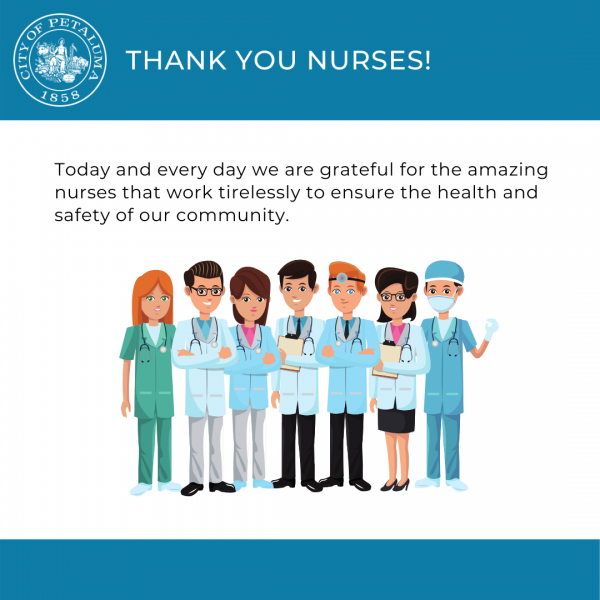 DONATIONS STILL NEEDED
Our healthcare and essential workers are still hard at work to keep us safe and well during this unusual time. Donations are still needed​ for masks, gloves, face shields and other protective equipment.
Watch this short video to learn more: https://socoemergency.org/donations-psa/
UPCOMING CITY COUNCIL MEETINGS
The City Council continues to work hard on behalf of Petaluma.
On May 11, 2020, The Council will review the City's budget and discuss the impacts of COVID-19 on the City's fiscal health and ability to deliver core services.
May finishes out with a May 12, 2020 Planning Commission meeting and another Council meeting on May 18, 2020.
Check for the upcoming meetings, the agendas, and how to participate on the City's meeting webpage: https://cityofpetaluma.org/meetings/
Help Get the Word Out
Please share this information – online or by phone, of course – with anyone you know who might need help now or at any time during this crisis. To subscribe, click here.