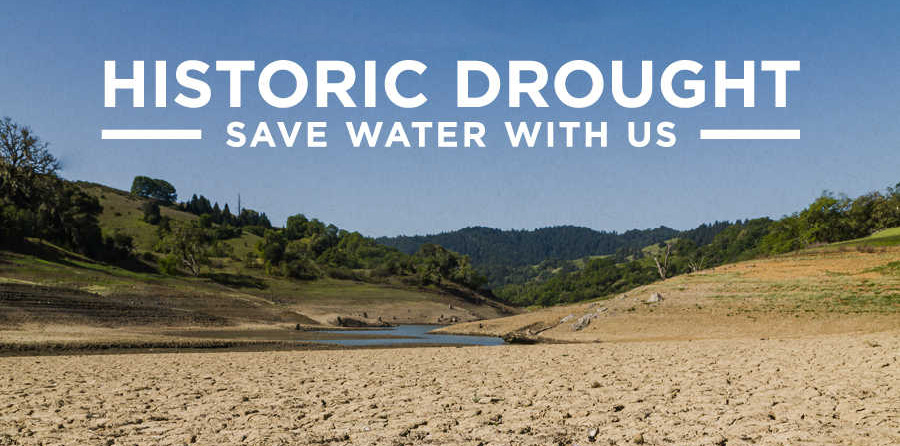 HISTORIC DROUGHT
SAVE WATER WITH US
MULCH MADNESS IS BACK
The City of Petaluma is serious about water conservation and our Mulch Madness Program is proof of that. Mulch Madness is a free turf conversion program for residents and businesses who want to transform their water thirsty lawns to a drought tolerant mulched landscape. This program includes free sheet mulching supplies (compost, cardboard, mulch) and delivery, as well as irrigation conversion kits for residential accounts.
For information on how to qualify, visit our Mulch Madness webpage: cityofpetaluma.org/mulch
THE BENEFITS OF SHEET MULCHING
Saves money on your water bill.

Sheet mulching the average 1,000 sq. ft. lawn could save between 12,000 and 25,000 gallons of water per year!

Suppresses weed growth.

Reduces labor and maintenance costs.

Improves nutrient and water retention in the soil and improves soil structure.

Encourages favorable soil and microbial activity.

Improves plant vigor and health, often leading to improved resistance to pests and disease.
SCHEDULE A FREE WATER-WISE HOUSECALL
A Water-Wise HouseCall is a City program in which a trained water conservation technician will visit your home or business to evaluate your water use and can assess your eligibility for Mulch Madness. Our technicians can teach you how to:
Program your irrigation timer to follow the limited watering schedule

Identify overspray or leaks in your irrigation system

Read your water meter and check for leaks

Assess your eligibility for Mulch Madness

Provide guidance on how to use water more efficiently

Share information on high-efficiency toilet and washing machine rebates 

Provide free water conservation devices like aerators, showerheads, and more
To schedule a Water-Wise HouseCall, please call (707) 778-4507 or email [email protected]. 
RESOURCES TO HELP YOU SAVE WATER
The City of Petaluma offers many water conservation programs to help our residential and commercial customers conserve water. Along with rebates, water evaluations, and free water saving devices, there are additional resources that provide actionable steps to save water. To learn more, see the links listed below.
Questions? Call the Water Conservation line at (707) 778-4507 or email [email protected].
RESTRICTED WATERING SCHEDULE STILL IN PLACE
OVERNIGHT TUESDAY & SATURDAY 7PM-8AM
Please limit outdoor water use and if needed, only irrigate during the restricted watering schedule – overnight Tuesday and Saturday between 7:00pm to 8:00 am. To view the full list of water use restrictions for Petaluma and statewide, click here.