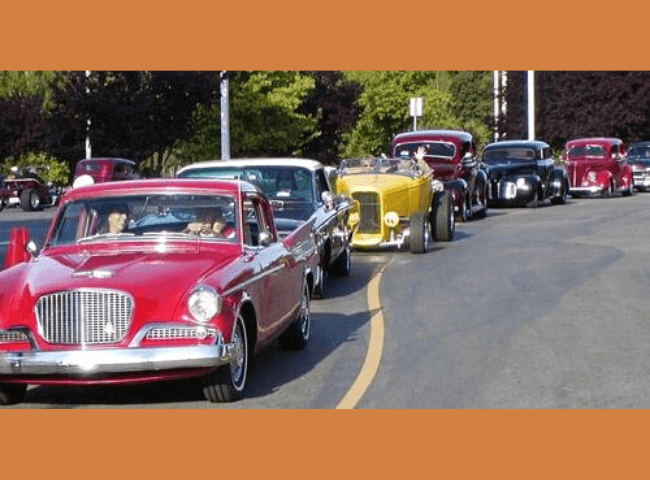 Fecha del evento: 21 de mayo de 2022 
Evento: "Cruising the Blvd Car Show and Cruise" 
Ubicación: Centro de Petaluma   
Notificación:  Notificación de evento especial 
Cierre de calles: 5 am – 8 pm 
________________________________________________
Resumen: 
El sábado 21 de mayo de 2022 en el centro de Petaluma "Cruising the Boulevard, Inc." tendrá su exhibición anual "Car Show and Cruise" (exhibición de autos y cruceros). Debido a este evento, se ha solicitado el cierre de algunas calles. El evento está programado para comenzar a las 8:00 am y terminar aproximadamente a las 8:00 pm (12 horas). Los cierres de calles entrarán en vigencia a partir de las 5:00 am., y permanecerán vigentes hasta las 8:00 pm.  
Los cierres de calles incluirán lo siguiente: 
Water St, American Alley, Telephone Alley, y el estacionamiento de A Street

Petaluma Blvd North (entre D St y Washington St)
El carril #2 en dirección este de Washington St (entre Keller St y Petaluma Blvd N) Western Avenue (entre Petaluma Blvd N y Keller St)
4

th

St / Kentucky St (entre B St y Washington St)

B St (entre 2

nd

St y 4

th

St) 

 
El tráfico en dirección este y oeste sobre D Street se condensará en un carril para cada dirección. Esto será a partir de las 4:00 pm cuando tome lugar la parte del evento del crucero en cuestión. Durante este tiempo tampoco se permitirá el tráfico en dirección oeste sobre D St desde Petaluma Blvd S en dirección norte. 
El Departamento de Policía trabajará en este evento para acomodar razonablemente cualquier problema relacionado con el tráfico. Desde el Departamento de Policía de Petaluma agradecemos la paciencia y la comprensión del público, y solicitamos a aquellos que no pueden evitar el área que cuenten con suficiente tiempo a la hora de viajar por las áreas mencionadas.