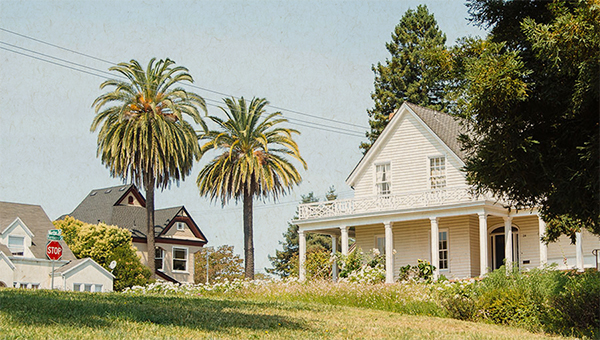 Urban Land Institute San Francisco Experts Share Strategies for Meeting Petaluma's Housing Needs
The City of Petaluma Seeks Recommendations for Providing Denser, More Affordable Housing Units
Petaluma, California (February 2021) — Building on the February release of ULI San Francisco's (ULI SF) Technical Assistance Panel (TAP) report for the City of Petaluma, Mayor Teresa Barret of the City of Petaluma will be joining ULI SF on March 2 at 11:00am to discuss the report findings that talk about how the City can meet their Regional Housing Needs Allocation (RHNA) needs while maintaining community character and housing affordability.
In September of 2020, the City of Petaluma engaged ULI SF to provide insight on how to meet its expected RHNA housing requirements in a way that is mindful of community needs and housing affordability. The City sought recommendations on how to encourage denser housing development  within the constraints of identified sites, environmental and climate resilience considerations, the financial viability of housing development, and the urban growth boundary. This effort was the first step in their General Plan update process, which continues to build steam.
ULI San Francisco in a nonprofit organization providing strategic advice on complex land use and real estate development issues for local clients, such as municipalities, public agencies, and non-profit developers.
ULI San Francisco's TAP panelists included planners and developers from the public and private sectors. They conducted tours and stakeholder interviews and looked at typologies that hold promise for the city to meet its housing goals while reducing risk from flooding and maximizing transit-oriented development.
"In the end, an inventive experienced panel crafted a place-based toolkit to meet housing goals, advance resilience, and match the diverse needs and resources of city residents." Said Karen Alschuler FAICP, Principal at Perkins&Will and Petaluma TAP Chair.
The research outcomes were presented to the Petaluma Planning Commission on September 22, 2020 and a comprehensive report explaining the panel's findings in more detail was released on February 18, 2021. The report identifies three major focus areas that demonstrate the most potential for the type of development Petaluma seeks: in Downtown, the East Washington district, and the Corona Smart Station area.
"It's no secret that our region needs more housing fast, and we were very excited to convene this panel of experts to identify new housing opportunities for the City of Petaluma while addressing their constraints and community needs." Said Michelle Malanca Frey, Executive Director of ULI SF.
A full copy of the Petaluma TAP Report is available on the ULI SF website.
To learn more about the General Plan Update, please visit PlanPetaluma.org. Sign up here and select and "General Plan News and Updates" box to receive the latest information.
Event Details
ULI San Francisco will be hosting a virtual event to discuss the findings of the report on Tuesday, March 2nd. Visit the ULI SF event page to learn more and register. Complimentary press passes are available, please contact Casey Pond.
About the Urban Land Institute and the TAP Panel on RHNA
The Urban Land Institute, or ULI, is a nonprofit research and education organization with a network of cross-disciplinary real estate and land use experts. Its mission is to shape the future of the built environment for transformative impact in communities worldwide. ULI San Francisco carries forth that mission by serving the Bay Area's public and private sectors with pragmatic land use expertise and education.
Learn more at sf.uli.org. The panel for this TAP with the City of Petaluma includes:  
Karen Alschuler FAICP, Principal, Perkins&Will (Panel Chair)
Daniel Adams, VP Mixed Income and Affordable Housing, Sares Regis Group of Northern California
Nicole Franklin, Principal Property Development Officer, Bay Area Rapid Transit District
Tom Leader, Principal and Founder, TLS Landscape Architecture
Meg Spriggs, Managing Director, Multifamily Investments Group, Shorenstein
Randy Tsuda, President & CEO, Alta Housing
For more information please contact Casey Pond, Senior Associate, ULI San Francisco
[email protected]; 628-245-2146