SUPPORT FAIR WAGES IN PETALUMA
What is the Fair Wage Campaign?
Petaluma's Fair Wage initiative is a chance for the city and the business community to educate the public about the new city-wide minimum wage rules that went into effect January 1, 2020.
To kick off the initiative, community members are encouraged to patronize Petaluma restaurants and shops during "Fair Wage February."
Every time you eat out or shop during the month, you'll be putting more money in workers' pockets while helping our locally-owned retailers and restaurants stay viable during the tough winter months.
Look for the Fair Wage sign in your favorite business!
How did the Fair Wage Campaign come about?
In late 2019, Petaluma's City Council passed a local minimum wage ordinance to set a city-wide minimum wage that is higher than the state minimum wage.
Less than two months later, the Public Safety Power Shut-offs and Kincade fire evacuations rocked our community. Many of our small, locally-owned restaurants lost tens of thousands of dollars during the power shutoffs. Many restaurants and retailers donated meals to feed first responders and evacuees, even though it cost them thousands of dollars in paid staff time and lost revenue.
In response to these unforeseen events, the City worked with a a group of Petaluma's restaurant owners to develop the Fair Wage initiative.
The initiative is designed to help community members understand their role in supporting fair wages while also helping businesses adjust to the new wage rules while still recovering from the events of October 2019.
Supporting Businesses = Supporting Workers
The city-wide minimum wage for 2020 is $2 more per hour than the state minimum wage and about 25 percent higher than the minimum wage in effect during 2019.
This is a big jump for many small businesses, especially since it's resulting in wage increases for all employees, not just for those making minimum wage.
Petaluma's small, locally-owned restaurants and retailers are trying different strategies to pay their workers fair wages across the board. Many are raising prices. Others are adding new fees. Some need to do both.
The research presented to Council showed that these kinds of techniques are normal and necessary in order to see the benefits of a minimum wage increase.
When you see these changes, give your favorite proprietor the benefit of the doubt. The extra you're paying is going to workers and to keeping the business viable.
Everyone benefits from higher wages in our community, and it's only fair that all of us pitch in to effect this change.
Participating Businesses
Some of the businesses and organizations participating in the Fair Wage initiative include the following (listed in alphabetical order):
*Contact us if you'd like to participate.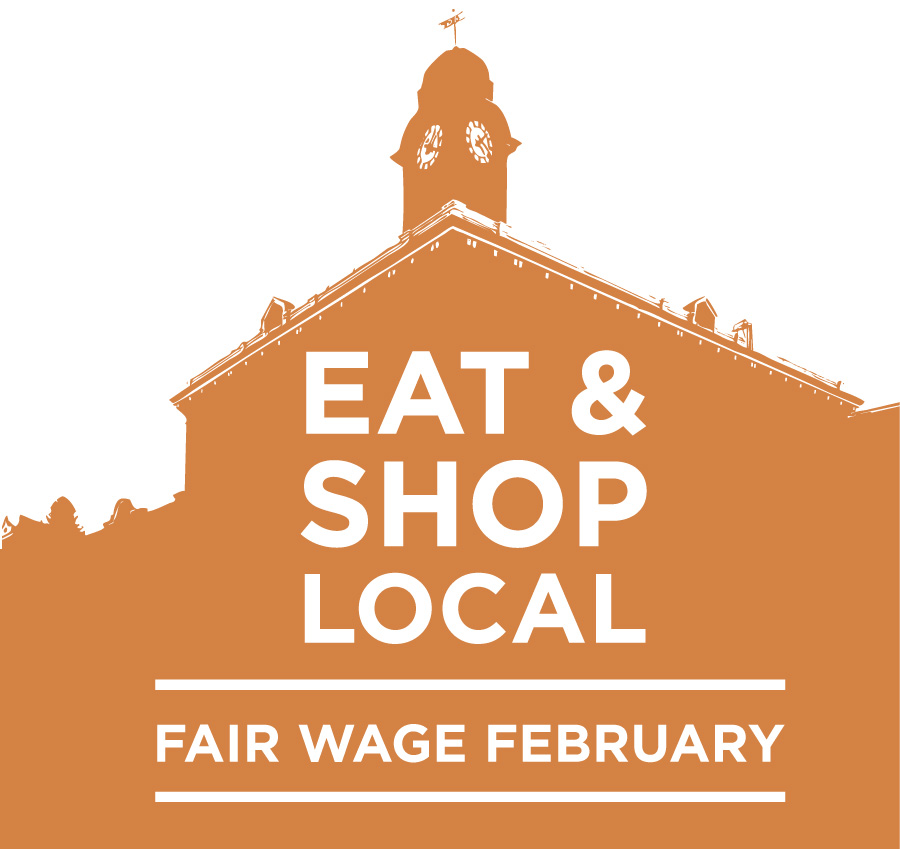 Supporting Petaluma restaurants and shops during the month of February is a great way to support low wage workers in our community.