Help Feed Those in Need
The Redwood Empire Food Bank (REFB) and its Petaluma partners have seen a sharp increase in the need for food assistance since mid-March, when the shelter-in-place started. They expect those numbers to climb over the coming weeks—and even months—as people get to the end of their savings and personal safety nets.
We know times are tough. We also know that Petalumans step up when their fellow community members need help. That's why the City of Petaluma is hosting a Drive-Thru Food Drive at the Sonoma-Marin Fairgrounds in Petaluma & a virtual fundraiser via the REFB online portal.
Here's how YOU can participate:
Virtual Fundraiser
Make it easy on yourself and help the REFB and its Petaluma partners serve more clients. Click here to make a one time or recurring donation.
Monetary donations allow REFB to utilize its purchasing power while reducing costs. In fact, REFB can purchase $4 worth of food for every $1 donated!
Drive-Thru Food Donation
April 25, 11:00 AM – 4:00 PM
Parking Lot -- Sonoma-Marin Fairgrounds in Petaluma
1) Fill a bag with non-perishable food that is not in glass containers.
2) Put the bag in your trunk or on an unoccupied seat in your car.
3) Drive your donations to the designated spot (look for signs).
4) Stay in your car, put on a mask, & pop the trunk/unlock the door. A gloved & masked volunteer will grab the bag, and you can be on your way!
The most needed items include tuna and canned meat, peanut butter, canned soups & stews, rice and dry beans, cereal, canned fruits & veggies and Protein Bars. Think about what you'd like to eat or serve to someone you love!
Please refrain from participating in the drive-thru donation if you or a member of your household have had a fever or have been ill within the last 72 hours.
Questions?
Contact Nancy Sands, City of Petaluma, at 707-778-4484 or [email protected].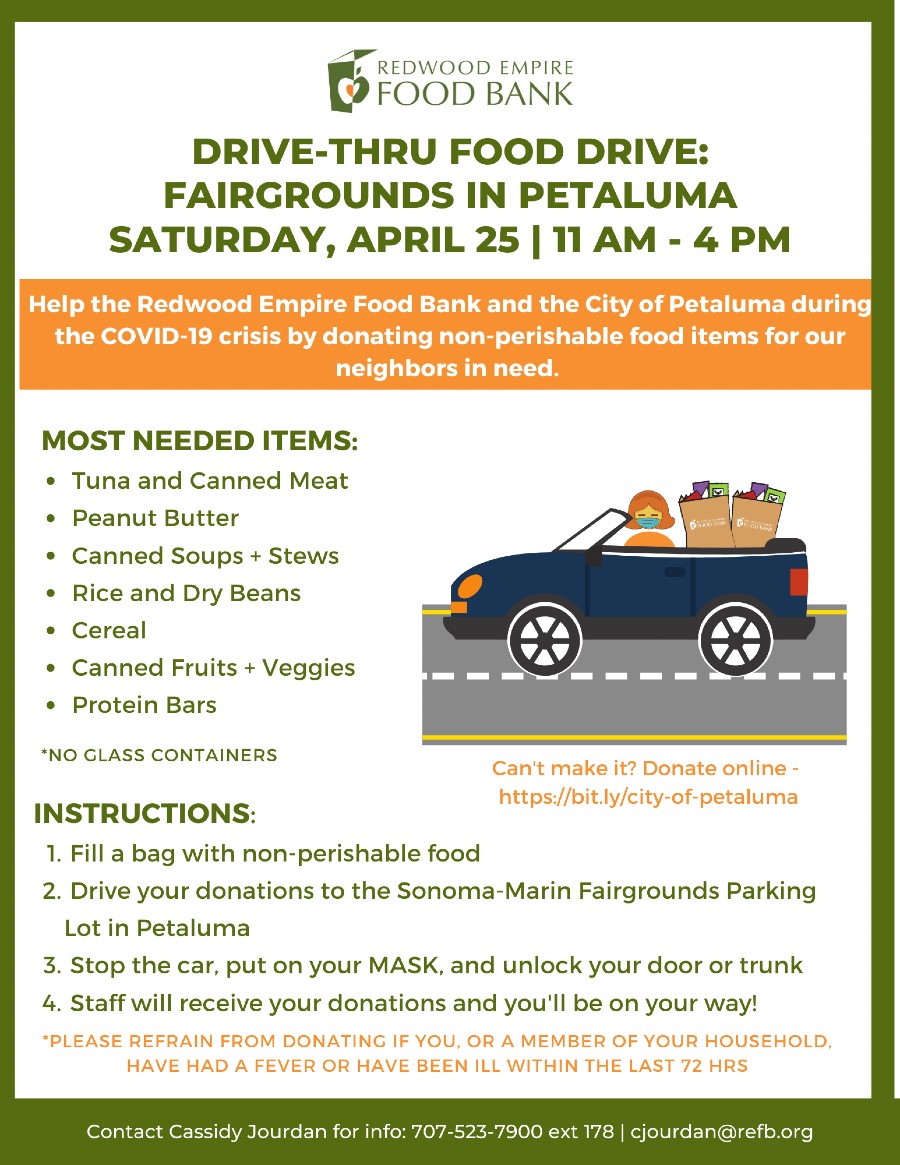 Every $1 you donate translates into $4 of food, thanks to Redwood Empire Food Bank's wholesale purchasing power.
Petaluma Nonprofits Served by Redwood Empire Food Bank