Halloween Guidance During Shelter in Place
County Health and the State have not yet issued their guidelines. In absence of those guidelines, we are looking to the CDC guidelines:  which discourage the door-to-door trick or treating. The City has also been working with community organizers to come up with alternatives to traditional Halloween activities.  Here are a couple of activities we are working on:
Petaluma Boo
As an alternative event to trick-or-treating, Petalumans can participate in the Petaluma Boo. Patrons can participate by "booing" each other and leaving treats on their door steps. CLICK HERE for more information.
Virtual Halloween
City staff is working on expanding the #PetalumaPlaysAtHome social media campaign to include Halloween activities like a pumpkin decorating/carving contest, costume contest, and Halloween themed projects that can be done at home! Follow Petaluma Parks and Rec on Instagram and Facebook for more information.
Halloween may be a fun holiday for kids, but for parents, trick-or-treating can be a little tricky. Concerns about our children's safety - whether they are out in the neighborhood or back home with bags of booty - can darken the day more quickly than a black cat. But not to worry! To make Halloween a treat for all, the Petaluma Police Department would like to recommend a few safety tips:
Make Sure Your Kids Dress Safely
Check that the costumes are flame-retardant so the little ones aren't in danger near burning jack-o-lanterns and other fire hazards.
Keep costumes short to prevent trips, falls and other bumps in the night.
Try make-up instead of a mask. Masks can be hot and uncomfortable and, more importantly, they can obstruct a child's vision - a dangerous thing when kids are crossing streets and going up and down streets.
Make sure kids wear light colors or put reflective tape on their costumes.
Trick-or-treaters always should be in groups so they aren't a tempting target for real-life goblins. Parents should accompany small children.
Make Trick-or-Treat Trouble Free
Make sure older kids trick-or-treat with friends. Together, map out a safe route so parents know where they'll be. Tell them to stop only at familiar homes where the outside lights are on.
Try to get your kids to trick-or-treat while it's still light out. If it's dark, make sure someone has a flashlight and pick well-lighted streets.
Make sure kids know not to enter strange houses or stranger's cars.
Treats
Kids need to know not to eat their treats until they get home. One way to keep trick-or-treaters from digging in while they're still out is to feed them a meal or snack beforehand.
Check out all treats at home in a well lighted place.
What to eat? Only unopened candies and other treats that are in original wrappers. Don't forget to inspect fruit and homemade goodies for anything suspicious. By all means, remind kids not to eat everything at once, or they'll be feeling pretty ghoulish for awhile!
Halloween can be a lot of fun for parents and kids alike - if everybody remembers the tricks and treats of playing it safe.
Reprinted from an ad posted in the Sonoma County Independent (Oct '99)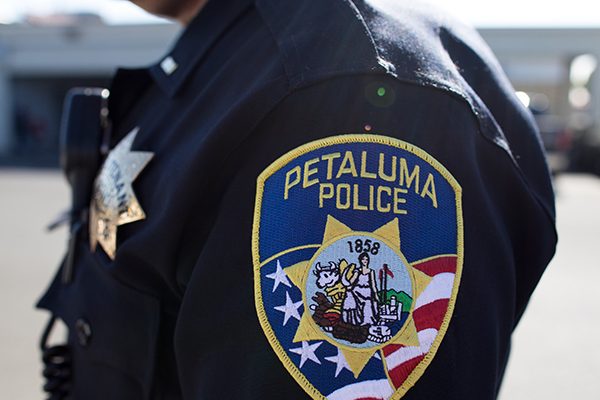 There are many things you can do to stay safe.
by Lieutenant Ed Crosby