Project Description
Exploring Opportunities to Increase Our Local Water Supply Resiliency
To enhance our community's water supply resiliency, Petaluma is embarking on a study called the Integrated Water Master Plan (IWMP). This plan will identify opportunities to increase water supplies locally, making us more resilient to water supply shortages due to climate change and other natural disasters such as earthquakes.  The IWMP will also help the City identify, screen, and analyze water supply alternatives to help address any future water supply gaps. Water supply project options explored through this process will include:
Recycled Water

Urban Recycled Water Program Expansion (within the City's potable water service area)

Agricultural and Vineyard Recycled Water Program Expansion (outside the City's potable water service area)

Recycled Water Storage Expansion

Other options 

Groundwater

Groundwater banking 

Regional groundwater banking

Groundwater recharge with stormwater

Brackish Desalination

Regional brackish water desalination 

Stormwater

Stormwater capture, storage, and treatment 
Petaluma will hold community meetings to update the public and give the community opportunities to ask questions, make comments, and offer their ideas on the IWMP over the next year. 
The community meeting schedule will be updated here once meetings are scheduled. If you would like to submit a question about the IWMP, please contact Project Manager Erica Jacobs at [email protected].
Project Manager
Erica Jacobs
[email protected]
Project Location
As this project is designed to conceptually develop water supply and storage alternatives with robust public engagement, there is no physical location.
Timeline/Project Status*
Update as of April 10, 2023: The project is in its initial conceptual and data collection phase. City Staff will begin a preliminary data gathering process with current recycled water customers to gain insight into their usage and potential for expansion. Following that process, the City will host a series of public meetings where the project will be introduced, and public feedback will be received. It is anticipated that these meetings will begin in the summer of 2023.
Currently, the project is slated to be completed in early 2024.
*Timing subject to change
Milestone Phase

Description

Timeframe

Milestone Key Points
INFORM
IWMP Project Announcement
March 2023

City announces project
Stakeholder engagement begins
Project team collects data and feedback

INFORM
Community Meeting #1
June/July 2023

City holds first community meeting
Project goals, process, and initial water supply alternatives shared
Public feedback collected

ENGAGE
Stakeholder Engagement
June/July 2023

More specific list of water projects developed
Project team continues to meet with stakeholders

ENGAGE
Community Meeting #2
TBD

Targeted list of water supply and storage projects announced
Public feedback collected

FEEDBACK
Final Recommended List Refinement
TBD

Team refines water projects list
Final round of stakeholder engagement and feedback

FEEDBACK
Community Meeting #3
TBD

Final list of supply and storage projects announced
Additional public feedback collected

REFINEMENT
Project Finalization
TBD

Project team finalizes Integrated Water Master Plan
Plan readied for consideration by City Council

REFINEMENT
City Council Meeting
Late Dec 2023 - Early 2024

Final Draft Plan Released
Plan shared at City Council Meeting
Feedback from elected officials and public collected
Additional public feedback collected
Funding
Project Cost: $777,000
Funded by water and wastewater enterprise funds. $226,000 in funding received through the State Water Resources Control Board Water Recycling Funding Program to help offset the cost of planning for the recycled water facilities portion of the IWMP. The City is awaiting a Spring 2023 award announcement by DWR's 2022 Urban Community Drought Relief Funding Program, for a potential award of up to $583,000.
Public Participation
As we begin the feedback and data collection solicitation process with the public, we invite anyone who is interested to join our mailing list by emailing [email protected] or fill out the form to the right.
Contact Us
For more information on the project, please contact City of Petaluma Public Works at (707) 778-4303 or email [email protected]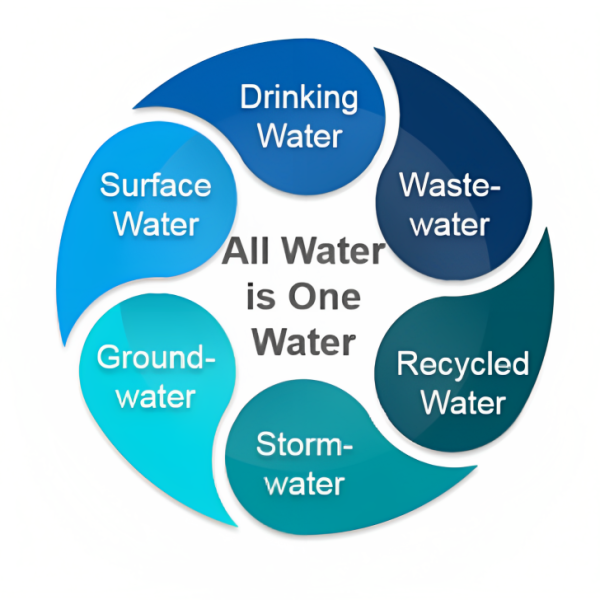 Community Feedback
Please sign up below to receive project updates and comment to let us know what you think. Community feedback will be reviewed and considered by City staff.