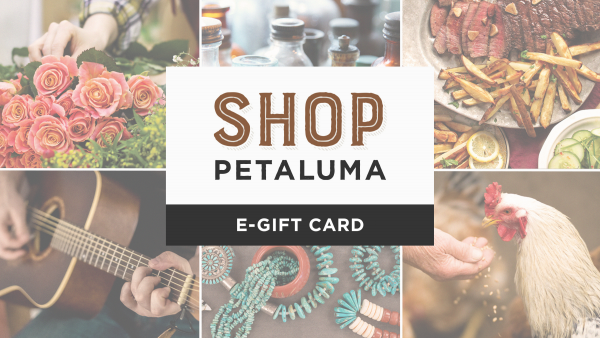 Earlier this year, the City and the Petaluma Downtown Association came together to create a virtual shopping experience designed to support our local business community through COVID-19 and beyond. ShopPetaluma.com features Petaluma shops, service providers, restaurants, and more, providing information on current hours and offerings.
Now, we are delighted to announce the new Shop Petaluma Gift Card! This is a gift card that can be used at any participating business – empowering holiday shoppers to support local while giving their friends and loved ones a gift that can be used all over town.
The Shop Petaluma gift card is also a great option for companies to gift their staff, customers, contest winners, and more. Participating companies will be named on the site as community-minded supporters of local business.
Want your business to be part of the program? Joining is no cost to you and the gift card works the same as if someone were paying with a credit card.
The Petaluma Downtown Association is on a mission to include as many Petaluma shops, services, and restaurants as possible before Black Friday. Contact [email protected] for more information.
WANT TO LEARN MORE?
Join us Monday November 30, 2020 from 10am-11am for a live Q&A to learn more about the Shop Petaluma Gift Card program!