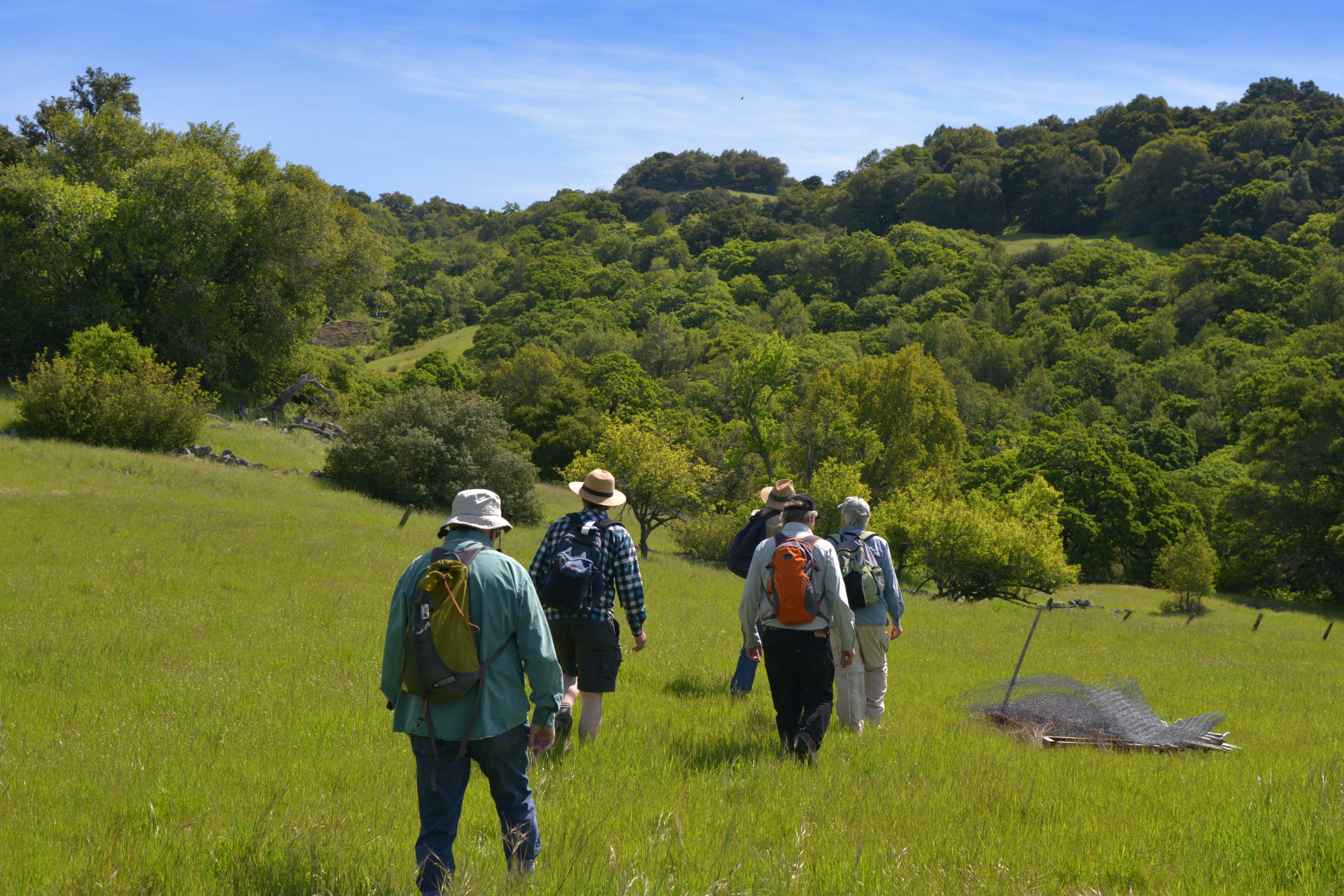 Photo Credit: Scott Hess
Exciting changes at City-owned Lafferty Ranch on Sonoma Mountain
Petaluma's "Mountaintop Cathedral" now open for guided hikes
With a tumble and a trickle over and around
The stream seems to giggle as it winds its way down
Past trees hanging over reeds bent with the flow
Out through the grass to the river below
From my Mountaintop Cathedral to my hometown below. 
― from Mountaintop Cathedral, a song about Lafferty by Rick Pearse 
Petaluma, CA ― September 14, 2022 ― Lafferty Ranch has been called an irreplaceable public treasure, the crown jewel of Sonoma Mountain, the city's best-kept secret, and even Petaluma's Mt. Tam. Rising to more than 2,000 feet, this 270-acre property on the western face of Sonoma Mountain offers thrilling views of four counties, San Francisco Bay, the Pacific Ocean, timeless Adobe Creek, abundant wildlife, and unmatched natural beauty. The City of Petaluma has recently contracted with the conservation nonprofit LandPaths to provide free, guided hikes on the City's Lafferty property for members of the public.
"What an important achievement for our community," says Petaluma Mayor Teresa Barrett. "I couldn't be prouder that we are preparing to welcome people to this spectacular, public open space. This land is very special and belongs to the residents of Petaluma." 
Background, in brief 
The City of Petaluma acquired the 270-acre Lafferty Ranch near the top of the Petaluma side of Sonoma Mountain in 1959. Harboring the headwaters of Adobe Creek, the property served as the City's municipal water system source until 1992, at which time the water facilities on Lafferty were decommissioned and the City transitioned to the Sonoma County Water Agency. The City then began the environmental review and planning process for developing the Lafferty property as public open space and a passive-use park in accordance with the City and the County General Plans. The City's plans for restoration and development of the Lafferty property as public open space were delayed due to private property owner opposition.
"It took a lot of work by a lot of people for more than 25 years, but thanks to the persistence of our City, the Friends of Lafferty Park and hundreds of citizen advocates, Petalumans can now explore and enjoy their beautiful mountaintop," says Matt Maguire, former Petaluma city councilmember and longtime leader of Friends of Lafferty Park.  
What makes Lafferty Ranch so special? 
Lafferty Ranch is well known to a large number of Sonoma County residents who first became aware of it in the mid-'90s. Mountaintop properties like Lafferty Ranch are rare and can inspire awe and allegiance. Lafferty is the only publicly owned property near the top of Sonoma Mountain that faces the Bay and the Pacific, and sports views of Mt. Tamalpais, Mt. Diablo, Mt. St. Helena, and Hood Mountain. The hiking terrain ranges from broad, gentle meadows to challenging hillsides, and visitors can enjoy panoramic vistas, groves of venerable oak and bay trees, and a babbling, perennial stream. The upper third of Lafferty is a series of broad terraces stepping up to the western shoulder of the mountain, from which one can see from the Pacific to the Santa Clara Valley to Mt. Diablo. Fortunately, Lafferty Ranch is already owned by a public entity that can plan for and provide the restoration, preservation, and management of the property, its sensitive habitat and protected species ― and can also maintain the land as an important natural resource that is open to the members of the public who own it. 
Petaluma's commitment to Lafferty Ranch Open Space 
Since 2019, the City of Petaluma has been actively preparing for public access at Lafferty. For decades, Southern Sonoma County has lacked sufficient parkland and open space compared to other parts of the county. Making Lafferty Ranch publicly accessible will provide unique and scenic open space experiences for visitors of all ages and abilities, and an opportunity for scientists, conservationists, students, and volunteers to conduct restoration and research work in a diverse natural laboratory.
The City, in collaboration with Friends of Lafferty Park and LandPaths, has begun restoring the property and getting it ready for visitors. An old, unsafe footbridge near the property entrance has been rebuilt, overgrown trails have been cleared, fencing has been installed and repaired, and a small dirt parking area has been created. Illegal marijuana grows and their impacts have been removed, and several other land stewardship projects have been completed. In spring, 2021, the City contracted with LandPaths to pilot a limited number of guided hikes on Lafferty Ranch and, in 2022, the number of planned offerings through LandPaths has increased.
"There is high demand in this region for hiking in natural areas and public access to Lafferty has always been an issue of equity and social justice," says Craig Anderson, executive director of LandPaths. "The entire community ― including those from traditionally marginalized communities ― can now take part in connecting with this incredible resource while ensuring its preservation for future generations."   
What public access to Lafferty means 
The City plans to open Lafferty to the public in a way that preserves its beauty and wildness. That includes minimal and inexpensive development, and appropriate measures to prevent fires and harm to wildlife.
In Sonoma County, it is common for new open space areas to open via guided access initially. This approach allows opening a property gradually while assessing how people prefer to experience it and determining how to best preserve the resource and promote public use.
"We are piloting this public access program to give our community members access to the land they own while we further develop our plans for restoring and preserving it," says Petaluma City Manager Peggy Flynn. "During this time, we will also steward the property to ensure its uniqueness and vitality for future generations."
Other Sonoma County parks and open spaces that have successfully opened with guided activities in advance of offering greater public access include the Jenner Headlands Preserve, Willow Creek, Pole Mountain Preserve, Mark West Creek Regional Park, and more.
"Being respectful of the sensitive habitat, species and neighboring property owners while ensuring public access are central tenets of the three organizations involved," adds Flynn. "We all know how essential getting outside and enjoying the benefits of being in nature is for everyone's mental and physical health. Lafferty Ranch is a special gift to all."