East of 101 North
Monday 6/28/21
Holly Lane (From Twin Creek Circle (southwest) to Wilmington Drive
Twin Creek Circle (From Holly Lane (west) to Holly Lane (east))
Arlington Drive (From Madison Street to Burlington Drive)
Carleton Drive (From Burlington Drive to Holly Lane)
Tuesday 6/29/21
Burlington Drive (From End of Street to Madison Street)
Holly Lane (From Twin Creek Circle (southwest) to Madison Street)
Wednesday 6/30/21
Wilmington Drive (From Madison Street to Holly Lane)
Holly Lane (From Wilmington Drive to End of CDS)
Thursday 7/1/21 Chip/Slurry Seal Schedule
Cortez Drive (From McNeil Drive to McKenzie Drive)
McKenzie Drive (From S. McDowell Blvd to Coronado Drive)
S. McDowell Blvd (From McNeil Avenue to Caulfield Lane)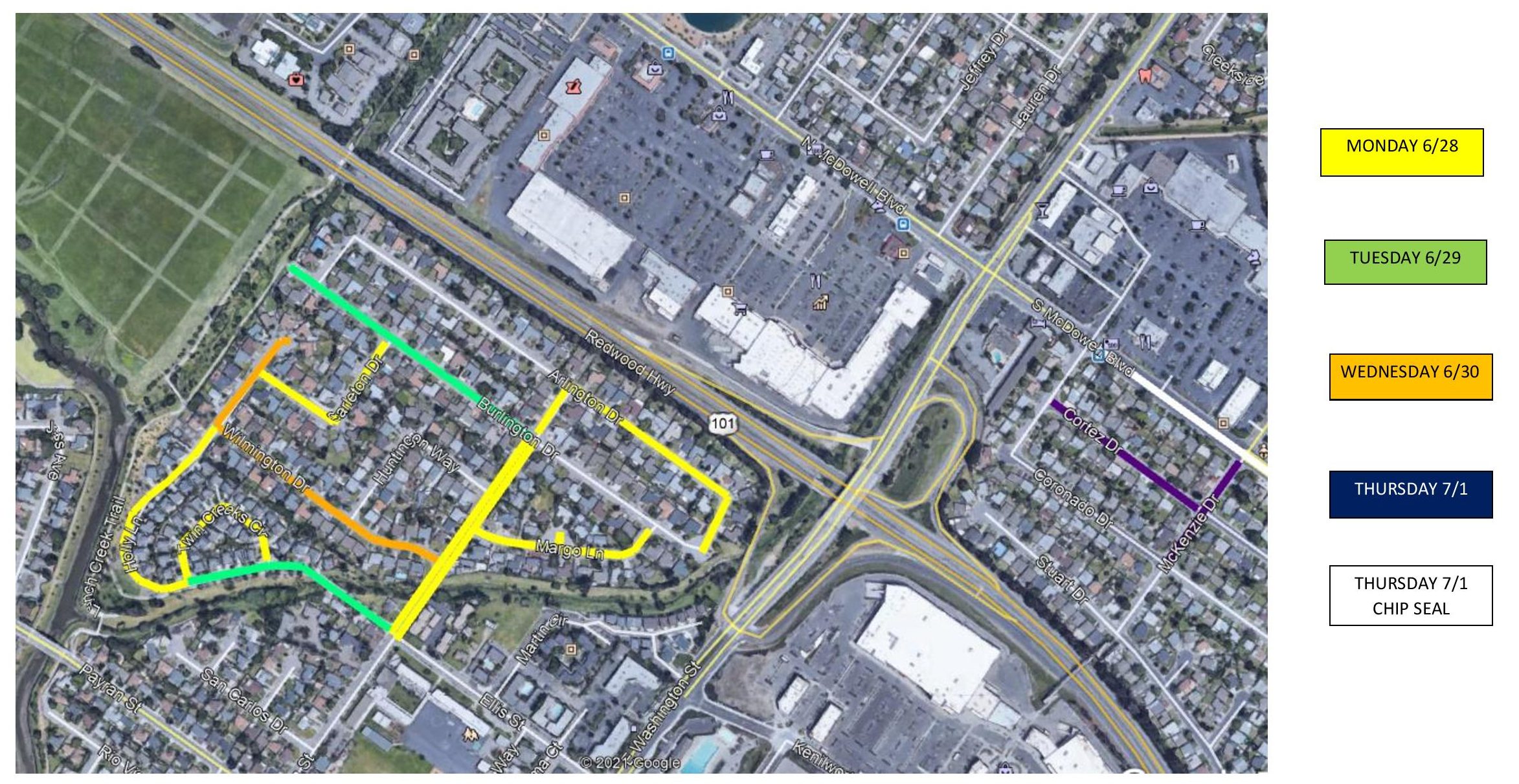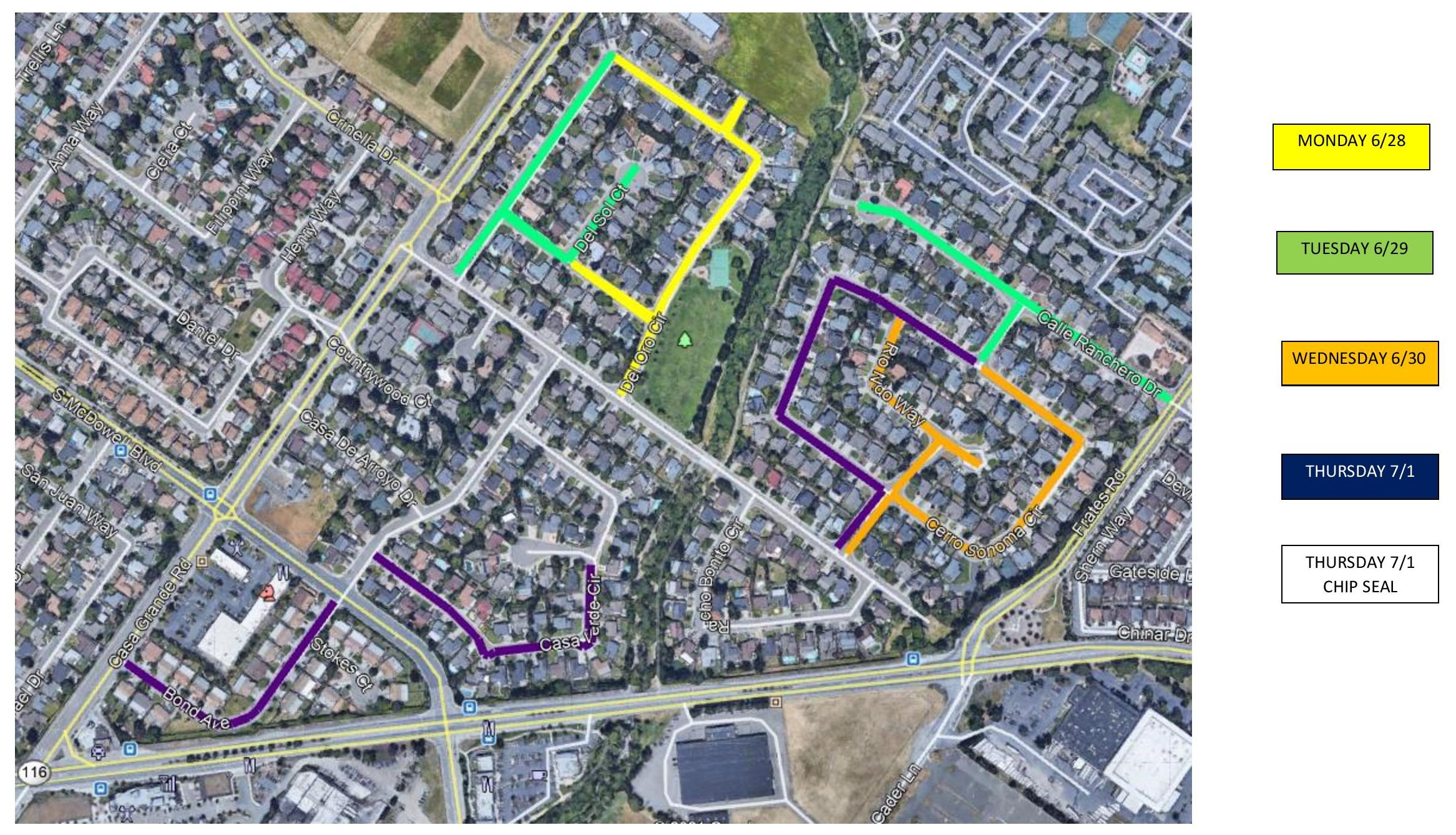 East of 101 South
Monday 6/28/21
Del Oro Circle (From North West Knuckle to Sartori Drive (east leg))
Tuesday 6/29/21
Calle Ranchero (From End of Street to Frates Road)
Del Sol Circle (From North West Knuckle to Sartori Drive (west leg))
Wednesday 6/30/21
Rio Nido Way - East side (From Sartori Drive to Cerro Sonoma Circle)
Cerro Sonoma Circle - Easterly (From Cerro Sonoma Way to Rio Nido Way)
Thursday 7/1/21 Chip/Slurry Seal Schedule
Bond Ave (From S. McDowell Blvd to Casa Grande)
Casa Verde Circle - South (From Bond Avenue to Casa Verde Ct)
Cerro Sonoma Circle - Westerly (From Cerro Sonoma Way to Rio Nido Way)
West of 101 North
Tuesday 6/29/21
N. McDowell - Outside Lanes (From Dynamic Street to Lynch Creek Way)
Wednesday 6/30/21
N. McDowell - Inside Lanes (From Dynamic Street to Lynch Creek Way)
Thursday 7/1/21 Chip/Slurry Seal Schedule
Smokey Mountains Drive (From Maria Drive to End of CDS)
Shenandoah Ct (From Arcadia Drive to End of CDS)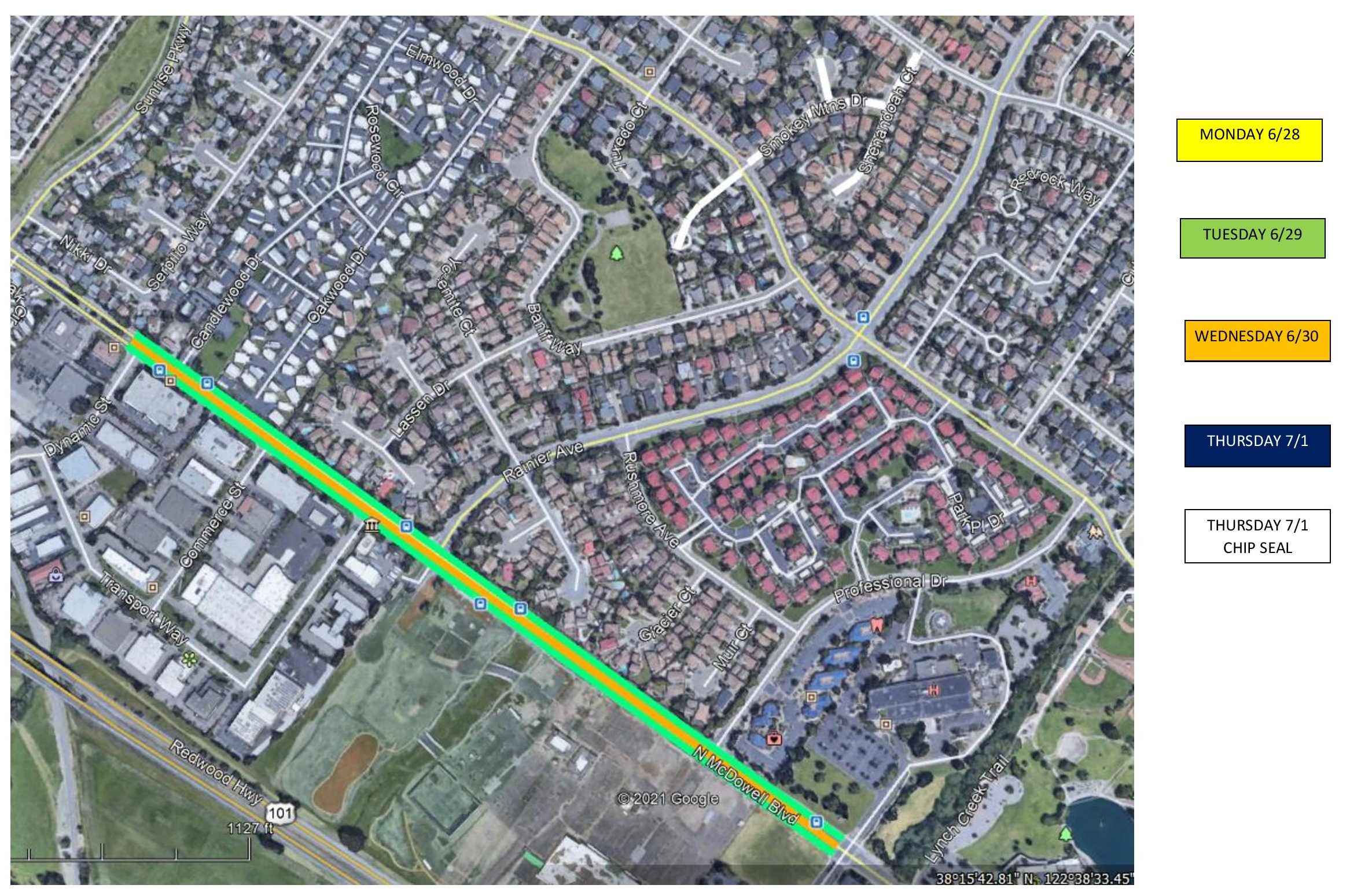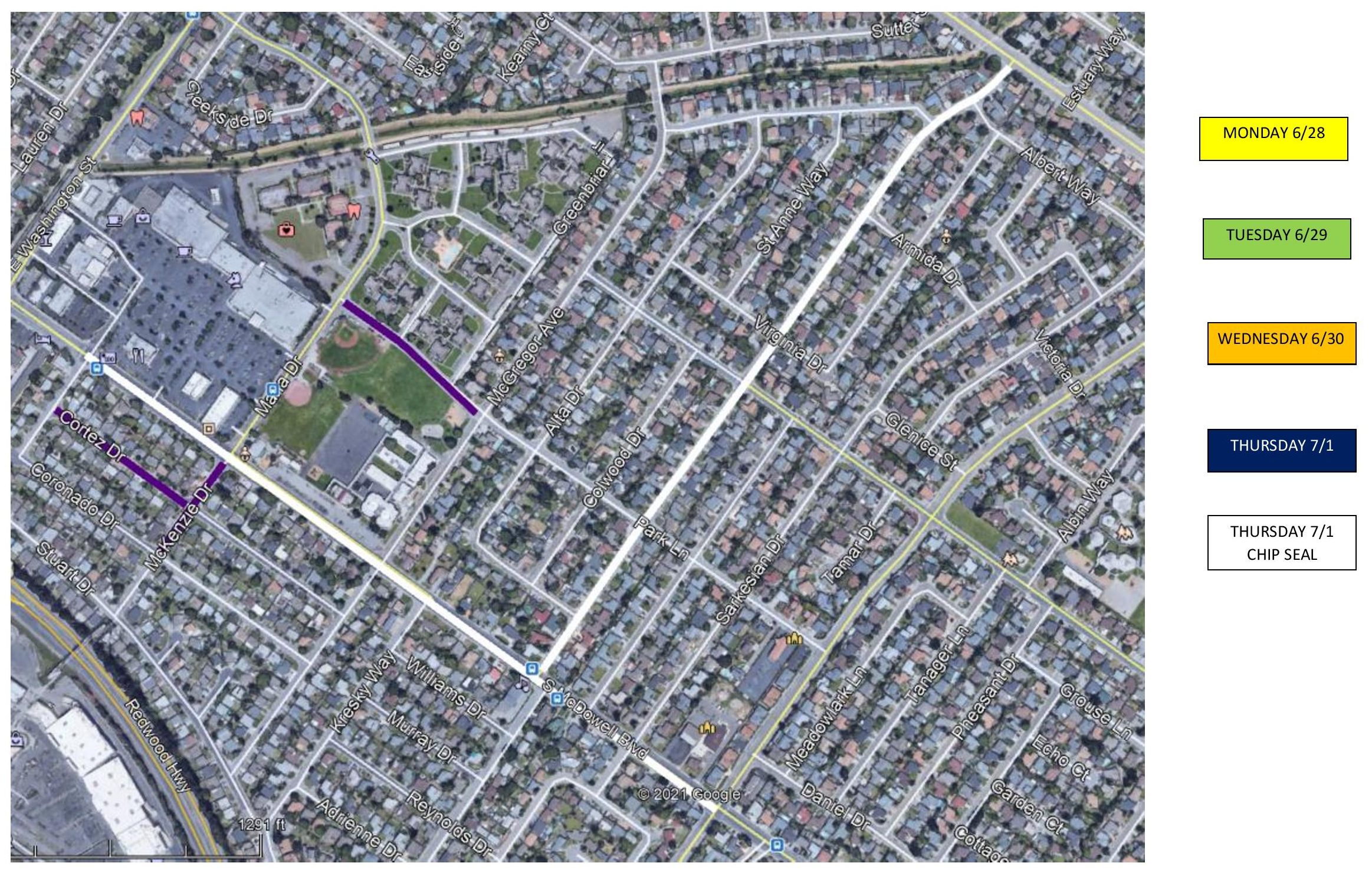 West of 101 South
Thursday 7/1/21 Chip/Slurry Seal Schedule
Cortez Drive (From McNeil Drive to McKenzie Drive)
McKenzie Drive (From S. McDowell Blvd to Coronado Drive)
Park Lane (From McGregor Avenue to Maria Drive)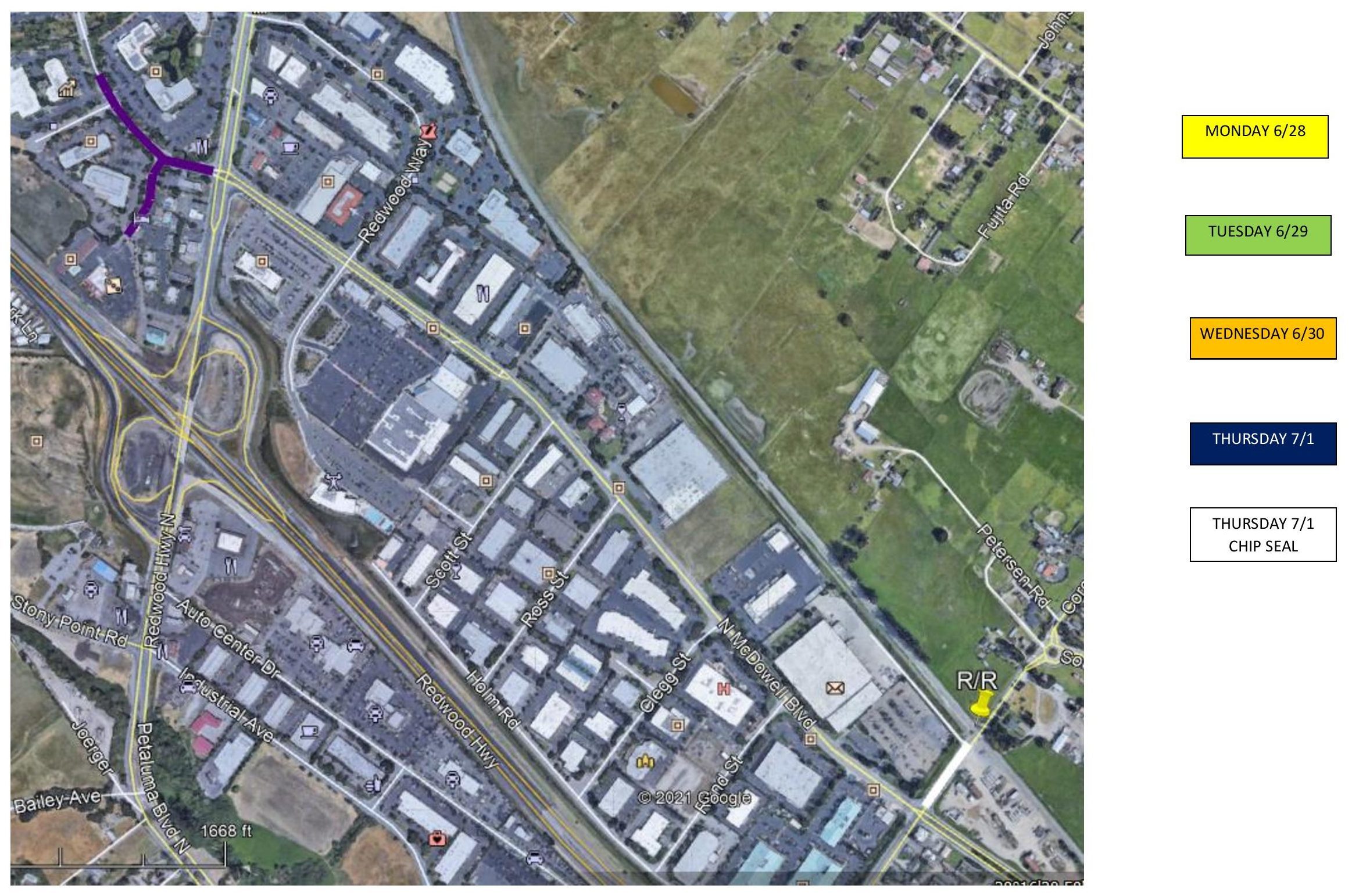 West of 101 South
Thursday 7/1/21 Chip/Slurry Seal Schedule
N. McDowell Blvd (From Willow Brook Ct to Old Redwood Highway)
Corona Rd (From N. McDowell Blvd to Railroad Crossing)
To learn more about the Chip Seal Schedule, CLICK HERE.
To learn more about the Slurry Seal Schedule, CLICK HERE.
There is a curing process once the chip seal is placed, prior to the final coating of slurry seal-cape seal. This curing process takes approximately one hour. It is best to wait until all traffic cones have been removed before traveling on the roadway.
Please Note: There will be no work on friday (7/2/21) prior to the holiday weekend.
Dryco will return on Friday 7/9/21 and will be working in the business areas south of North Mcdowell Blvd on Saturday & Sunday (7/10 & 11). Maps will be posted next week.
The contractor will be revisiting completed areas and performing repair work where there was significant damage to the finished surface following the application. If you have a location that needs to be addressed, please call Mario Traverso at 707-331-2316.