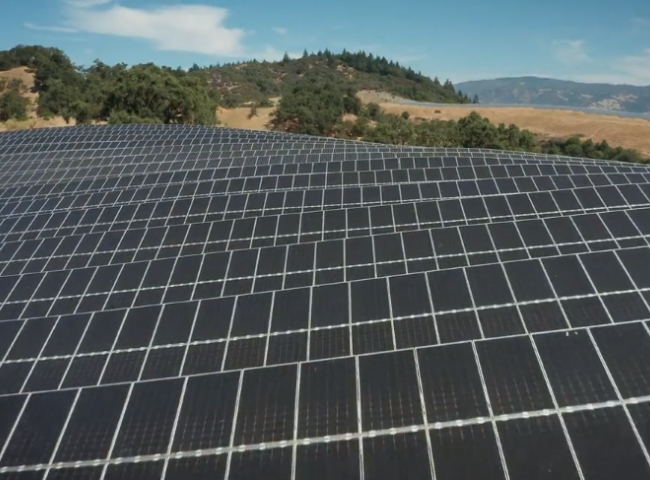 The City of Petaluma is proud to announce the transition of City power usage to Sonoma Clean Power's 100% local, renewable energy service, EverGreen. Approved by City Council Monday February 22, 2021, the move to 100% renewable energy sources is a major step in the City's commitment to become "Climate Ready", or carbon neutral, by the year 2030.
After the adoption of the Climate Action Framework by the City Council January 11, 2021, the City pledged to take quick and bold action in the efforts to reach carbon neutrality. Carbon neutrality is achieved through both reducing carbon emissions and balancing carbon emissions through carbon offsets – programs that sequester/remove carbon from the atmosphere to make up for emissions elsewhere. This transition to EverGreen is a first and fundamental step toward that goal.
CLICK HERE to learn more about the City's Climate Ready 2030 commitment, actions being taken, and things you and your household can do to help achieve the goal.
Sonoma Clean Power is the only utility in California to provide users the option to use 100% renewable, locally produced energy day AND night for homes and businesses through their EverGreen service. EverGreen is made up of geothermal energy from the Sonoma County Geysers and solar energy from six local projects. By tapping solar sources by day, and geothermal sources at night, EverGreen has eliminated the need to be backed up by "dirty" sources like natural gas.
CLICK HERE to learn more about Sonoma Clean Power's Evergreen service.
"We couldn't be happier to have such a stellar clean energy partner so close to home," explains Peggy Flynn, Petaluma's City Manager. "Not only are we able to take a huge step forward on our path toward carbon neutrality, we are supporting our local economy and the creation of local jobs in the process. It's truly a win-win."
Have you opted up to EverGreen yet? If not, it's easy. To upgrade to EverGreen, or to find out if you currently enrolled, please contact Sonoma Clean Power by calling
1 (855) 202-2139.
The more SCP customers choose EverGreen, the more local renewable sources SCP can build, and the more we can help sustain our environment. Upgrading is a simple but important step you can take to help our community.
The City of Petaluma looks forward to using renewable energy, and working with our community to take action to reach carbon neutrality by the year 2030.