The Petaluma River Watershed
Located in southern Sonoma County, and a portion of northeastern Marin County, the Petaluma River Watershed encompasses a 146 square mile, pear-shaped basin. The watershed is approximately 19 miles long and 13 miles wide with the City of Petaluma near its center.
The headwaters and ephemeral tributaries of Petaluma River begin on the steep southwest slopes of Sonoma Mountain, the southern slopes of Mecham Hill, and the eastern slopes of Weigand's Hill and Mt. Burdell. The confluence of Willow Brook, Liberty Creek, and Weigand's Creek form the headwaters of the Petaluma Watershed just upstream of Rainsville Road and Stony Point Road. The Petaluma River itself flows across the Denman Flat area and through the City of Petaluma. Tidal influence extends upstream of the confluence with Lynch Creek (beyond the railroad crossing).
Mountainous or hilly upland areas comprise 56% of the watershed. Thirty-three percent of the watershed is valley, and the lower 11% are salt marshes. Sonoma Mountain at 2,295 feet is the highest point in the watershed. The Petaluma River empties into the northwest portion of San Pablo Bay.
The lower 12 miles of the Petaluma River flow through the Petaluma Marsh, the largest remaining salt marsh in San Pablo Bay. The marsh covers 5,000 acres and is surrounded by approximately 7,000 acres of reclaimed wetlands. Prior to reclamation, marshland elevations ranged from mean sea level to 3 feet above mean sea level.
Credit: Southern Sonoma County Resources Conservation District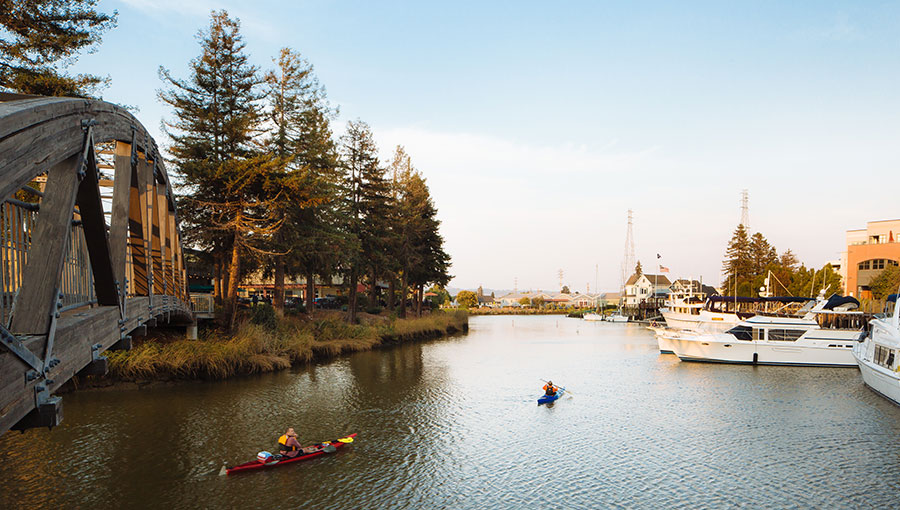 The Petaluma River Watershed provides water to Petaluma and beyond .
by Chelsea Thompson