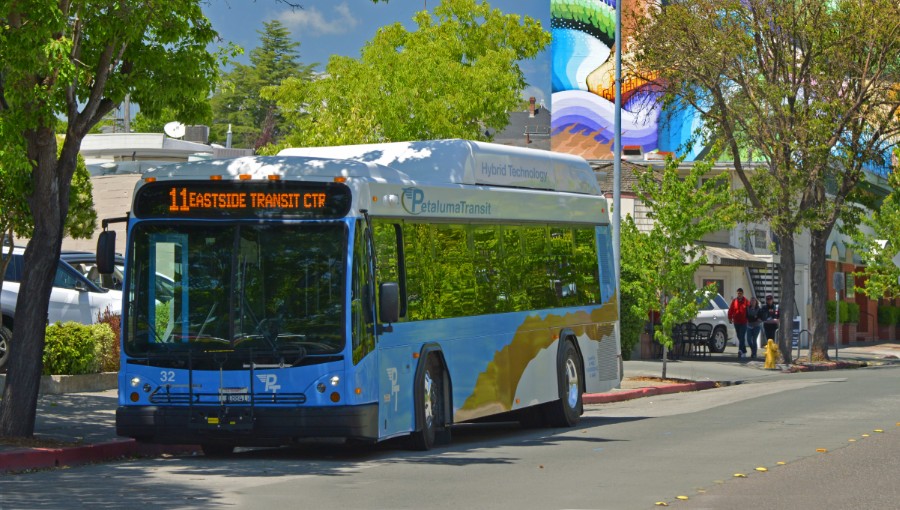 For Immediate Release
March 20, 2020
Petaluma, CA—Petaluma Transit is committed to serving riders who rely on public transit to conduct essential business and access vital resources such as healthcare, pharmacies and grocery stores.
Petaluma Transit will continue to provide transit service to help move health care workers, social service workers, our own transit staff, first responders and others who must travel during this time so they can help keep people safe and keep our community going.
You can find the current bus schedule online at transit.cityofpetaluma.net, and an online pdf of our Rider Guide.
We encourage all our riders and employees to do what they need to keep themselves and their families safe and follow the recommendations of health experts.
Preventing the spread of COVID-19 is a team effort.
Right now, social distancing is one of the best ways to prevent the spread of COVID-19. On transit and in public, please keep at least three feet — and six, if possible — between you and other people, including the operator.
We're wiping all frequently touched surfaces on our buses with disinfectant each night and in between driver shifts as time permits.
One of the most important things that can be done to prevent the spread of COVID-19 is to keep it off transit and out of public spaces, to begin with, by not traveling when you're sick.
We're in close contact with local, state and national health authorities and we're following their advice in terms of precautions and mitigation measures.
Trip Planning:
Other transit agencies have modified their service schedule during the Shelter in Place order. Be sure to check the websites for all the transit services you use in order to ensure you have updated schedule information or visit 511.org.
To stay up-to-date with the latest information, follow Petaluma Transit on Facebook and Twitter.
Thank you for your understanding—we appreciate your patience. For more information, go to transit.cityofpetaluma.net.