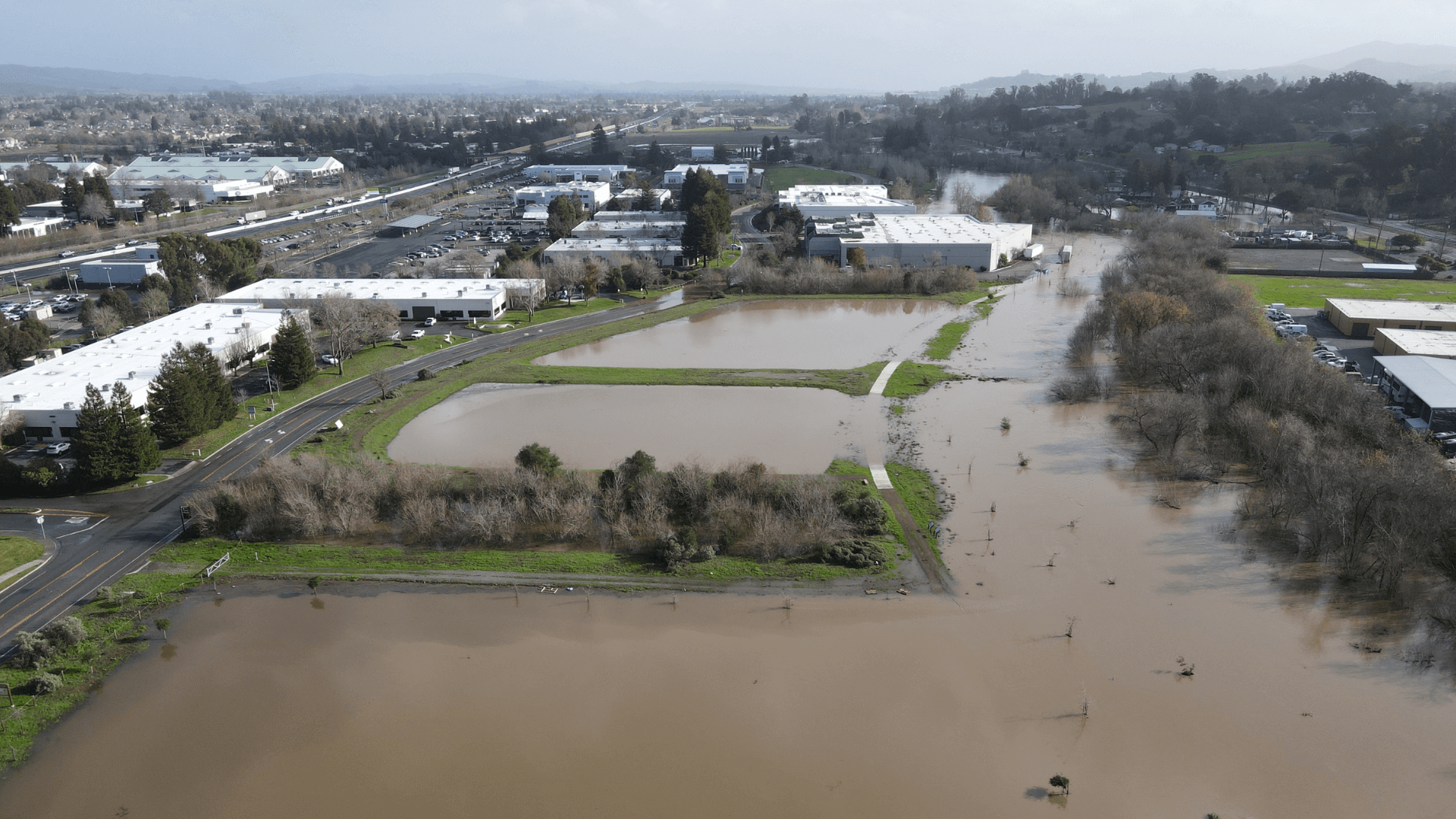 Welcome to the next installment of our new Department Spotlight! Last week, we explained the ways in which our Public Works & Utilities (PW&U) staff prepares for storm events, both throughout the year and immediately before a storm. Next, we'll dive into a couple more crucial areas of their work – what takes place during storms and large-scale, long-range infrastructure projects designed to reduce the risk of flooding.
DURING THE STORM
During storm events like those we are currently experiencing, our PW&U staff kicks their efforts into high gear to ensure our community is safe and our city is functioning properly.  
STORM PATROL
Teams patrol Petaluma throughout storm events, paying close attention to known problem areas where flooding is likely to occur. We also keep an eye on water levels using Petaluma's 20 stream gauges and check to make sure our stormwater infrastructure elements (gutters, grates, drains, pumps, etc.) remain unobstructed. If we spot a problem, we quickly work to resolve it. This can include clearing drains, removing debris, and coordinating with our Police and Fire departments to address issues of public safety. 
WORKING WITH OUR COMMUNITY
You, our Petaluma community, play an integral role in keeping Petaluma safe when harsh weather strikes. Our PW&U department increases staffing during storm events to ensure all phone calls from the community are answered by a live team member and concerns are addressed immediately. A big thank you to our Petaluma residents who took the time to call in with issues you spotted around town – this is a huge help to us in keeping our community safe. We also appreciate those community members who share information via social media channels like Nextdoor, but please remember to call us first so we can address and resolve issues as quickly as possible.
REPORTING PROBLEMS AND HAZARDS
Report blocked storm drains or culverts to Public Works & Utilities –

707-778-4546

.

Report dangerous road conditions, obstructions, or fallen power lines to the Petaluma Police –

707-762-2727

. Do not touch a fallen power line!

If you encounter a stop light that has lost power, please treat it as a 4-way stop. Click

HERE

to learn more.

And, if you have not done so, please sign up for emergency nixle alerts by texting your zip code to 888777.
LARGE-SCALE FLOOD PREVENTION PROJECTS
PW&U staff work year-round, as well as before and during storms, to keep our community safe and reduce the risk of flooding. But some of the most important work we do is years in the making.
Long range planning is crucial to our Public Works Department's success. For example, historically, flooding hits our industrial area hard during any major rain event (especially Industrial Drive Behind the car dealerships). To better protect the businesses along Industrial Drive, the City launched the four-phase Denman Reach flood mitigation project, which lasted from 2005-2020. This project allowed the City to purchase plots of land between the Petaluma River and Industrial Drive, restore the wetlands, and make other improvements designed to help lower the flood threshold by around a foot in this area.
Over nearly twenty years, through the Denman Reach project, Public Works staff have put in long hours to protect this area from destructive floods. Today, staff feel proud that these efforts seem to be working. While parking lots on Industrial Drive have seen flooding this week, the businesses themselves have remained safe.