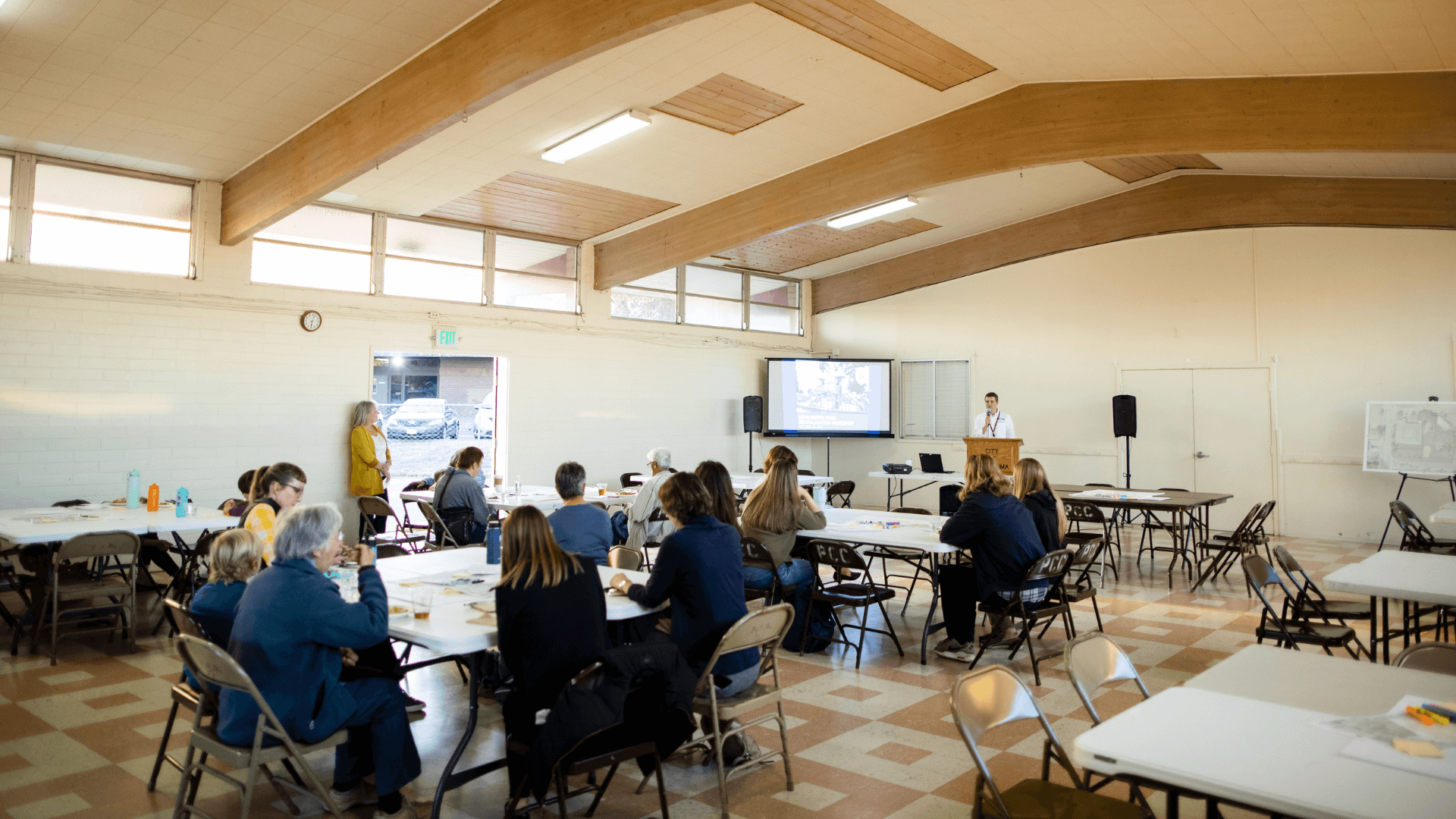 The last couple of weeks we've shared how our Public Works & Utilities (PW&U) department helps keep our community safe when extreme weather strikes. Now, we'll look at the ways they keep our community in the loop for important work that takes place citywide throughout the year. 
A BUSY TEAM
The PW&U team works on projects that touch all areas of Petaluma. From streets to traffic signals to water to the airport, marina, transit, and more, PW&U keeps our city running smoothly through managing various critical element of our infrastructure.  
ENGAGING THE COMMUNITY
In addition to making sure our infrastructure is functioning safely (no small job!), PW&U works hard to keep the people of Petaluma informed about projects and works closely with the community to ensure their needs are being met.  
This communication and collaboration with the community is referred to as "community engagement" or "public engagement". Simply put, it is sharing the story of what the City is doing, and listening to what our community thinks and needs.  
Tools we use to inform and engage the community can include:  
Postcards 

 

Newspaper ads 

 

Posters 

 

Emails 

 

Social media posts

Project webpages with info and sign-up forms to receive updates

News posts on cityofpetaluma.org

Surveys

Public meetings and workshops

Meetings with key community stakeholders

One-on-one conversations with community members 

 
PUBLIC ENGAGEMENT IN ACTION
A big project our PW&U team is currently working on is the North McDowell Improvement project. This project will smooth the surface of the road and add safety improvements that benefit all road users. (Learn more about the project at cityofpetaluma.org/mcdowell).  
Improvements done to N. McDowell will create a better experience for thousands of people each day. At the same time, we know that construction may cause traffic delays and other inconveniences for those who live or work off this major corridor. It is for this reason public engagement is so critical!  
Below are some ways City staff are engaging the community to make sure Petalumans are in-the-know for all things N. McDowell:  
Virtual Community Workshop

– In January 2022 we held a virtual community workshop to inform the community of our plans to improve N. McDowell and listen to your ideas, needs, and concerns. We sent a citywide postcard and placed an ad in the Argus promoting the workshop, posted to our social media channels, and included in our weekly Community Update email. Over 50 community members attended, and we heard some great ideas – about 90% of which we were able to incorporate into our final project design! 

 
Informational Meeting –

Fast forward to September 2022. We held an informational meeting to share our proposed design with the community and take additional feedback. We promoted this meeting in much the same way we did the first. From here we were able to create our final design for the project. 

 
Letting the Community Know What's to Come –

As the start of the project approached, we began sharing information with the community through the newspaper, our Community Update, project webpage, social media channels, and letters to McDowell neighbors. Our goal is to give people an idea of what to expect so they can plan accordingly. 

 
Meetings with Key Stakeholders –

We are currently in the process of setting meetings with key stakeholders along McDowell (businesses, shopping centers, etc.) to strategize how to best get our work done while creating the least disturbance for them. Just this week we met with the Lagunitas team. Their feedback on foot traffic near their tasting room will inform our plans for a nearby crosswalk. 

 
Resources for Business

– We are creating handouts and posters for businesses along McDowell to help educate their customers about the work taking place.  

 
Ongoing Updates

– We will provide the community with ongoing updates about the project through our Community Update email, social media channels, and dedicated emails to those who sign up to receive project updates at cityofpetaluma.org/mcdowell.
HOW TO STAY INFORMED  
The best way to stay informed about projects taking place around town is to: