120×40 Barge – The Sonnee Delight
The proposed dredging contractor will use a 120x40 ft excavator barge—the Sonnee Delight — to do the float dismantling and dredging. The Sonnee Delight is up-fit with a material handler configured for up to -52 feet of excavation. The crane cycles a 5 cubic yard level-cut digging bucket.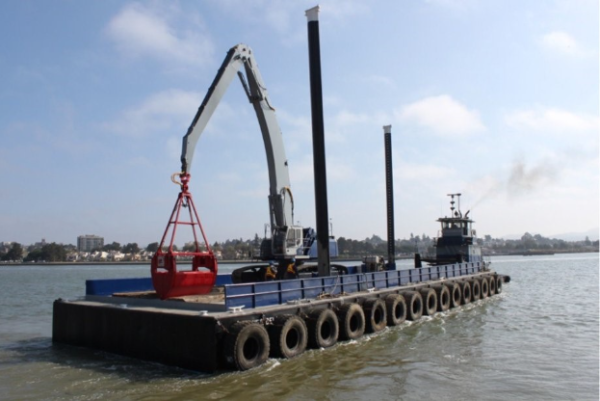 4-5 Scows
Once lifted from the water, the dredged material will be loaded onto a smaller barge called a scow. The proposed contractor will use 4 to 5 scows in this project.
Fun fact: From the late 1800's through the 1920's scow schooners connected Petaluma and San Francisco by hauling cargo up and down the river.
2 Tug Boats
A mini truckable tug will be shifting the barges in the upper reaches of the Turning Basin and River. A slightly larger tug will shuttle the barges from the project site to the disposal site in the San Pablo Bay.
For more information on the Turning Basin Dredging & Dock Restoration (2022), CLICK HERE.