(Lynch Creek Trail Public Art)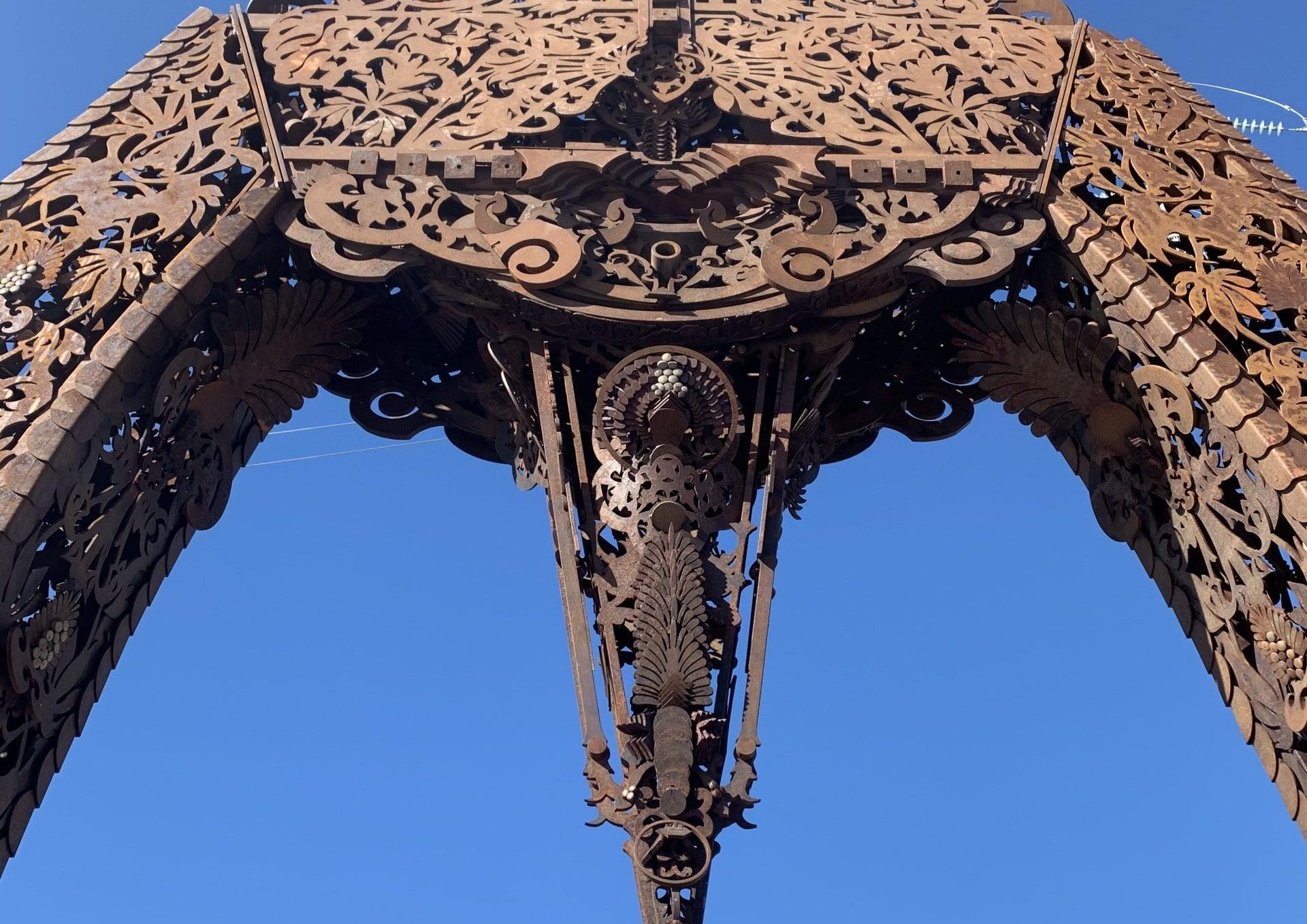 River Arch 'Chandelier' Detail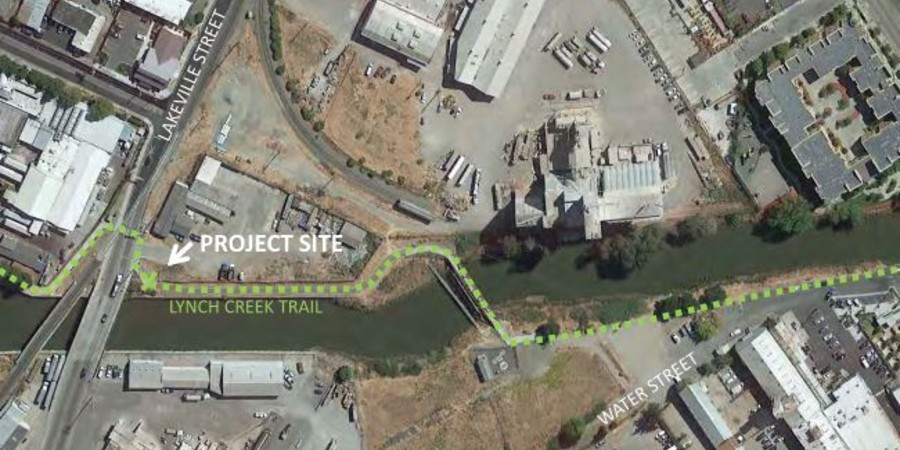 Site Location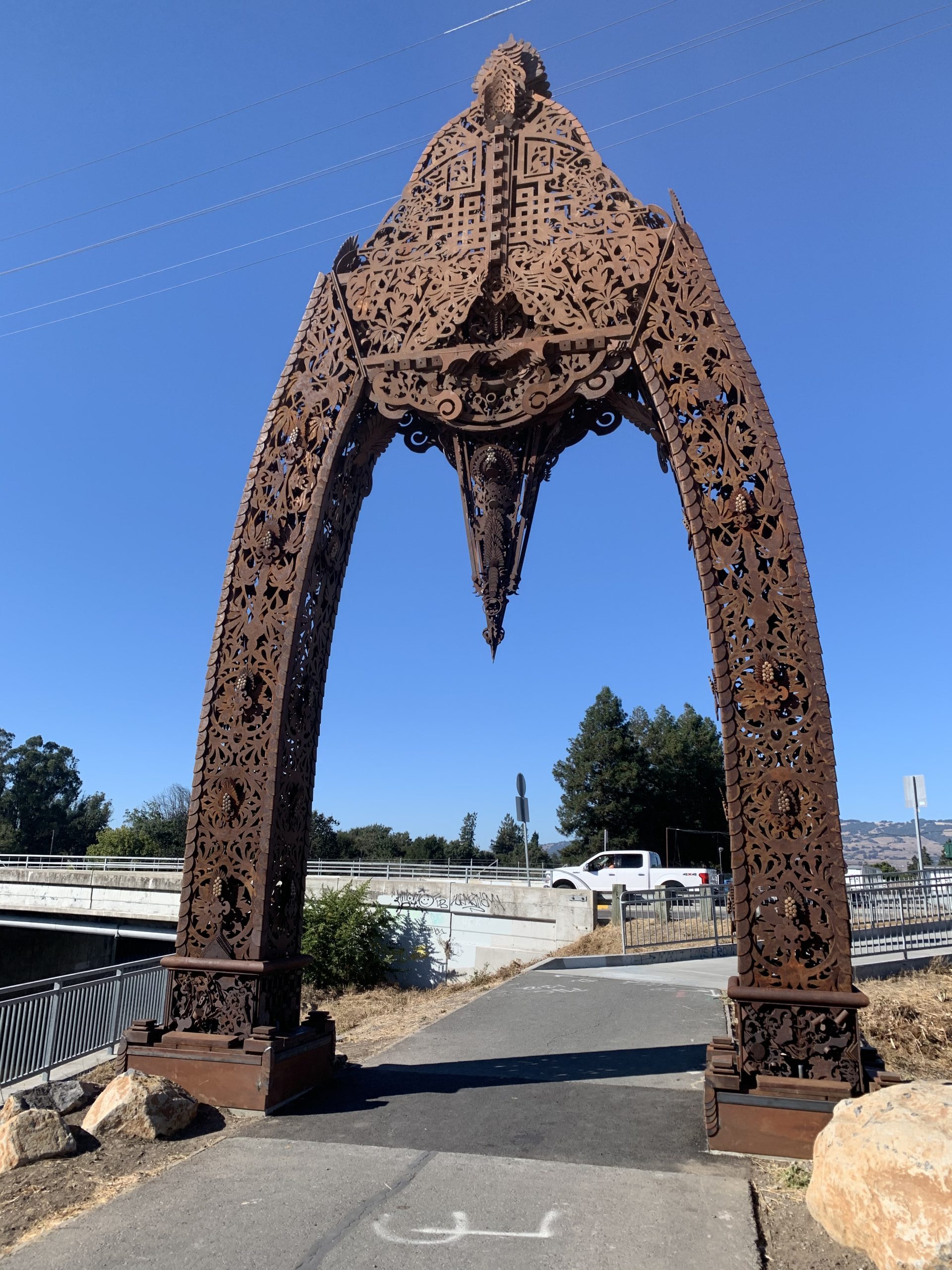 Completed Artwork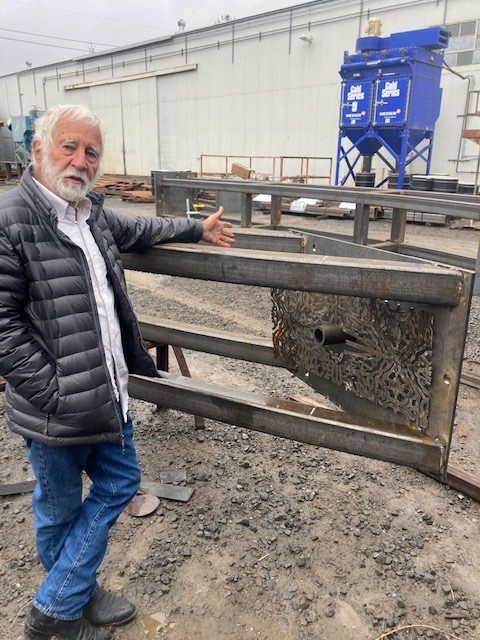 Artist David Best working on River Arch
Petaluma-based artist David Best was commissioned by the Petaluma Public Art Committee (PPAC) in 2017 to create a site-specific artwork for public enjoyment in Petaluma. David Best is an internationally acclaimed artist known for building large elaborate temples, modifying and decorating automobiles and buses, and creating intricate sculptures out of found materials. For the last twenty years, Best has become revered for his work at the Burning Man Festival held in Nevada's Black Rock Desert.
After searching through potential sites across the city, the PPAC approved David Best's commission for the Lynch Creek Trail near Lakeville Highway. The goal of the project is to create an inviting gateway at the Lynch Creek Trail alongside the Petaluma River and enhance the site for pedestrians, welcoming residents and guests alike to Petaluma's downtown.
In 2019, Best shared his concept for a gateway arch spanning the trailhead at Lynch Creek Trail to the community. Working with Petaluma-based landscape architect Sandra Reed to balance the steel archway with natural elements, Best presented his Final Site Concept to the PPAC on August 22, 2019 which passed with a unanimous vote. Later that year, Best unfortunately struggled with health issues that delayed the project's advancement. Best remained committed to the project through the COVID-19 pandemic, recruiting help from his partner Maggie Roth and architect Steven Brummond. Best's health condition has improved since and with his team, has submitted building plans for construction in Summer of 2021.
The first phase of the River Arch project will be the approved archway fabrication and installation on the Lynch Creek Trail site. On Saturday August 20th, 2022 Best and his team completed install of the River Arch at its intended project site. A public ribbon-cutting unveiling ceremony was hosted at the artwork, hosted by the PPAC, to celebrate the artist and his support team of local welders, artists, friends, and family.
The second phase of the project will be the site improvement as designed by Reed, for which funding is still being considered to complete the overall landscaping improvement to this area of the Lynch Creek Trail.
Project Details
| | |
| --- | --- |
| Title: | River Arch |
| Artist: | David Best |
| Location:  | Lynch Creek Trail at 88 Lakeville Hwy, Petaluma, CA |
| Date: | 2017 - present |
| Medium:  | Steel and concrete base |
Public Meetings and Hearings
Community Meeting - 5/22/19
Petaluma Public Art Committee Meeting - 4/24/19
Petaluma Public Art Committee Meeting - 2/28/19
Community Event - 1/26/19
Community Event - 1/25/19
City Council - 12/17/18