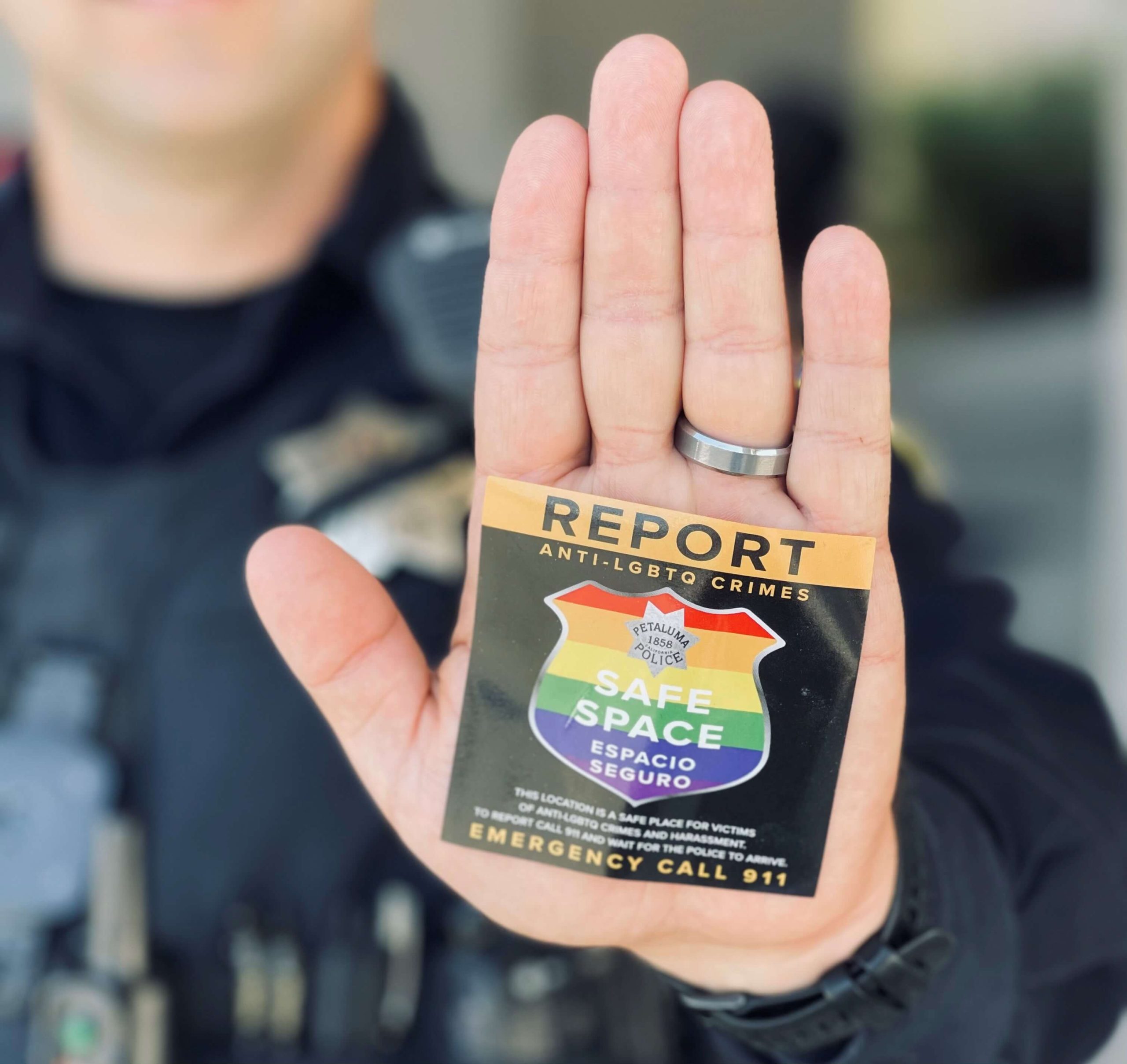 The City of Petaluma and the Petaluma Police Department are proud to announce the launch of the Safe Space Program which stands as a symbol that hate, of any kind, is not tolerated in Petaluma.
Understanding the importance of community participation in increasing public safety, the safe Space program provides a location for anyone who is a victim of a hate crime or feels threatened, to enter and call the police for assistance immediately. Local businesses, schools, places of worship, and not-for-profit organizations who want to participate in this anti-hate program can receive a free decal to display. By displaying the decal for the community to see, the Safe Space locations agree to protect individuals by:
Allowing victims to enter and remain at their premises until the Petaluma Police arrive

Calling, or assisting victims in contacting 9-1-1 immediately to report hate crimes
Instructing all employees or volunteers to assist victims and/or witnesses in this protocol
"As public safety servants our mission is to create a safe and inclusive community where everyone feels safe and welcome. This anti-hate program is another great example of the Petaluma community coming together in the name of community safety regardless of where you are from, what language you speak, what religion you believe in, or who you love," said Chief of Police Ken Savano.
Modeled off the success of similar programs in other cities, the Safe Space program was first launched in Seattle in 2015 by a police officer who was a part of the LGBTQIA+ community. Now over 300 agencies across the country have leveraged a Safe Space program to ensure that hate crimes are fully reported and responded to by authorities with respect and equity. 
While the Safe Space program highlights the LGBTQIA+ community logo, this critical program applies to anyone regardless of race, ethnicity, gender, sexual orientation, religion or age. Safety "for all" is at the heart of what the program stands for in our community. This powerful program will help ensure that anyone who feels as if they are a victim of a hate-crime knows that local law enforcement agencies are behind them ready to protect and serve.  
This program was developed with input from the Petaluma community and all levels of police personnel. "As a police officer and proud member of the LGBTQ community, I'm excited for this program. It is important to show that we welcome, support, and protect all members of our community. It can be hard enough trying to figure out who you are in life but when who you are is part of a marginalized group, it can create new fears or struggles. I hope that this program ensures all people feel at ease and protected from hate," said Petaluma Police Officer Morgan Rasmason.
During the entire month of June, which is also Pride month, the Petaluma Police Department is illustrating their dedication to "safety for all" by encouraging staff (both sworn and civilian) to wear Pride lapel pins and patches. In addition, Petaluma Police vehicles will sport Pride magnets and the newly created Pride police patch will be sold to raise funds to be donated to LGBTQ Connection Sonoma County,  a local organization that supports safety and wellness. 
Jennifer Pritchard added, "As the Community Engagement Liaison at the Petaluma Police Department, I understand that increasing public safety "for all" means building genuine relationships and trust with those we serve. My personal relationships with family, close friends, and colleagues who are a part of the LGBTQIA+ community makes this anti-hate campaign especially important to me. The Safe Space program is our agency telling the community we are here for you."
To sign up, local organizations can visit https://cityofpetaluma.org/safe-space to receive a decal. The Petaluma Police Department Safe Space program aims to enroll 500 local organizations by June 30. Please join us in this campaign to help ensure everyone feels safe and supported in our community. 
For Press Release questions or staff interviews, please contact Jennifer Pritchard.
Contact: [email protected] | 707-332-7512