Skate Park Redesign & Site Analysis Project
The Petaluma Skate Park was built in 1997 and is one of the oldest active skate parks in California. The Skate Park Redesign & Site Analysis Project will engage the community to chart the future of skateboarding--and other related activities, such as BMX, rollerblading, and freestyle scootering--in Petaluma.
We are excited to announce the City of Petaluma will be working with Grindline Skateparks, Inc., a world-class skate park designer and construction company with a diverse portfolio of unique designs around the world. Community engagement activities will take place from January to June 2023, with final recommendations presented in Summer 2023.
Background
As the sport of skating continues to evolve, the Petaluma Skate Park lacks elements that would encourage participation and skills progression from a broader range of ages, ability levels, and user groups, as well as many standard park amenities including shade, seating, drinking fountains, restrooms, universal signage, lighting, and an accessible entrance.
This project has been identified as a "high priority for future investment" after receiving feedback during several community workshops and public meetings, including:
City Council Goals and Priorities Workshop
Sonoma County Measure M – Parks for All discussions at the Recreation, Music, and Parks Commission
Discussions on American Rescue Plan Act investments.
It was included in the FY 2021-23 Council Goals and Priorities (#225) and adopted in the Fiscal Year (FY) 2022/23 Capital Improvement Budget (#C14402215).
GET INVOLVED
Share your vision for the future of skating in Petaluma by taking part in our surveys and community workshops. Be sure to subscribe to project updates below so we can keep you in the loop.
First Community Workshop Complete!
Thank you to the 75+ members of our community who attended Community Workshop #1 and the 200+ who responded to Grindline's online survey!
Throughout this first phase of community outreach, our primary focus was to ask the skating community if we should:
Replace the existing skate park, or
Keep the existing skate park and add a new skate park (or multiple smaller skate parks).
What We Learned
An overwhelming majority of respondents expressed their desire to preserve the existing skate park and focus investments on building a new skate park elsewhere.
CLICK HERE to view the slideshow from Community Workshop #1
CLICK HERE to view survey results from Community Workshop #1
CLICK HERE to view survey results from Grindline's online survey
What's Next
Community Workshop #2: Tuesday, February 21, 6 PM @ Petaluma Community Center (320 N. McDowell Blvd.)
The project team is now preparing a site analysis looking at four potential City-owned sites: Kenilworth Park, Leghorn's Park, Lucchesi Park, and Wiseman Park. Each site will be evaluated using criteria including access, existing amenities, available footprint, and feasibility. The team will present their findings at Community Workshop #2 and seek input from the skating community before preparing conceptual skate park designs tailored to the preferred location.
At Community Workshop #2, the project team will:
Recap what we heard during the first round of engagement (surveys and Workshop #1)
Present and seek feedback on the site analysis
Outline a possible phased build-out approach and share examples of other skate parks delivered in phases
Seek feedback on skating features
A significant portion of the project's current $463,000 budget (approved in the FY22-23 Operating and Capital Improvement Budget) will be needed for project development costs (community engagement, planning, design, permitting, etc.), meaning additional funding will be needed to support all construction phases. The project team will begin exploring a phased build-out—a large park that could be constructed in phases as funding becomes available, with the community invited to skate each as they are completed. We will share more information about phasing and possible funding opportunities/scenarios at this and future Community Workshops.
Additional Future Community Workshops
Following Community Workshop #2, Grindline will prepare two conceptual designs for the new preferred skate park location, which will be presented for feedback at Community Workshop #3. The final conceptual design will be presented at the fourth planned workshop. Additional workshops may be scheduled as needed.
Sign-Up for Project Updates
Please use the form below to sign-up for email updates and share feedback: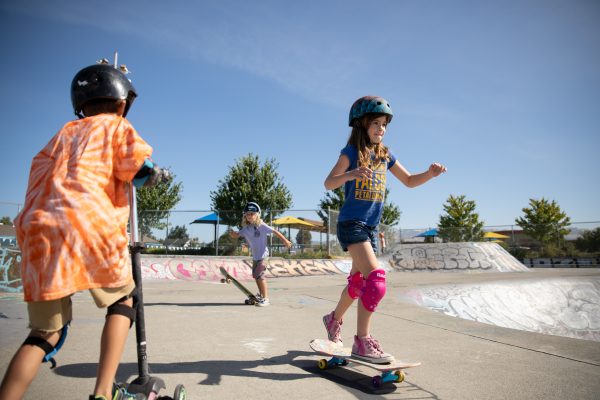 Timeline
Estimated Completion: Summer 2023
Funding
This study is funded through Sonoma County Measure M - Parks for All
Petaluma's own Community Service Officer Miguel Zarate took a moment to share with us what skateboarding means to him.