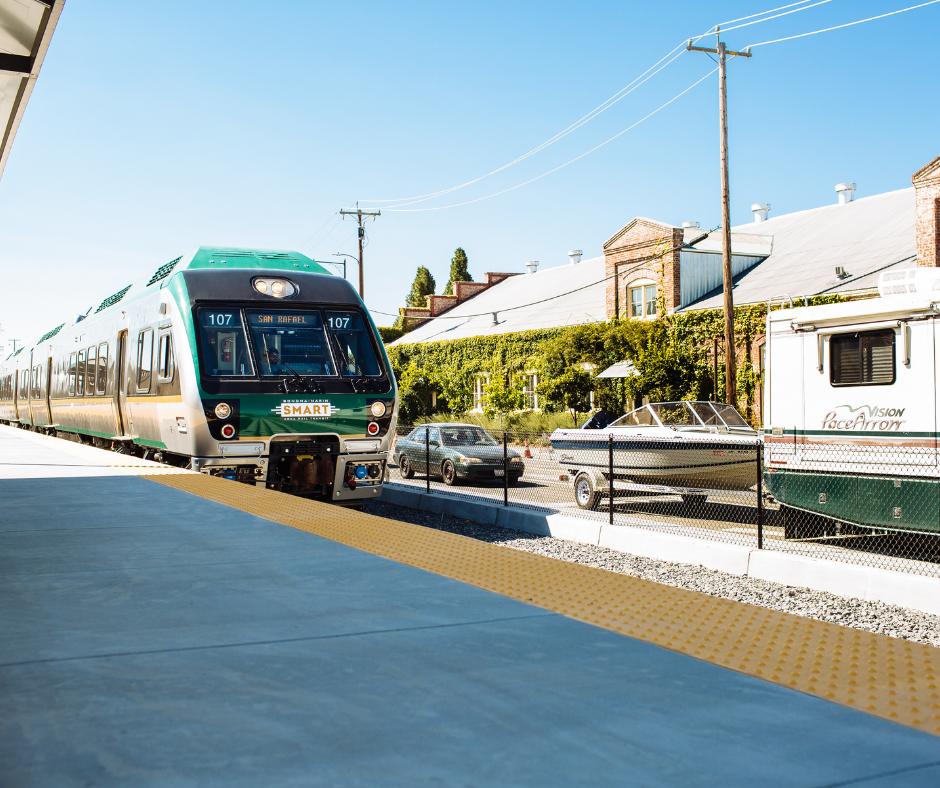 For Immediate Release                                                                                                   July 8, 2022
Contact: Matt Stevens (SMART)
Direct: 707-794-3074
Cell: 707-328-3046
Contact: Peggy Flynn (City of Petaluma)
Direct: 707- 776-3765
SMART and City of Petaluma announce more than $13M received for
major transportation improvements in Petaluma
Funding will deliver City's 2nd SMART Station, Transit Fleet electrification
Petaluma, CA—The Sonoma-Marin Area Rail Transit (SMART) District and the City of Petaluma announced today that the City of Petaluma and SMART together will receive more than $13 million in grant funds from the California State Transportation Agency's State Transit and Intercity Rail Capital Program. These grant dollars will fund the following projects:
SMART – Petaluma North infill station and North McDowell Blvd. crossing upgrades ($10,100,000)
Petaluma Transit – Bus Fleet Replacement and Electrification ($1,728,000)
Petaluma Transit – Transit Facility Improvements (Electrification) – Phase 2 ($940,000)
Petaluma Transit – Bus Stop Improvements ($412,000)
This grant is a part of a larger tranche of funds awarded to Sonoma County Transportation Authority with Petaluma Transit, Santa Rosa CityBus, Sonoma County Transit, SMART and Mendocino Transit Authority receiving project specific allocations.
"These grant dollars will have a transformative impact in the coming years for SMART and the City of Petaluma. With the SMART Petaluma North station and 4.4-miles of new SMART Pathway from Main St. in Penngrove to Lakeville St. near Downtown Petaluma, the city will see greatly enhanced transportation options" said SMART Board of Directors Chair David Rabbitt. "We are grateful for the State of California's support, and we are thrilled to begin building Petaluma's transportation network of the future."
"This marks a significant milestone that Petalumans have been waiting for since the inception of SMART service in Sonoma County," said Petaluma Mayor Teresa Barrett. "Not only will this funding deliver our eastside station but will substantially bolster our transit fleet electrification efforts helping us reach our 2030 climate neutrality goal. This successful regional partnership delivers for our community, our region, and our future."