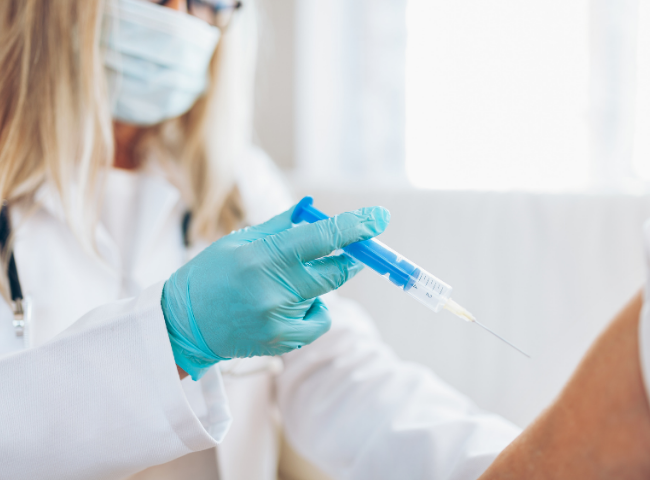 Santa Rosa, CA  –  February 5, 2021  –  Sonoma County residents ages 70 and above will be able to get COVID-19 vaccines at designated County-supported clinics and Safeway pharmacies starting on Monday, county officials announced today. The opening of these clinics to this age group is part of an overall vaccine distribution timeline and strategy that supervisors and public health officials announced jointly at a news briefing Friday.
However, county officials emphasized that the state-operated OptumServe site in Rohnert Park will continue to serve those 75 and older until further notice.
"We started with our most vulnerable seniors 75 and older for a reason – because they are our most vulnerable. We needed to give them a head start so they wouldn't lose out on getting vaccine appointments," said Lynda Hopkins, Chair of the Sonoma County Board of Supervisors. "So far, thanks to so many of our community-based organizations involved with seniors, we have made progress in getting our most senior residents vaccinated or at least getting them appointments for vaccinations in the near future. While we will continue to reserve some of our appointments and the OptumServe site for those in this age group, we are ready to open up appointments to seniors 70 and above."
Eleven Safeway stores in Sonoma County will also begin vaccinating those 70 and above starting on Monday, February 8. These vaccinations are by appointment only. For a full list of Safeway sites and links to make appointments, go to SoCoEmergency.org/vaccine.
Clinics administering the County's supply of COVID-19 vaccine are encouraged to begin offering vaccines to those age 70 and above with the following additional instructions:
To continue making vaccines available to anyone in in Phase 1a, including health care workers and first responders.
To prioritize those individuals 70 years of age or older. In the case of the OptumServe site in Rohnert Park, individuals 75 and older will continue to have priority. Other clinics, however, are being asked to reserve 20 percent of their appointments for those who are 75 and over.
"Opening clinics to those ages 70 and above will enable the county to manage the demand for appointments while continuing to make slots available for those who are most vulnerable and most in need of assistance in booking an appointment and getting to these clinics," said Barbie Robinson, Director of the Department of Health Services.
Where to get a vaccine:
Eligible individuals who are insured are encouraged to first seek a vaccination appointment through their primary health care provider. Those who do not have that option are encouraged to go to one of the following centers based on age group and/or type of employment as an essential worker:
Appointments are limited to those age 75 and over at the following location:
Rohnert Park Community Center, in partnership with OptumServe, Tuesday through Saturday, 9:00 AM to 6:00 PM; Schedule an appointment at: myoptumserve.com/covid19 or call (877) 218-0381
For those age 70 and above, appointments are available at the following clinics:
Any of 11 Safeway pharmacies in Sonoma County. Appointments are required at specific stores. Each pharmacy will have a capacity to do up to 20 Vaccinations will be available from 9:00 AM to 4:00 PM each day Monday through Friday. For a complete list of all Safeway stores, go to: SoCoEmergency.org/vaccine
Sonoma County Fairgrounds Grace Pavilion, in partnership with Safeway, 9:30 AM to 3:00 PM, schedule an appointment at: mhealthsystem.com/sonomacountypublichealth
Oakmont Berger Center, in partnership with Safeway, 9:30 AM to 3:00 PM, schedule an appointment at: mhealthsystem.com/oakmontclinic
Sonoma Valley High School, in partnership with Sonoma Valley Hospital, schedule an appointment at: www.sonomavalleyhospital.org/subscribe/
Medical or non-medical volunteers seeking to help at a vaccination clinic can find more information about volunteering at SoCoEmergency.org/VaccineVolunteers.
Licensed medical professionals will be asked to sign up to volunteer through California's Disaster Healthcare Volunteers. Non-medical volunteers are managed by the Center for Volunteer and Nonprofit Leadership, and the Volunteer Center of Sonoma County.
For more information including the latest vaccine numbers, who's eligible for a vaccine and how to receive a vaccine, community members are encouraged to visit SoCoEmergency.org/vaccine, or call 2-1-1.