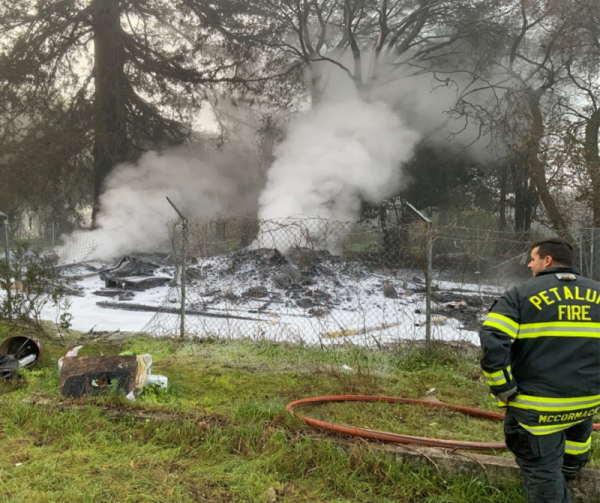 This morning, January 1, 2022 at 4:54am, the Petaluma Fire Department was dispatched to a reported structure fire at an abandoned historic house on a large vacant lot at the end of Cedar Grove Parkway.  A Petaluma Fire Battalion Chief, three engines, and three ambulances arrived at the scene within five minutes. Upon arrival, crews found the structure fully involved in fire with portions of the house already collapsed.
Firefighters typically access this parcel by crossing the SMART train tracks at the end of Cedar Grove Parkway.  Due to scheduled maintenance, the crossing is currently closed for two weeks. Alternative access to reach the fire was made by laying a fire hose from Rocca Dr. through a residence's backyard.
The SMART Train tracks were closed for approximately thirty minutes due to the fire's proximity to the tracks.
The structure was a complete loss, and we estimate the damage at $100,000.
The City of Petaluma Building Department and Fire Prevention Bureau were notified and responded to the scene. The cause of the fire is under investigation.
The Petaluma Fire Department wishes to thank our surrounding partners for their assistance at the incident and for providing station coverage to ensure the city was protected.
Date/Time:                 January 31, 2022, 4:54 am
Location:                    Cedar Grove Parkway, Petaluma
Type of Incident:      Structure Fire
Units Responding:     City of Petaluma Fire, Police & Building Dept.
Outside Agencies:     Rancho Adobe Fire, Sonoma Valley Fire & SMART
Chad Costa – Interim Assistant Fire Chief
Petaluma Fire Department
Office (707)778-4492