PG&E may shut off power during hot, dry, and windy weather as a way to reduce the likelihood of a destructive wildfire.
Petaluma is considered a Tier 3 — or low-risk — wildfire fire area. However, we share transmission lines with areas that are at high risk. As a result, a power shutoff could happen in Petaluma even if there is not a big fire threat in the immediate area.
PG&E anticipates giving the public a 24- to 48-hour notice prior to a planned shutoff. The shutoff itself could last anywhere from five hours to five days. The tips below will help you prepare now so that you can spend that time wisely if and when a power shutoff is called.
What to Expect
Gas stations unable to pump gas
ATMs not functioning
Traffic lights out—4 way stops at all intersections
If stores are still open, credit cards may not work
Electric garage doors, stoves, and household appliances (including cordless phones) will not work
How to Prepare
Ensure your contact information is up to date with PG&E.
Plan for how to get your children, pets, and more vulnerable relatives or neighbors through the PSPS.
Create a list of important phone numbers (relatives, doctor, fire/police) and keep it in a convenient location (e.g., where you keep medicine, on fridge, etc.)
Place a flashlight in several places around the house–next to bedstand, in kids' room, etc. Make one of these a headlamp. Check batteries regularly and especially when a PSPS is called.
Got medicine that needs refrigeration? Dependent on electricity for medical devices? Plan now for how you'll cope. You may need to stay with family/friends or in a hotel in an un-impacted area. Read more in the "Managing Health Care During a PSPS" tip sheet.
Practice manually opening the garage door with the red handle override. Consider parking outside the garage when a PSPS is called.
If a PSPS is called or threatened — fill up the gas tank in your car. Your vehicle can be used to charge devices, listen to radio updates, travel to areas that aren't impacted, or get air conditioning relief from the heat.  Never run your car in a closed garage.
Ensure electronic devices are fully charged and identify backup charging methods.
Build an emergency supply kit.
Pre-plan meals with the following in mind: a fully stocked freezer will keep food frozen longer, up to 48 hours. A refrigerator will keep perishables safe 4-6 hours.  Put filled water bottles in the freezer when a PSPS is announced. This will help keep the fridge/freezer/cooler cold longer.
Cordless phones will not work if the power is out. Have a hard-lined home phone with cord as a back up.  Use your car battery to charge your mobile phone if necessary. If cell service is affected, texting may work better than voice calls.
Contact your neighbors who may need your help to get ready.
What to put in your Emergency Kit
Water: 1 gallon per person per day for 3 days
Food: 3 day supply of non-perishable items like granola bars
Prescription or over-the-counter medication for everyone in your household
Flashlights & Extra Batteries
First Aid Kit
A battery powered or hand-crank radio
Pet food and water
Cash including small bills
Local maps
Hard copies of critical information and documents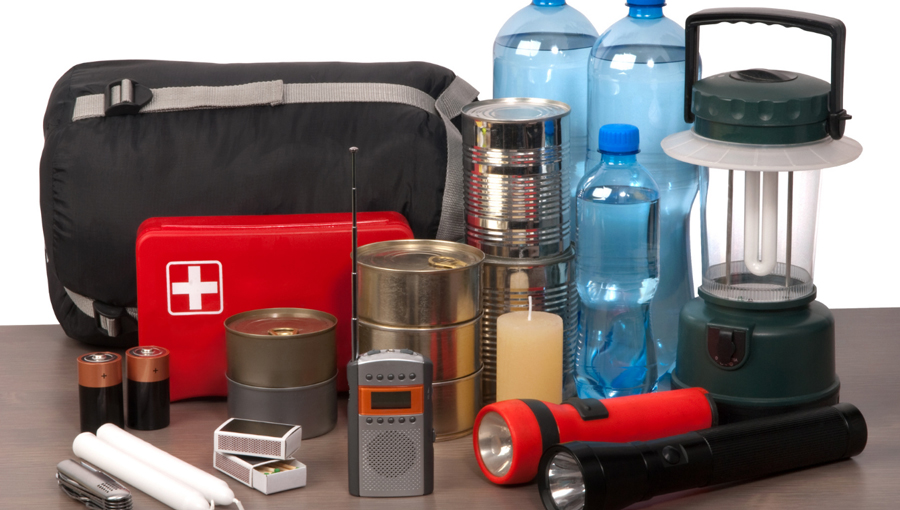 There are things you can do to plan ahead for Public Safety Power Shutoffs.
by Ingrid Alverde