What is Traffic Control?
For the City of Petaluma, traffic control has several different meanings.
The first relates to the movement of vehicles and pedestrians around a temporary road disruption, like an accident or a special event or a broken traffic signal. This type of traffic control is usually for a temporary event. It is designed to give emergency crews access to the site and ensure everyone's safety.
The other type of traffic control happens in response to a construction project that is disrupting the normal flow of traffic. Anyone who has driven Highway 101 between Petaluma and Novato lately has experienced this kind of traffic control.  Project managers work with traffic specialists to plot out how traffic will be diverted at different times during the project. This kind of traffic control is also usually temporary--although it can feel like forever as projects drag on for months or years.
The third type of traffic control is intended to be more permanent. This is the planning that happens to control the flow of people and vehicles on a day-to-day basis, over the long term. Often those original plans or routes need to be updated, for example in advance of a major development or in response to an influx of people and vehicles.
Who does traffic control in Petaluma?
The Development Engineering Division of the Public Works & Utilities Department oversees traffic control in Petaluma. We have our own traffic engineer, Jeff Stutsman, who is an engineer with expertise in traffic control.
Jeff does not make traffic decisions in a vacuum. He consults with other agencies that might be causing the need for change or might be affected by it. Examples of such agencies would be the County of Sonoma, the Sonoma-Marin Area Rapid Transit (SMART) district, and the California Highway Patrol.
Usually traffic control projects also get input from the community.
Traffic Control Projects in Petaluma
If you've been driving or walking through Petaluma recently, you've probably experienced the different types of traffic control that takes place in the city.
During the floods in March 2019, the Police Department closed off parts of Petaluma Blvd North and Stony Point Road. They had to determine where to re-direct vehicles to ensure everyone's safety. When the flood waters had gone down, they opened the road again.
Longer-term traffic control was needed during the Sonoma Mountain Parkway re-paving project that happened in May-June 2019. An important part of the planning process was determining how to keep people safe during that project. This four-lane highway was reduced to two lanes for a few weeks, and temporary stop signs were placed strategically. The speed limit was lowered to reduce accidents and injury to pedestrians, workers, and drivers.
 The roundabouts on Petaluma Blvd South and the north end of Sonoma Mountain parkway are examples of long-term traffic control at work. Roundabouts help to control the flow of traffic and are often installed in response to a new development that will bring more people onto the road.
Traffic Calming
Where speeding is an issue, various traffic calming measures, including roundabouts, provide a viable alternative to stop signs. A number of devices are currently under consideration by City engineers. These, as with undulations, signing and striping changes, all require studies before implementation is approved.
Red...Green...Flashing Yellow?
The City has replaced the solid green light protected/permissive signal with a flashing yellow arrow signal at 13 intersections. Flashing yellow signals are typically used in left turn situations and will often come after a solid green arrow. The signal allows you to make a left hand turn when safe to do so. As with other left hand turns, you must yield to oncoming traffic (which has the right of way).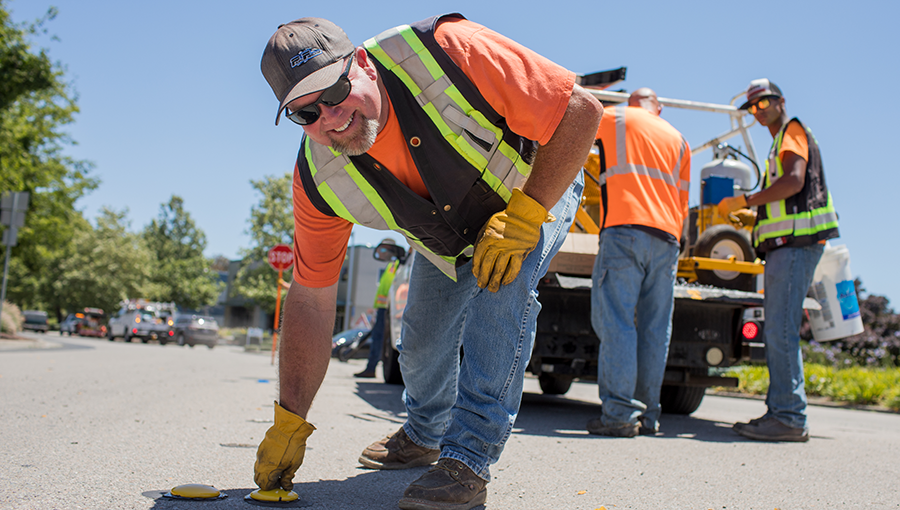 Traffic control helps move people and vehicles in a way that keeps everyone safe.
by Jeff Stutsman, Traffic Engineer