How we Follow the 8 Policy Recommendations for Use of Force
1) BAN CHOKEHOLDS & STRANGLEHOLDS
The use of "chokeholds" & "strangleholds"  are not authorized for use by Petaluma Police Officers.  The use of the carotid control hold is prohibited by the Petaluma Police Department except as an alternative to lethal force in situations where there are no other options available to the offer to protect themselves or someone else from death or great bodily injury.
Effective June 9, 2020, we have suspended the use of the carotid restraint
2) REQUIRE DE-ESCALATION
The Petaluma Police Department trains all officers in de-escalation techniques.
De-escalation training is required for all officers, which reduces the likelihood of use-of-force encounters. Officers are expected to utilize de-escalation techniques whenever possible.
3) VERBAL WARNINGS
Prior to any use of force, our officers are trained to identify themselves as peace officers and to give a verbal warning that force may be used. Officers are trained to make every effort to peacefully resolve situations without having to use force.
4) EVALUATE ALL REASONABLE ALTERNATIVES
Petaluma Police Officers are trained to consider the totality of the circumstances, and to evaluate the use of other reasonably available resources and techniques when determining whether to use deadly force. They are also trained to use only the amount of force that reasonably appears necessary.
5) DUTY TO INTERVENE
Petaluma Police Officers are trained and required to intercede to prevent the use of unreasonable force. Officers who observe another officer use force that exceeds the degree of force reasonably necessary are trained and required to intercede and to promptly report these observations to a supervisor.
6) BAN SHOOTING AT MOVING VEHICLES
Our policy restricts shooting at moving vehicles. An officer should only discharge a firearm at a moving vehicle or its occupants when the officer reasonably believes there are no other reasonable means available to avert the threat of the vehicle, or if deadly force other than the vehicle is directed at the officer or others. Officers should not shoot at any part of a vehicle in an attempt to disable the vehicle. Justification for shooting at a moving vehicle is extremely rare, but incidents like the 2015 terrorist attack in San Bernardino reveal shooting at a moving vehicle may be necessary for extreme events to protect public safety.
7) USE OF FORCE CONTINUUM
Officers are required to make decisions in rapidly changing situations. Our use of force continuum requires an officer to choose the appropriate level of force, based on the situation, consistent with policy which dictates we use "only that amount of force that reasonably appears necessary." Officers are trained to use the appropriate tools and techniques for the situation. Our use of force policy is in line with Penal Code Section 835a and Use of Force Reform Bill AB 392 effective January 1, 2020.
8) REQUIRE COMPREHENSIVE REPORTING
Officers are required to report the use of force immediately to a supervisor and to promptly document the nature of the incident. Supervisors conduct a use of force review for every use of force incident. All uses of force are reviewed by the chain of command, including the Office of the Chief of Police, to identify areas of improvement and compliance with policy. The review of all use of force incidents involves a review of all body worn camera video.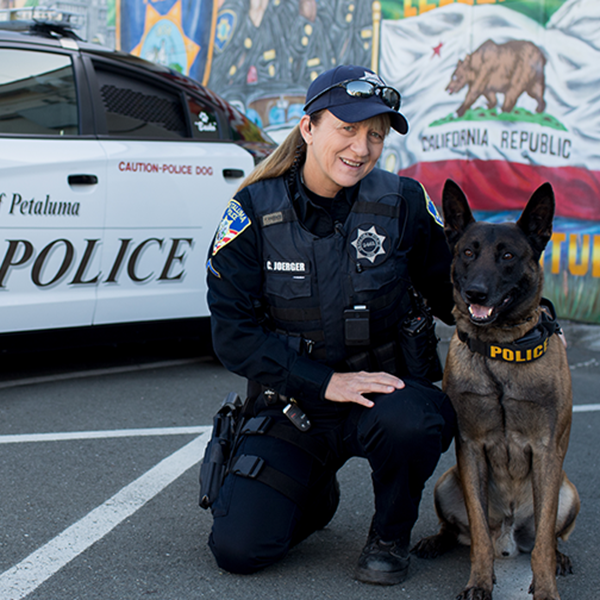 We are leaders in adopting 21st century Use of Force principles.
by Deputy Chief Miller