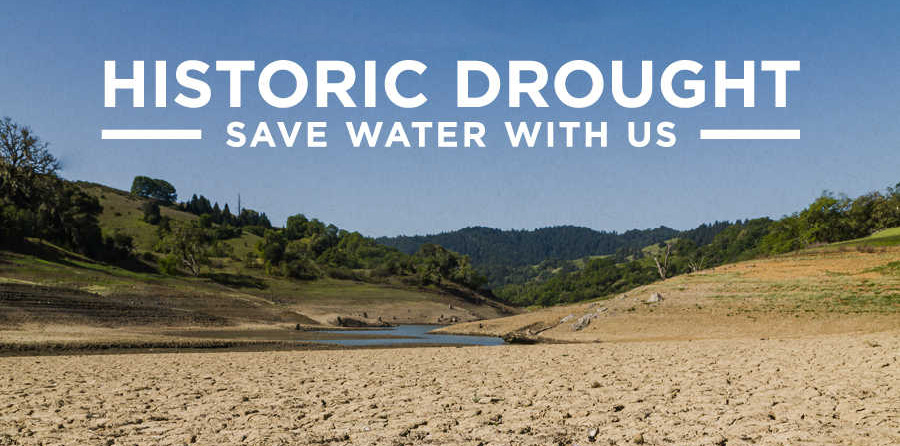 The drought emergency in Petaluma continues to be very serious. Lake Sonoma's water levels are currently lower than they were this time last year (2021) and drastically lower than in 2020. If we do not experience substantial rainfall in March, it is likely that the City of Petaluma will have reduced water allocations from its water supplier, Sonoma Water, beginning in July or earlier. If you have relaxed any of your water-saving practices this winter, we ask you to return to your water conservation efforts to help us reduce citywide use. 
Scroll down to learn more about how you can save water with us!
RESTRICTED WATERING SCHEDULE STILL IN PLACE
Please limit outdoor water use and if needed, only irrigate during the restricted watering schedule – overnight Tuesday and Saturday from 7:00 pm. to 8:00 am. Below are other water use restrictions currently in place and the full list can be viewed here.
WATER USE RESTRICTIONS FOR ALL WATER CUSTOMERS
Limited outdoor watering schedule reduced to two times per week – overnight Tuesday and Saturday from 7:00 pm. to 8:00 am.

All hoses must be equipped with a hose-end nozzle.

Water users are reminded to fix leaks and eliminate water waste (this step is required even when we are not in a drought, per

Petaluma Municipal Code

) 

No use of potable water for washing down sidewalks, driveways, buildings, structures, patios, or other hard surfaced areas, except sanitation.

No vehicle washing at home – commercial car washes only.

No operating ornamental water fountains and water features, including decorative lakes and ponds.

No irrigating turf on public medians.

No filling new pools or spas.

No topping off existing pools and spas. Pool and spa covers are required by the Petaluma municipal code to be covered during non-business hours or while not in use.

No planting of new or existing landscapes that require water.

New development to withhold landscape installation until further notice.
Please also review this list of indoor and outdoor water-saving tips to help save water with us during this historic drought.
SCHEDULE A WATER-WISE HOUSECALL
The City continues to offer FREE Water-Wise HouseCalls where a water conservation expert will visit your property to help address any/all of the below:
Program your irrigation timer to follow the restricted watering schedule

Adjust sprinklers to avoid overspray/water waste

Help you check for water leaks

Advise on ways to save water indoors and outdoors 
To schedule a Water-Wise HouseCall, please call (707) 778-4507 or email [email protected]. 
CALCULATE YOUR AVERAGE DAILY WATER USE
Did you know indoor household water needs can typically be met using 25-50 gallons per person per day? During the summer months, water use can increase due to outdoor irrigation. To provide you with the information needed to gauge your households water use, we have a Water Use Calculator on our website. Click here to learn more.
After calculating your water use, set a goal of how you can start or continue to save water. We encourage you to visit our Water Conservation webpage to learn how to save water both indoors and outdoors.
Questions? Call (707) 778-4507 or email [email protected]
Learn more: cityofpetaluma.org/savewater   |  Water Conservation Line: 707-778-4507