The Community Art Grant program is a new opportunity to fund community-driven and generated programs, projects, and activities. Created and launched in 2021, the program strives to streamline funding opportunities directly to members of the community using small, nimble grant requests. The City of Petaluma's Community Art Grants Program was developed to provide arts funding to individual artists, community-based organizations, and 501(c)3 nonprofit organizations with projects or programs based in Petaluma. The purpose of this grant is to support public-facing projects and activities that exemplify high artistic quality, represent the diversity of people and cultures within Petaluma's community, and celebrate the history and City of Petaluma. Funded projects through this grant program should be designed for public access and to engage with the Petaluma community. Maximum grant requests through this program are limited to $10,000 and cannot fund awarded applicants again until twelve (12) months after previous project completion
This page is intended to showcase the Community Art Grant 2021-2022 grant recipient programs and projects. On March 24th, 2022 the Public Art Committee unanimously approved a total of $21,800 in grant funding to endorse three (3) projects. The projects by Alynn-Mags, Re:Public, and the Climate Action Campaign were reviewed by a subcommittee of the Public Art Committee for eligibility and compatibility with the grant's purpose, then at the regular meeting of the Public Art Committee, the Committee discussed and determined funding amounts based on need, requested grant funding, and scope of each project.
The following section describes each funded grant project in greater detail. For more information about the Community Art Grant program, please visit: https://cityofpetaluma.org/community-art-grant/.
Alynn-Mags: Magnificent Mural
Artists Amanda Lynn and Lady Mags used grant funding for a community engagement event and activity that ties into the recently completed 'Magnificent' mural at 383 B Street, Petaluma on the eastern exterior wall of the Rex Ace Hardware building. Funding contributed to costs associated for the materials, temporary installation structure for the event, and artist fee. Their grant award is $7,000. This grant project was completed and closed out with a final report at the May 26, 2022 PPAC meeting. 
For more information about this mural and the associated project, please visit https://cityofpetaluma.org/magnificent-mural/.
Re:Public: Listening Builds Community
This community group is using grant funds to support funding for a multi-disciplinary, interactive art installation at Helen Putnam Plaza, managed by Re:public. The grant will contribute to costs associated with construction of a stage for performance, artist stipends, curator and events budget, publicity, and site deinstallation and restoration. Their total grant award is $10,000 which will be used in combination with other funding to increase the impact and abilities of their program, entitled Listening Builds Community. The project leaders (Gilliland and Cunningham) took the project to the Design Review Committee on May 5th, 2022 for internal review. After continued improvements to their project plan, the group is expected to apply for Building and Encroach permits in August and will be issued their first grant payment as well. This project will be completed in 2022. 
Climate Action Campaign: Bus Shelter Mural Project
Rhianna Frank is the Climate Action Manager with the City of Petaluma who requested funding for a joint-funded art project with the City's Transit Division to support a bus shelter mural project. The awarded grant funds will contribute to the student artist commission process to paint murals on bus shelters around Petaluma with support from members of the Petaluma Arts Center who will facilitate and manage the process. The total awarded grant is $4,800 which will be used to directly pay student artist honorariums for their work on this project. This project aims to be complete in Fall of 2022.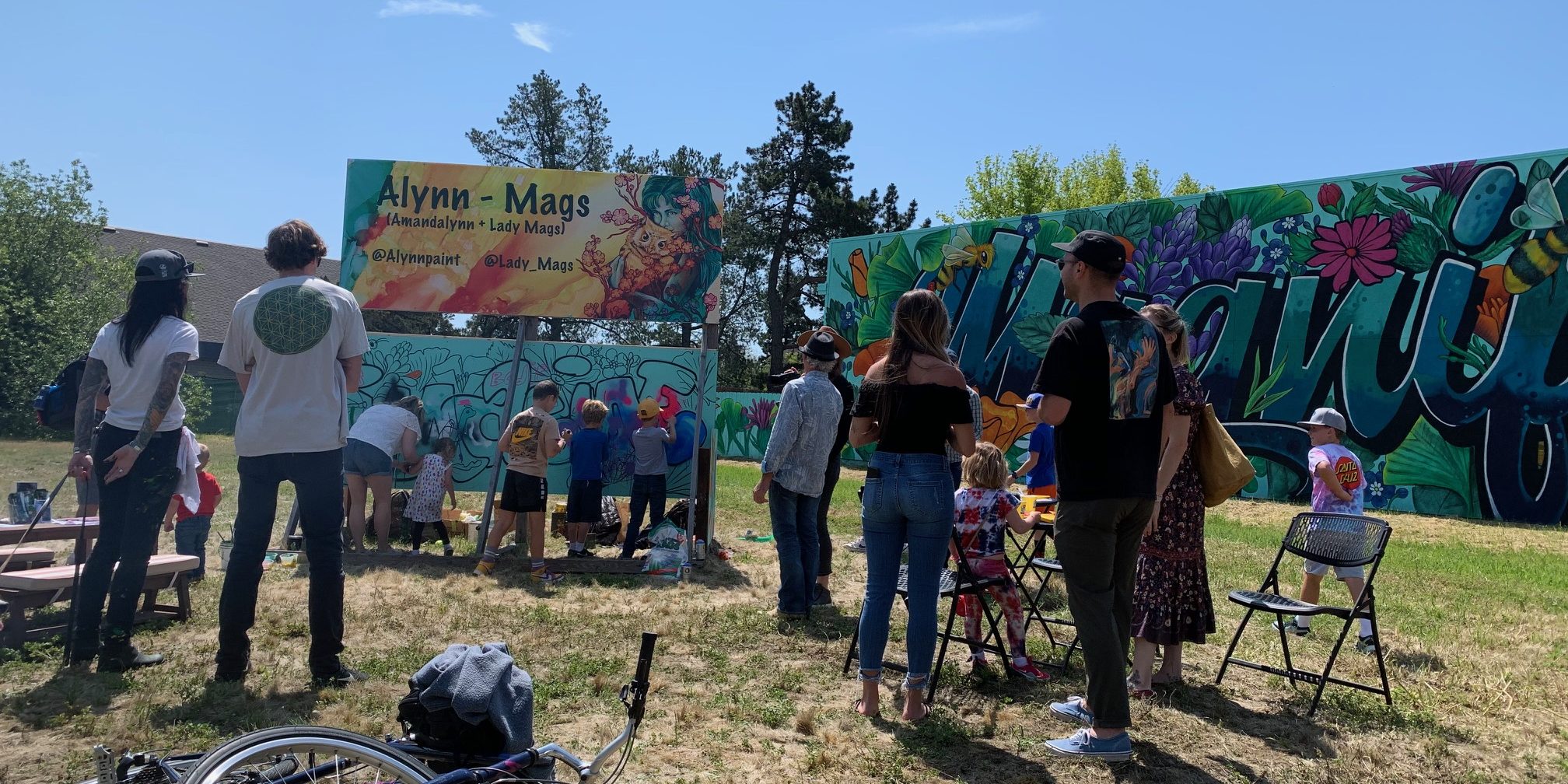 'Magnificent' mural artists Amanda Lynn and Lady Mags running their public engagement activity on April 23, 2022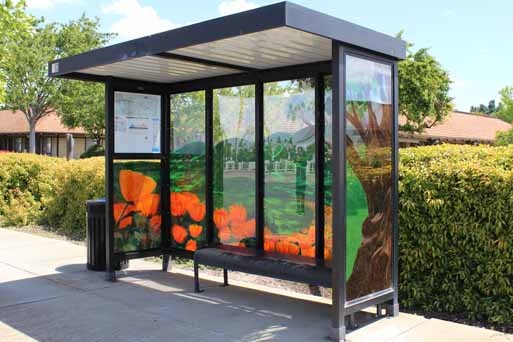 Sample of Bus Shelter Artworks courtesy of Livermore Amador Valley Transit