The drought emergency in Petaluma continues to be very serious. Lake Sonoma's water levels are currently lower than they were this time last year (2021) and drastically lower than in 2020. Since we have not experience substantial rainfall this Spring, it is likely that the City of Petaluma will have reduced water allocations from its water supplier Sonoma Water beginning in July or earlier. If you have relaxed any of your water-saving practices this winter, we ask you to return to your water conservation efforts to help us reduce citywide use.
Please take a few moments to review the information below about the drought and Petaluma's plan to conserve water, as well as answers to frequently asked questions. 
If you would like additional information, or have questions regarding water conservation and current and ongoing water use prohibitions, please call the Water Conservation line at (707) 778-4507 or email [email protected].
ARE WE OFFICIALLY IN A DROUGHT?
Yes. In April 2021, both Governor Newsom and the Sonoma County Board of Supervisors declared a drought emergency in Sonoma County. The State Water Resources Control Board (SWRCB) reported that 95% of California is experiencing moderate to exceptional drought conditions and has called upon all water users to begin saving water.
On Sept. 13, 2021, our City Council passed a resolution proclaiming a Local Drought Emergency in Petaluma. This proclamation empowers the City to access resources that would not otherwise be available to help address the current extreme drought conditions, access help from outside agencies, and open us to reimbursement for emergency costs.
To promote water conservation, the SWRCB approved emergency regulations that were enacted statewide beginning January 18, 2022. The emergency regulations will be in effect for one year and include prohibitions on potable water use such as washing impervious areas and  decorative  fountains, lakes, or ponds.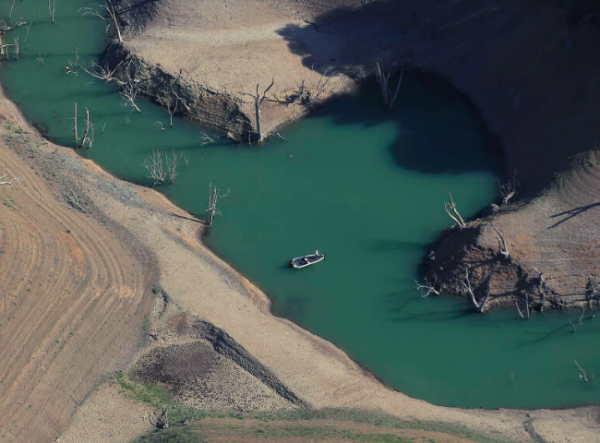 WHAT DOES THIS MEAN FOR PETALUMA?
Periodic droughts are a part of life in California. Because of this, Petaluma has a multi-stage Water Shortage Contingency Plan (Plan) ready to go when drought conditions, like those we are experiencing now, arise.  
We are now in Stage 4 of this plan, designed to reduce our city's water usage by 30% through mandatory water use restrictions.
WATER USE RESTRICTIONS FOR ALL WATER CUSTOMERS
Limited outdoor watering schedule reduced to two times per week –  overnight Tuesday and Saturday from 7:00 pm. to 8:00 am.
All hoses must be equipped with a hose-end nozzle.

Water users are reminded to fix leaks and eliminate water waste (this step is required even when we are not in a drought, per 

P

etaluma Municipal Code

)

 

No use of potable water for washing down sidewalks, driveways, buildings, structures, patios, or other hard surfaced areas, except sanitation.
No vehicle washing at home – commercial car washes only.
No operating ornamental water fountains and water features, including decorative lakes and ponds.
No irrigating turf on public medians.
No filling new pools or spas.
No topping off existing pools and spas. Pool and spa covers are required by the Petaluma municipal code to be covered during non-business hours or while not in use.
No installing new landscapes or replanting existing landscapes that require water.
New development to withhold landscape installation until further notice.
Schools and Parks only - limited outdoor watering schedule two times a week - overnight Monday and Thursday.
COMMERCIAL
Water served in restaurants by request only.
Operators of hotels and motels to provide guest with option of choosing to have towels and linens laundered daily.
Frequency and type of landscape irrigation with potable water at parks, golf courses, landscape assessment districts, schools, medians, and frontages to be determined by City Manager.
Street sweepers must use recycled water for street cleaning.
CONSTRUCTION
Recycled water must be used for dust control when available.
Number of recycled water haulers permitted to use recycled water for purposes other than construction to be determined by City Manager.
Potable water meters for construction limited to use for water line hydrostatic testing and chlorination. Water meters for construction will be evaluated on case-by-case basis.
AGRICULTURE
No new water hauler accounts permitted to purchase potable water (or as determined by City Manager.) The Santa Rosa Plain Drought Resiliency Project is exempt from this provision.
Current potable water hauler accounts will not be allowed to haul more than current allocation, and load accounts will be monitored for monthly usage.
HOW DO I REDUCE MY WATER USAGE? 
There are many ways you can help conserve water - and many City programs and incentives to help you do so! Over 10,000 Petaluma residents are already taking advantage of our free water conservation rebates and resources.  Learn more HERE.