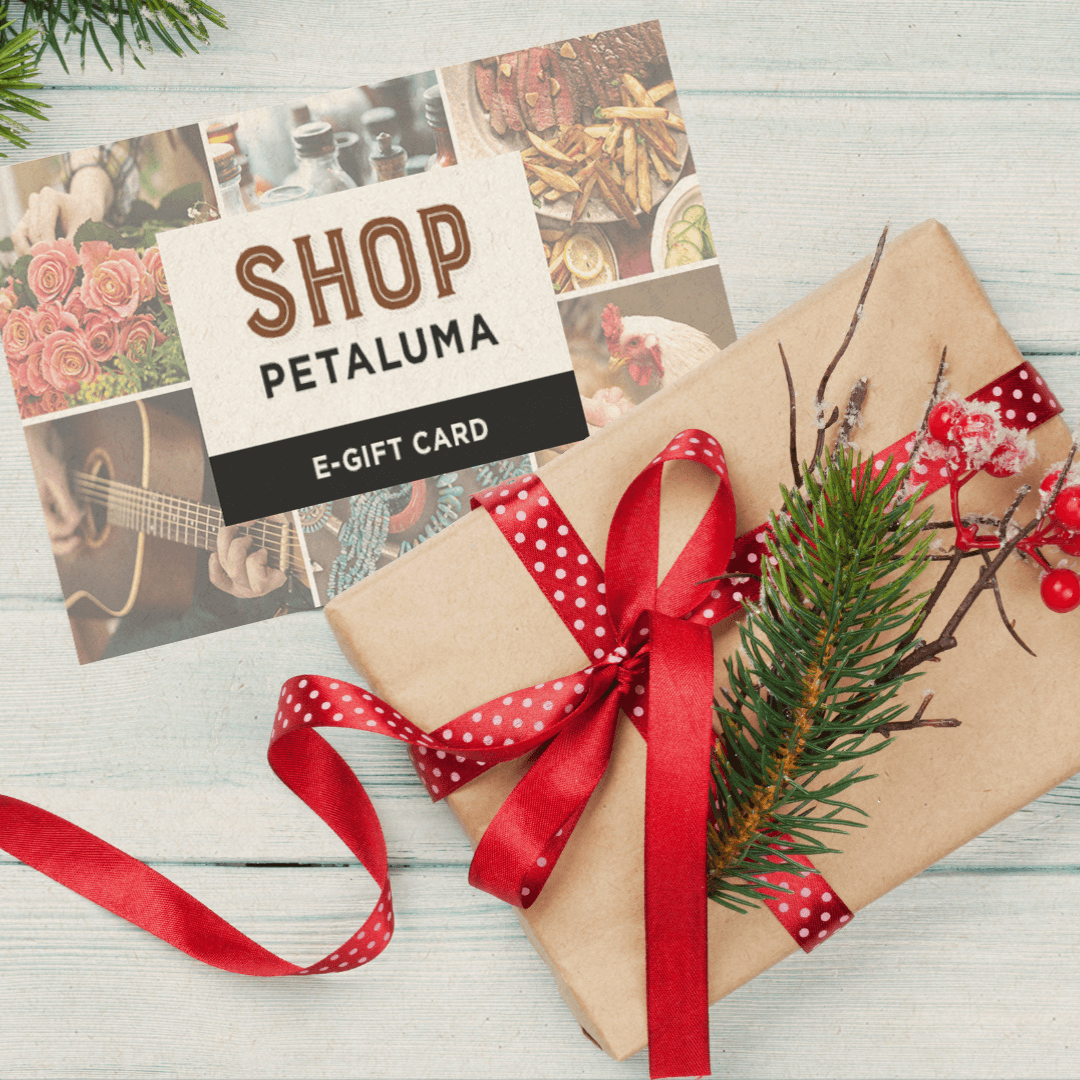 Hello, Petaluma!  
We are entering that wonderful time of the year when Petaluma's love for festive events, local business, and community connection takes on a holiday glow.     
This special edition of our Community Update shares information about beloved seasonal happenings and links to event calendars to help you plan for the weeks ahead. We also offer ways to support local businesses – from the super fun to the super convenient.   
Please enjoy, share with friends, and have a wonderful evening. 
As so many of us pause to give thanks, we are once again thankful for our amazing Petaluma community. Thank you for caring so deeply for this place we call home and for working with us to make it the best it can be!  
PETALUMA TURKEY TROT 2023
The 16th Annual Petaluma Turkey Trot returns to the Ellis Creek Wetlands on Thanksgiving Day this year and it's going to be just as healthy, family-friendly, and fun as ever! 
There is no fee (although donations for the Redwood Empire Foodbank are encouraged) and it's incredibly easy to register online. 
For more information, visit: https://madarc.com/turkey-trot-petaluma/ 
We hope that you will join us on Thanksgiving morning for this fantastic Petaluma tradition! 
WELCOME SANTA & SUPPORT SMALL BUSINESS ON NOV 25  
The Saturday after Thanksgiving (November 25) is always special in Petaluma, and this year is no exception. 
First there's Santa's Riverboat Arrival from 11:30 – 1:30 p.m. at the River Plaza Shopping Center. Watch as Santa and Mrs. Claus sail the Petaluma River, arrive at the Turning Basin in a tugboat, then stop in the River Plaza Shopping Center for photos and activities with their fans.  
Small Business Saturday is also on November 25. Businesses in all parts of Petaluma participate in this event, but the Downtown Business Improvement District makes it extra fun with special offers and the launch of its Holiday Passport program (read on for more details)   
Click Here for More Information.
DOWNTOWN HOLIDAY SHOPPING PASSPORT 
Holiday Shopping Passport, November 25 – January 7 
Get into the holiday spirit and have some fun with the Downtown Petaluma Holiday Passport! Enjoy exclusive deals at over 25 businesses and enter to win over $1000+ in gift cards.  
Download your passport at PetalumaDowntown.com, or pick up from the Visitor's Center, 210 Lakeville Street. Passport is valid November 25 – January 7. 
Learn more HERE.
LIGHT UP A LIFE 2023 
Light Up A Life returns to Walnut Park in Downtown Petaluma on Friday, December 1, 6pm – 7pm. At this beloved event, our community gathers to illuminate one of the largest trees in the park in remembrance and celebration of the lives of those we have loved and lost – each light symbolizing the life, hopes, and dreams of a loved one. 
Light Up a Life is organized by Providence Hospice Sonoma County.   
CLICK HERE for more information about Light Up a Life 2023. 
DOWNTOWN HOLIDAY OPEN HOUSE & MARKETPLACE, SATURDAY DECEMBER 2 
Head to downtown Petaluma for the annual Downtown Holiday Open House on Saturday December 2nd held at established businesses in the historic downtown from 11am – 5pm. Bring your shopping list to find those perfect gifts and let the downtown merchants spoil you with holiday offers and treats. Then be sure to check out the outstanding downtown restaurants and cafes for breakfast and or lunch while you're out on the town! 
Also on Saturday December 2, Kentucky Street will be closed and over 50 merchants, crafters and makers will create a festive marketplace. There will be great family entertainment and photo opportunities with Santa and Mrs. Claus.  
Petaluma Transit will be at this event promoting its "Stuff a Bus" campaign from 11am to 5 pm.  Bring a new unwrapped toy for Toys for Tots or a Food Item or Gift Card to benefit a Family in Need at COTS.
CLICK HERE for more information.
PETALUMA FIREFIGHTERS FOUNDATION SANTA PARADE 2023
Get ready, Petaluma! On December 4th, 5th, and 6th, Santa will be given a police-escorted tour of different parts of the city while riding in a vintage fire engine. The Santa Parade is organized by the Petaluma Firefighters Foundation in partnership with the Petaluma Police and Fire Departments.
Follow the Petaluma Firefighters Foundation on Facebook and Instagram for more detailed route information, times, and more. 
LIGHTED BOAT PARADE – SATURDAY, DECEMBER 9, 6PM 
Join us for the Petaluma Lighted Boat Parade as a flotilla of boats aglow with colored lights and holiday decorations make their dramatic entrance into the Petaluma Turning Basin.
Have your camera ready to capture this spectacular scene as thousands of tiny lights reflect on the water, creating a magical effect sure to draw "oohs" and "ahhs".
Learn more here: https://www.petalumadowntown.com/lighted-boat-parade 
GIVE THE GIFT OF SUPPORTING LOCAL BUSINESS WITH THE SHOP PETALUMA GIFT CARD 
Not sure what to get that special someone? Support local year-round with a Shop Petaluma gift card! Shop Petaluma gift cards can be used at more than 120 participating Petaluma businesses, many offering special deals for gift card users. 
Since the program launched in 2020, more than 1800 gift cards have been purchased, keeping nearly $85,000 local over the past 3 years. This has a huge impact on our local economy!  
Click HERE to purchase a Shop Petaluma gift card today. If you already have a Shop Petaluma gift card, be sure to use it this holiday season. 
Want your business to be part of the program? It's easy and free! Learn more HERE. 
HOLIDAY PARKING GOT YOU DOWN? LEAVE YOUR SLEIGH AT HOME AND TAKE OURS!
Petaluma Transit will provide FREE fares on weekends between Thanksgiving to NYE!  
Petaluma Transit Route 11 connects Eastside and Westside and services Downtown Petaluma every 30 minutes.  For help planning your trip downtown call 707-778-4460. With service every 30 minutes, getting downtown is a breeze. 
CLICK HERE to plan your trip using our online tool. 
MARK YOUR CALENDARS FOR UPCOMING EVENTS 
The holidays are a time to spend with family and friends, making memories. In Petaluma, there is no shortage of holiday fun to be had for the whole family! 
CLICK HERE to download a calendar of holiday events courtesy of Visit Petaluma or visit our website: cityofpetaluma.org/events.
Would you like your community event added to the City website? Please contact [email protected] to submit your request.