Petaluma is moving to a district election model to ensure that voices from all corners of our community are heard. This is a significant change in how Petalumans will vote for city council representation — and we need your input to shape the new districts. For legal reasons, this transition must happen fast. The City is planning to have draft maps drawn by the end of January. A critical window for community input is happening right now. Community members — regardless of immigration status — are invited to tell us where they think district boundaries should be drawn by completing a form and map available online and on paper. Learn more below.
WHAT ARE DISTRICT ELECTIONS?

Petaluma currently uses an at-large election system, which means all voters in the city cast a ballot for all six councilmembers and our Mayor.   In our new district election model, voters from a specified area will vote directly for one of six Councilmembers to represent them. For example, if you live near a park or a school, you and your neighbors could vote directly for a Councilmember who lives in your district and represents everyone in your neighborhood. The entire city will be mapped into six distinct districts of nearly equal population that equitably represent all people who live in Petaluma, whether they are eligible to vote or not. The Mayor will continue to be selected with the at-large election system.
HOW TO GET INVOLVED

JOIN AN UPCOMING PUBLIC HEARING

January 31 - District Elections Public Hearing #3

Council will review the initial draft maps which will be posted online seven days prior, January 24.
More details coming soon.

The full timeline of events can be found below.

PROVIDE YOUR INPUT FOR NEW DISTRICTSDON'T HAVE REGULAR ACCESS TO A COMPUTER?

Public computers are available at the Petaluma Regional Library
Printed copies of the Community of Interest forms and City Maps are available for pick up at the Petaluma Regional Library (all City facilities currently closed due to COVID)
Completed materials can be placed in the green drop boxes (usually used for payments) located in the parking lots of the Community Center and City Hall.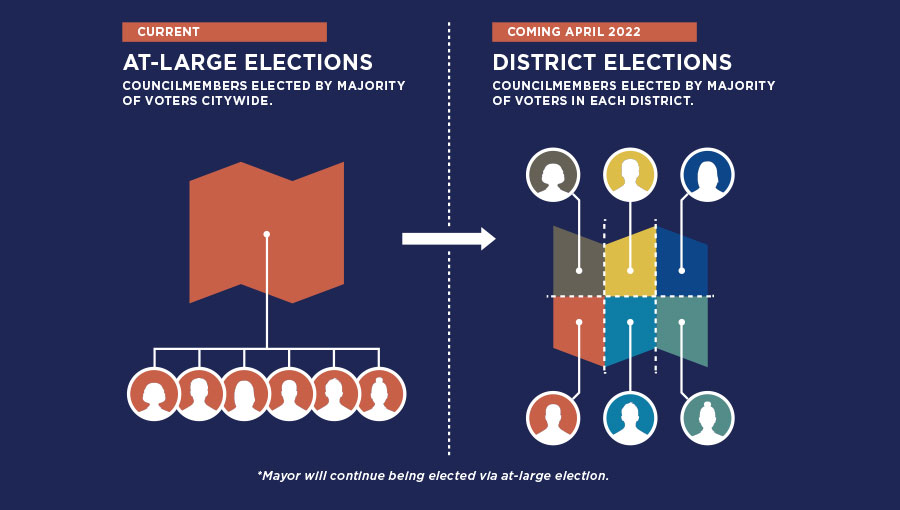 WANT TO LEARN MORE?
Community Input/ Public Testimony

View the public input/testimony provided so far, as well as documents related to the City of Petaluma's transition to district elections. Click here.
Who Determines the Districts?

Everyone! We want everyone in our Petaluma community to help us determine the best way to map out these district-based election boundaries. This means we need you to tell us what make sense when drawing a district. Does your neighborhood have shared concerns? Is there a park, school, major road, or intersection that would define your district? You know your community best!
Community of Interest (COI)

Learn about what a Community of Interest is and how you can provide input by filling out the Community of Interest Form. Click here.
How Will Districts Be Formed?

We will be working with the community to draft maps that meet law requirements regarding districting, while also reflecting our community in ways that support communities of interest. This process requires input from you to better understand our community. There will be three public hearings between January and April to review options, draft maps, and vote on a final district map by April of 2022.