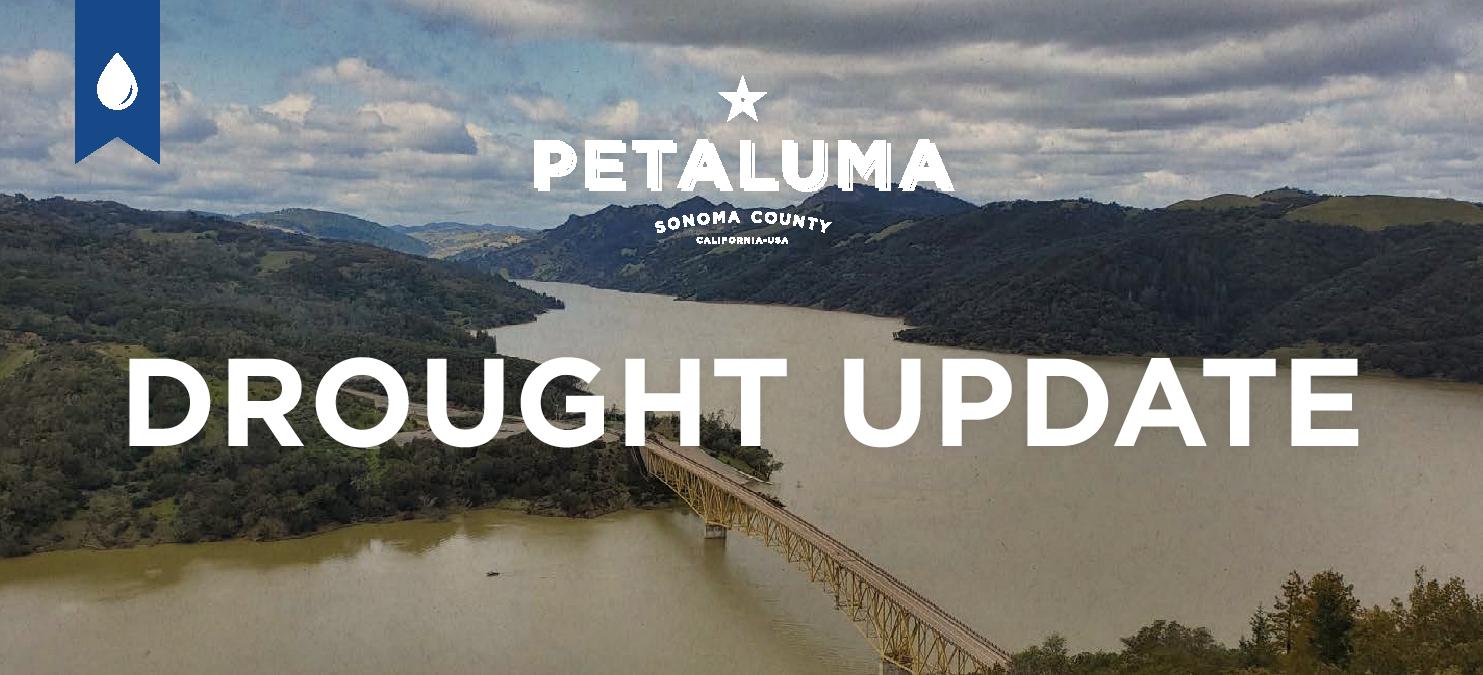 Good news, Petaluma! Water supply in local drinking water reservoirs – Lake Mendocino and Lake Sonoma – have recovered after reaching historically low levels following three years of severe drought. On April 17, 2023, in response to water supply recovery, Petaluma City Council rescinded the Local Drought Emergency Proclamation and the City's Water Shortage Contingency Plan, including many water use restrictions that were previously established in response to the drought.
THANK YOU, PETALUMA!
The City of Petaluma is thankful to our community for working together to save water during this historic drought and for your continued efforts to use water wisely. Between July 2021 through December 2022, Petaluma reduced water use by 26% compared to 2020, saving nearly 1 billion gallons of water (991 million gallons of water saved).
Even with these achievements, recurring droughts due to climate change are a way of life in Petaluma, and so is water conservation. Read more below to learn how the City can help you save water year-round. 
LEARN MORE:
HOW THE CITY CAN HELP YOU LIVE A WATER-WISE LIFESTYLE 
WATER-WISE HOUSECALL: Schedule a free visit from a water conservation expert and get advice on how to save water at home and at work.
HOW TO GUIDES:
FREE WATER SAVING DEVICES & SUPPLIES:
Faucet aerators, hose-end nozzles, shower heads, toilet leak detection tablets, etc.

MULCH MADNESS: The City's free turf conversion program for residents and businesses who want to transform their thirsty lawns to a drought tolerant mulched landscape.
REBATES:
LEARN MORE: cityofpetaluma.org/conserve 
YEAR-ROUND WATER WASTE PROHIBITIONS

While we are not currently experiencing a water shortage emergency, Petaluma will continue to enforce its year-round water waste ordinance (Petaluma Municipal Code Chapter 15.17.070). Additional statewide water regulations are effective through Dec. 2023. 
MORE INFO: cityofpetaluma.org/water-use-restrictions

THE FOLLOWING ARE NOT ALLOWED:

Water waste through leaks or breaks in plumbing

Runoff and overspray from sprinklers, irrigation, and from overwatering

Watering within 48 hours of rainfall

Washing cars, boats, trailers, and vehicles with a hose not equipped with hose-end nozzle 

Washing sidewalks, driveway, hard surfaced areas with a hose not equipped with hose-end nozzle

Using potable water for non-recycling water features

Uncovered pool and spas – covers required while not in use
We encourage residents to report water waste: cityofpetaluma.org/water-waste 
BUILDING WATER RESILIENCY
To enhance our community's water supply resiliency, Petaluma is embarking on a study called the Integrated Water Master Plan (IWMP). This plan will identify opportunities to increase water supplies locally, making us more resilient to water supply shortages due to climate change and other natural disasters such as earthquakes. Workshops will be held in the coming months to gather community input on the options we are considering. To learn more, visit cityofpetaluma.org/iwmp 
SAVE WATER WITH US
Learn more: cityofpetaluma.org/conserve | 707-778-4507