Taking Action to Address the Shelterless Crisis
On September 13, 2021, our City Council declared a Shelter Crisis in Petaluma in recognition of the urgent need for shelter faced by a significant and growing number of people in our community. Declaring a "crisis" empowers us to take necessary steps to address these important issues.
This declaration also allows the City to implement interim housing solutions on City owned or leased land that support the health, safety, and well-being of people currently experiencing homelessness. The design and site development will be at the discretion of the City Manager
To this end, Council has approved funding for the Interim Housing Solutions Project, a program that will provide a safe, temporary shelter for those experiencing homelessness to reside in as they get back on their feet. We are thrilled to begin work on this creative solution to providing support to this section of our community. Please stay tuned for updates on this exciting project.
Team approach to helping our most vulnerable
Like most cities across the Country, some in our community experience homelessness. There are complex reasons that lead to homelessness and the City of Petaluma is committed to helping our most vulnerable and protecting our community.  This effort involves a team of community players including local non-profits Committee on the Shelterless (COTS), Petaluma People Services (PPSC), and Downtown Streets Team (DST), working alongside Petaluma city staff.  Combined, this group offers housing options, counseling, employment, and support services.  The goal of these combined efforts is to identify and address the many issues that lead to homelessness.  We work together, one person at a time, to build trust, find services, and help each individual experiencing homelessness in our community regain health, dignity, and a path into housing.
Services First Model
In some situations, Petaluma law enforcement help is needed to remove illegal and unsafe debris from encampments or to help aid those individuals in crisis that may need immediate medical support.  The philosophy regarding homeless intervention is always "services first / enforcement last." This means that even when law enforcement is called to address an unsafe situation, we make every effort to partner with local services to provide support and assistance to those whose homeless experience, mental illness, substance use disorder and / or food insecurity requires immediate attention and assistance.
Partnerships are key
The variety of services available to our community is made possible through the incredible work and efforts of our non-profit service providers who work tirelessly to serve the underserved in Petaluma, including Rebuilding Together, Redwood Empire Food Bank, PEP Housing, Veterans Resource Centers of America, Boys and Girls Club of Sonoma-Marin, Petaluma Health Center, Salvation Army and many more.
City Investments in Local Partners
To ensure the needed services are available in Petaluma, the City provides funding and other resources to our partners to ensure our most vulnerable receive the aid and care that they need. Prior to the pandemic, The City invested resources to ensure that at least 12 beds at the Mary Isaac Center were always reserved for Petaluma residents experiencing homelessness, dedicated $450,000 (CDBG) for rental assistance for low income Petalumans, and invested $550,000 to continue DST providing our unhoused residents with job training, employment readiness skills, and access to services, as well as a new mobile shower program. Additionally, the City increased our investment in our partnership with COTS in the amount of $300,000 and launched the new SAFE Team program, a mobile crisis intervention unit which received $1 million in seed funding from the community-supported Measure U sales tax. City investments are leveraged with local fundraising and funds from the County, State and Federal governments to run these important and innovative programs.
We will continue our work
We recognize the larger and more complex systemic issues surrounding housing and homelessness that this does not solve, however we remain committed to going above and beyond in our efforts to secure the necessary resources and build partnerships to restore the dignity and rebuild the lives of our unhoused neighbors in Petaluma with as holistic an approach as possible to keep the entire Petaluma community safe and healthy.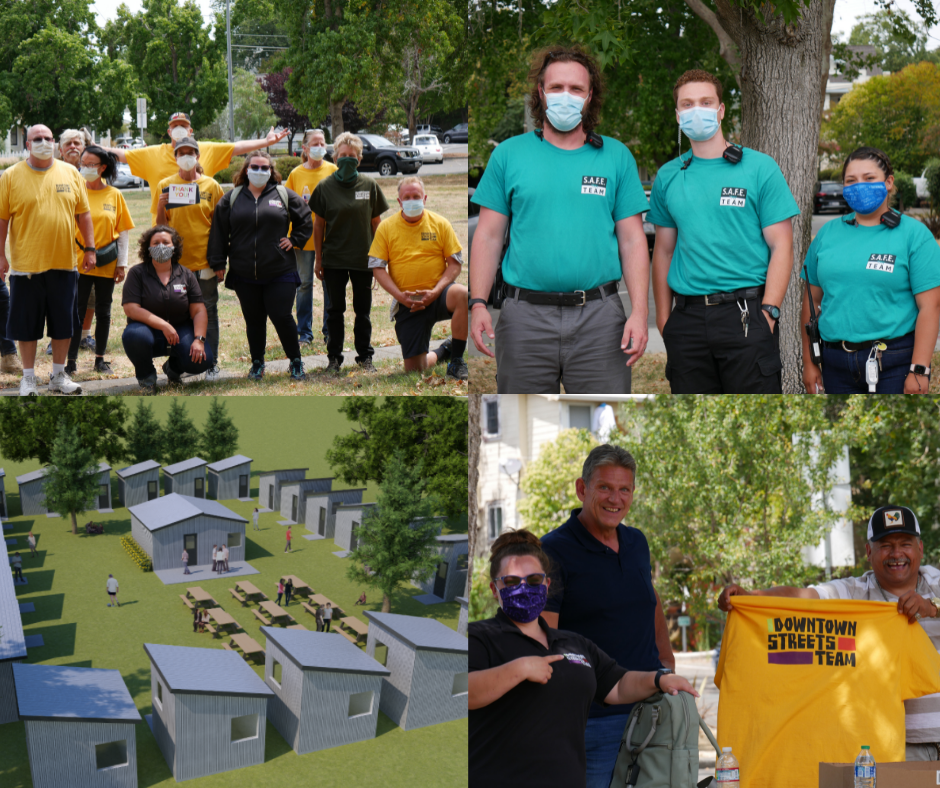 To know even one life has breathed easier because you have lived. This is to have succeeded.
- Ralph Waldo Emerson