How to Apply for a Permit
Permit applications* must be submitted online through our new Permits & Planning Hub.
Click HERE for the Submittal Requirements handout.
Handouts to Help You:
Register for the Online Portal - click HERE
Apply for a Permit – click HERE
Resubmit Revised, Corrected Plans – click HERE Coming Soon
Pay an Invoice – click HERE
Download Approved Plans - click HERE
Print a Permit Card - click HERE
Schedule an Inspection - click HERE
Submit a Deferred Submittal - click HERE
These files are also available on the Permit Hub under "User Guides"
Please note:  Residential AC and heat pump units require a site plan to show that the unit meets building setback rules per planning/zoning.  Please have a site plan for any new Residential AC or new heat pump ready to upload
Building Questions? Email us at [email protected].
Planning/Zoning Questions? Email us at [email protected]
Fire Prevention/Sprinkler Questions? Email us at [email protected]
Encroachment/Sidewalk Questions? Email us at [email protected]
*Permits processed through the Permits & Planning Hub include the following:
Building Permits
Planning Permits (SPAR, CUPs)
Fire Prevention Permits
Encroachment Permits
Public Works Permits
Special Events Permits
What is a permit?
A permit is official approval from the city, allowing you or your contractor to start a construction or installation project on your property.
The permitting process helps the City ensure public safety, keep its infrastructure working, and preserve the character and visual aesthetic of the community.
Permit requirements reflect the goals of the City's General Plan and integrate State building and fire prevention codes, environmental standards, and water/energy conservation requirements.
To get a permit, you will need to fill out an application, pay a fee, and, in most cases, submit architectural/engineering plans for review and approval by City staff.
When do I need a permit?
Many different types of activities trigger the need for a permit and/or inspection. Examples* of activities that would trigger a permit include:
Changing how property is used, e.g., starting a business in your home or changing a retail store into a restaurant;
Installing water heaters, solar panels, electric car chargers, and various types of commercial equipment;
Building a new structure:  e.g., home, second unit, office building, or garage;
Modifying an existing structure -- e.g., home addition/renovation or tenant improvements;
Adding or making certain changes to a property's electrical system or plumbing system;
Installing a fire protection system, including fire sprinklers;
Building a fence or deck;
Opening a water-intensive business (e.g., brewery);
Encroaching on the public right-of-way, e.g., holding an event on city streets, blocking off sidewalks during a construction/landscaping project, adding outdoor dining to your restaurant.
*These are some examples. The best way to find out whether you need a permit is to contact the Building Department or, if for commercial projects or businesses, go to petaluma.opencounter.com.
How long does it take to get a permit?
Some permits can be issued at the time of submission ("over-the-counter"), or within a few days. Most permits, however, take a few weeks or even several months to issue.
How much time you will spend on permits and inspections depends on three factors:
The type of permit or inspection needed;
The complexity of your project;
The number of rounds needed for your project to meet City requirements and standards.
When estimating how long the permitting process will take, be sure to note that most City departments are closed Fridays, weekends, and holidays.
How much does a permit cost?
Petaluma's permit and inspection fees are set up to recover the cost of processing the permit or completing the inspection. Some permits have a flat fee. Others have a fee based on how much the project will cost to complete (also known as the project valuation). To estimate the fee, you will want to consult the City's master fee schedule, and then verify the estimated fee with the department/division issuing the permit.
Get Help Before Submitting Permit
The City offers many resources to help people through the permitting process.
Open Counter: a online permit scoping tool for commercial projects. Go to petaluma.opencounter.com.
Development Review Committee (DRC) - a group made up of City staff from multiple departments, the DRC meets weekly with property owners, business owners, design professionals, and other parties to discuss City requirements for specific projects. E-mail the Planning Division to ask if the DRC is right for your project.
Staff Consultations - City staff can help you identify requirements before you start your project and check standards before you formally submit your permit application. You may or may not be charged a fee for these services depending on what you need.
How to Get Permits Faster
The permit process will go faster if your permit application is complete; and if the plans clearly show that the project meets all city, state, and federal requirements. City staff will not issue a permit until they are satisfied that the project meets all safety and planning requirements. Time spent on the front-end understanding those requirements often helps applicants avoid multiple rounds of plan review--which translates into a faster, smoother permitting process.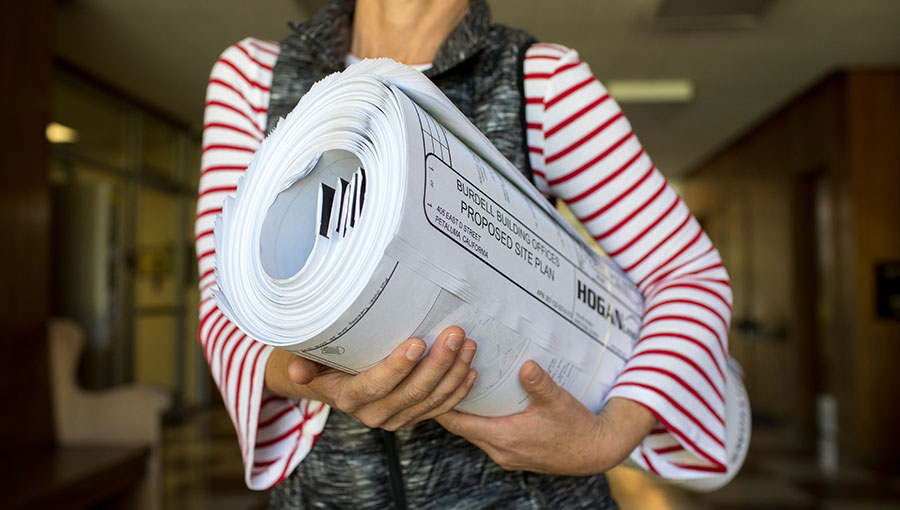 Permits are an important part of how the City keeps buildings and spaces safe.  Permits allow us to make sure construction meets codes, and are made to protect human life during a fire or earthquake.
by Ingrid Alverde