What is a Residential Permit?
A residential permit is approval from the City to start a construction project on a residence, e.g., a single-family home.
When do I need one?
Common reasons you'll need a residential permit include:
Construction or renovation project (may need multiple permits)
Dry rot repair
Re-roof project
Fence
Deck if more than 30 inches above-grade
Hot-tub if electrical work is needed
Water heater installation
Furnace and A/C repair/replacements
Electric service panel upgrades
Install sprinkler system
For an expanded list of residential projects that require a permit, please see our handout.
Who Gets the Permit?
Typically the contractor/specialist doing the work will submit permit applications and payment. Before signing an agreement with a contractor/specialist or project manager, make sure to confirm that permit requirements will be met and whether permit fees and processing time are included in the estimate.
If you are an owner/builder, you are responsible for getting permits unless you are working with a specialist (to install a water heater, for example).
How long does it take to get a permit?
Some permits can be issued at the time of submission ("over-the-counter"), or within a few days. Most permits, however, take a few weeks or even several months to issue.
How much time you will spend on permits and inspections depends on three factors:
The type of permit or inspection needed;
The complexity of your project;
The number of rounds needed for your project to meet City requirements and standards.
When estimating how long the permitting process will take, be sure to note that most City departments are closed Fridays, weekends, and holidays.
How much does a permit cost?
Petaluma's permit and inspection fees are set up to recover the cost of processing the permit or completing the inspection. Some permits have a flat fee. Others have a fee based on how much the project will cost to complete (also known as the project valuation). To estimate the fee, you will want to consult the City's master fee schedule, and then verify the estimated fee with the department/division issuing the permit.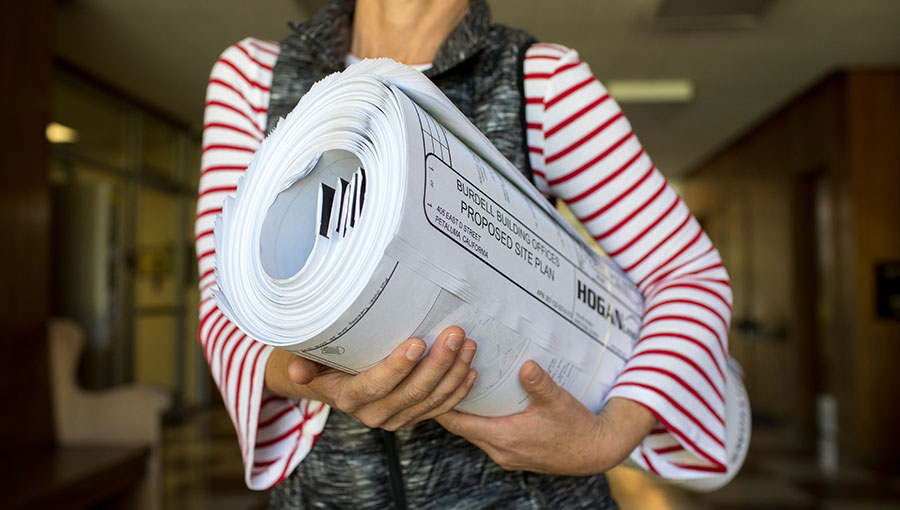 Permits are an important part of how the City keeps buildings and spaces safe.  Permits allow us to make sure construction meets codes, and are made to protect human life during a fire or earthquake.
by Ingrid Alverde