Need Police Department help but not sure where to go? Below we offer different scenarios and the appropriate contact information.
EMERGENCY - 911
Call 911 in situations when the call involves an in-progress emergency and time is of the essence. For example, there is a vehicle collision and no one is moving or there are signs of extreme injury; someone is breaking into a home; there is a fight and weapons are being used; kidnapping or child abduction kidnapping in progress. 
Suspected DUI drivers pose a significant risk to the public and should be reported using 911.
In addition to 911, emergency calls can also be made to (707) 762-2727 from your cell phone.
911 is not for lost or missing animals, speeding vehicles, noise complaints, or to report a theft or other crime that is no longer in progress.
For non-emergency situations, please the non-emergency line (707) 778-4373.
If you are trying to return to a call to a member of the Police Department you can call (707) 778-4372 for an automated phone tree and directory.
IN PROGRESS CRIMES OR TRAFFIC HAZARDS -

(

707

) 

778-4372
"In Progress" situations include incidents that are actively occurring and need immediate attention but do not warrant an emergency response.  Examples include but are not limited to someone actively breaking into a vehicle, a physical fight not involving weapons, cars engaged in a street race, or a vehicle blocking the roadway, etc.  Non-emergency in progress events can be reported to  the Police Department Communications Center by calling (707) 778-4372. 
When calling to report an in-progress event, it is helpful to identify what, where, and who is involved. Physical descriptions of involved persons from head to toe, including clothing and vehicles including make, model, license plate, color, direction of travel, and other distinguishing characteristics.
FILE A POLICE REPORT -

(707)

 

778-4373
Some incidents are best reported using our online CopLogic tool. You'll want to use CopLogic for incidents that involve stolen property (with some exceptions), identity theft or fraud, vandalism, or harassing phone calls AND where there are no known suspects. The tool lists which types of incidents can be reported online. 
Other incidents may be reported in person at the Police Station, (969 Petaluma Blvd North) or by phone (707) 778-4373. Examples of when to file a report in person include stolen vehicles or firearms; harassment or fraud where there is a known suspect; and property stolen from your person. Depending on pending calls for service and available officers, there may be delays in service delivery and response. You can always call and inquire about call activity and staffing levels and we can help coordinate the best time and way to make your report. To respect your time, we can also assign an officer to respond to your home or business to take the report.   
ANONYMOUS REPORTING/TIPS -

(707

)

781-1200
If you have information about a crime that has been committed, you can use our anonymous reporting tool to submit it. The tool will ask you questions and will allow you to upload images. 
OTHER WAYS TO SUBMIT A CRIME TIP ARE BY PHONE (707) 781-1200 OR BY E-MAIL TO [email protected]. 
For more information on reporting crime tips click here. 
GET A REPORT THAT HAS BEEN FILED
You will need to submit a request form to obtain a police report that has been filed. There are restrictions on who is entitled to a police report. For more information on how to obtain a police report click here.
GET A TRAFFIC REPORT ONLINE
Go to our online traffic report request center.
How to Contest a Parking Citation
The first request must be made within 21 calendar days of receiving the citation or within 14 calendar days of receiving the delinquent notice. The request must be made for an Initial Review before a request for an Administrative Hearing.  The request for the Administrative Hearing must be made within 21 days of the results from the Initial Review. No money is required to request an Initial Review, but all fees due from the Citation must be paid before an Administrative Hearing date is provided.  Click Here to contest a parking citation.
ABANDONED VEHICLES -

(

707

)

776-3710
Please report abandoned vehicles or vehicles parked over 72 hours to (707) 776-3710. 
GRAFFITI -

(

707

)

776-3606
Graffiti can be reported to the Graffiti Hot Line at (707) 776-3606. 
COMMENDATIONS OR COMPLAINTS ABOUT POLICE -

(707) 778-4370
Our dedicated and professional staff are committed to providing the best policing services to our community. As we strive to always be better than we have been, our Department is committed to a feedback and complaint process. All Police Departments of the State of California are required by law to have a process by which community members may make a complaint against police personnel. To submit a complaint against a member of our Department, please complete the form linked below. The complaint can be made in person at the Police Department (969 Petaluma Blvd North) , by email, or by telephone (707) 778-4373.
We appreciate the opportunity to recognize the effort of our staff and acknowledge their great work. To recognize an employee please send an email to [email protected]; call the Office of the Chief of Police at (707) 778-4370; or use the Police Personnel Commendation/Complaint at the links below.
English Police Personnel Commendation/Complaint Form
HALAGOS Y PROCEDIMIENTO de QUEJA POR PERSONAS DE LA COMUNIDAD OFICINA DEL JEFE DE POLICIA 
ANIMAL-RELATED CONCERNS -

(707) 762-6227
Call North Bay Animal Services at (707) 762-6227. If their office is closed, a message on their answering machine will direct you to next steps.
SAFE RETURN - ALZHEIMER'S REGISTRY PROGRAM
If you have a loved one who can benefit from this service, please submit a Safe Return form to be added to the registry.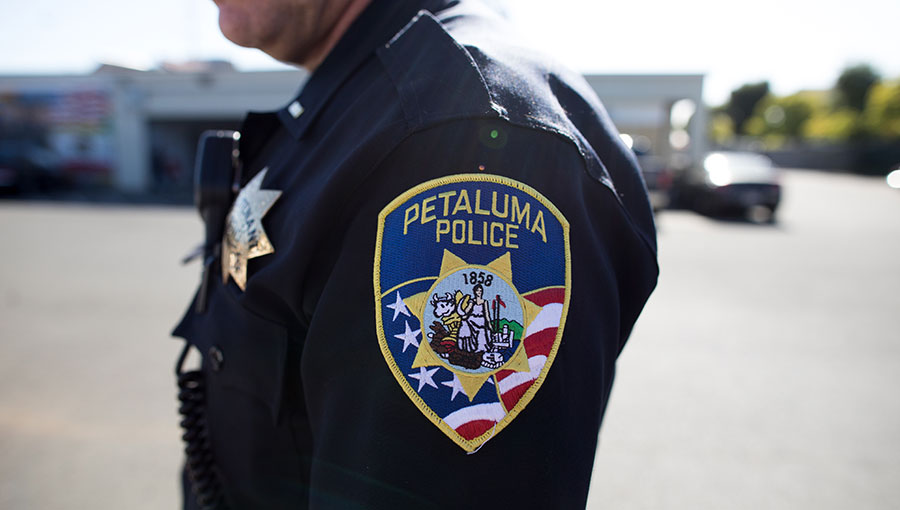 Our goal is to provide our team and our community the support they need.