Diversity, Equity, and Inclusion Summary Report
In response to the inquiries made by Tracy Webb and TEWA following the meeting on Thursday, November 12, 2020, regarding  Diversity, Equity and Inclusion efforts made by the Petaluma Police Department, Deputy Chief Brian Miller and Community Engagement Liaison Jennifer Pritchard researched not only our internal efforts to address DEI, but also conducted an exhaustive search externally with our community engagement efforts related to the same.
As an law enforcement agency we are committed to organizational excellence through continued training and community engagement. Below is a link to a report that outlines the internal training officers have received all the way from the police academy to present day related to DEI. In addition to the internal report, we have provided an external summary with links to events and activities that highlight our dedication to building trust with all communities in Petaluma.
OUR COMMITMENT
To succeed as a prosperous, healthy, and equitable community, it is essential that we embrace and model diversity, equity, and inclusion in our policies, programs, and services. During this crucial period in history, systemic issues of injustice are being brought to light and there is a loud, clear call for action from those we serve. We are listening and we welcome the opportunity to do better.
Our Police Department is committed to the steps outlined in the Obama Foundation's My Brother's Keeper pledge, which include the following:
Review our police use of force policies.
Engage our communities by including a diverse range of input, experiences, and stories in our review.
Report the findings of our review to the community and seek feedback.
Reform our community's police use of force policies.
HAVING UNCOMFORTABLE CONVERSATIONS
Our Police Department took part in an episode of Emmanuel Acho's Uncomfortable Conversations with a Black Man in an effort to create change through open, honest communication. Click below to watch the interview.
PETALUMA FAMILIES PHOTOGRAPHY EXHIBIT & SCAVENGER HUNT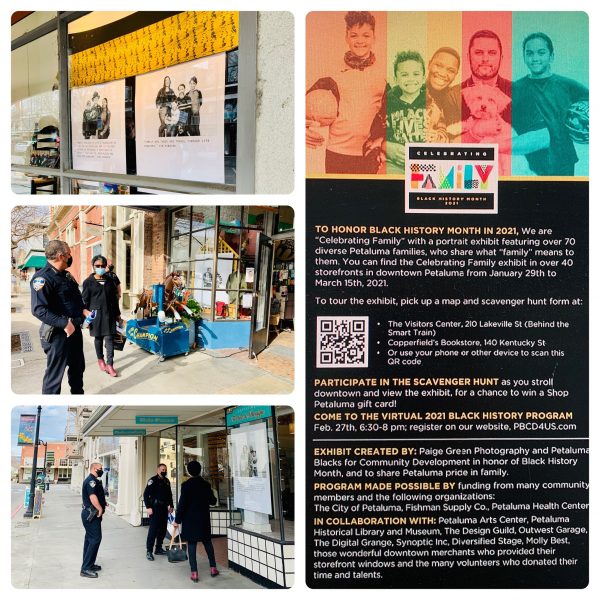 Chief of Police Ken Savano, Deputy Chief Brian Miller, and Community Engagement Liaison Jennifer Pritchard met with Faith Ross of Petaluma Blacks for Community Development to tour the downtown "Families" photography exhibit. Honoring our local families, both in the past and in the present, this exquisite portrait exhibit includes over 70 images placed in 40 Petaluma storefronts. As an additional educational piece, families can participate in a scavenger hunt that yields gift cards to the winners. Scavenger maps and instructions can be picked up at Copperfield's (Petaluma location) or the Visitor's Center. To learn more about the organizations involved in creating this important outreach, please visit the links below.
Petaluma Blacks for Community Development
Petaluma Families Photography Exhibit & Scavenger Hunt Details
HOW WE SERVE – PETALUMA POLICING TODAY
Learn some of the ways our Police Department serves our community and works to improve their practices. Click the image to learn more.