Police K9
The Department has two full-time K-9 teams. The teams help find and apprehend suspects and find missing persons. They can also detect narcotics and help find lost property. We have two teams: Officer Corie Joerger and her dog Basko; and Officer Jake Gutierrez and his dog Jax.
Crisis Response Unit
Petaluma Police Department's Crisis Response Unit includes its SWAT team and its Hostage Negotiation team.
The SWAT team is a police unit trained to respond to high-risk situations. The team can use special weapons to defuse dangerous situations with peaceful outcomes. Regular training assures that the team is ready for any situation.
The Hostage Negotiation team responds to situations where special communications or negotiations are necessary. Some of these situations involve domestic violence or mental illness. The team learns to negotiate and communicate with people in crisis.
Investigations
The Investigations team helps solve the most serious crimes committed in Petaluma. These investigations are often lengthy, demanding, and need experience and significant specialized training. Some such situations include homicides, sexual assault, and child abuse, among others. Our detectives also track sex, arson and drug offenders living in Petaluma. Our Investigations team is busy, handling over 250 cases a year.
Traffic
The Traffic team reduces property damage, injuries and deaths caused by traffic collisions. They do this by enforcing safety laws, educating the community, and working with City engineers to make streets safer.  They also oversee checkpoints that reduce accidents caused by impaired driving.
Gang Intervention
The Gang Enforcement team combats gang activity in the Petaluma area. They do this by partnering with outside agencies and conducting enforcement activities. Staff on this team attend trainings and meet on a regular basis with representatives from other law enforcement agencies.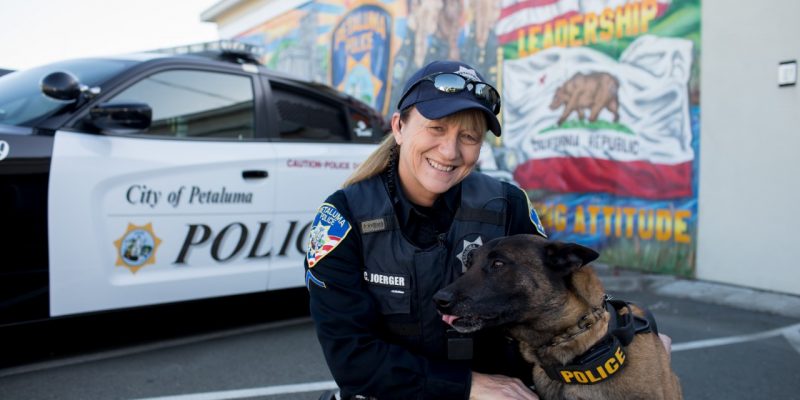 We are trained for any and every situation.
by Lt. Brian Miller