CITY OFFICES CLOSED - VIRTUAL SERVICES AVAILABLE
To limit the spread of the coronavirus, the City of Petaluma is providing services virtually. During this time, the police department's lobby is closed except in emergency situations such as victims of domestic violence seeking safety. Please report non-emergency crimes at 707-778-4372 or use our online crime reporting tools available below.
HOW WE SERVE
A comprehensive look at your Petaluma Police Department:
How We Serve - Petaluma Policing Today
PETALUMA POLICING TOWN HALL
We held a Town Hall meeting to discuss Petaluma Policing policies on Tuesday, June 16, 2020.  We collected questions before and during the meeting.  Click Here to learn more.
In response to questions and concerns from our community regarding police practices, our Department created the We Did Not Wait Flyer
We Protect and Serve
The Petaluma Police Department has been providing professional law enforcement services to our community since 1858.  Comprised of 101 sworn and non-sworn employees we work daily to protect our community, reduce crime, increase traffic safety, and improve the quality of life for all of our community members through proactive community policing efforts.  Leading our department is our Chief and Deputy Chief who oversee our leadership team of 4 Lieutenants and 9 Sergeants who supervise our employees in our patrol, special services, and support services divisions.  Our 65 highly trained officers work throughout the community in variety of assignments such as Patrol Officers, field training officers (FTO), traffic officers, K-9 officers, Detectives, Crisis Response Unit, Gang Enforcement, Computer Crimes, and School Resource Officers.
We work together and, in the community, following 6 guiding principles:
Professionalism, Teamwork, Excellence, Leadership, Community & Winning Attitude.
HOW TO CALL FOR HELP
EMERGENCY: 911
EMERGENCY calls from cell phones: 707.762.2727 

"The men and women of the Petaluma Police Department are committed to doing our very best to keep our community safe. We are proud of our 160-year history of working with our community to provide professional police services, resulting in a city where people feel safe to live, work and play." - Chief Ken Savano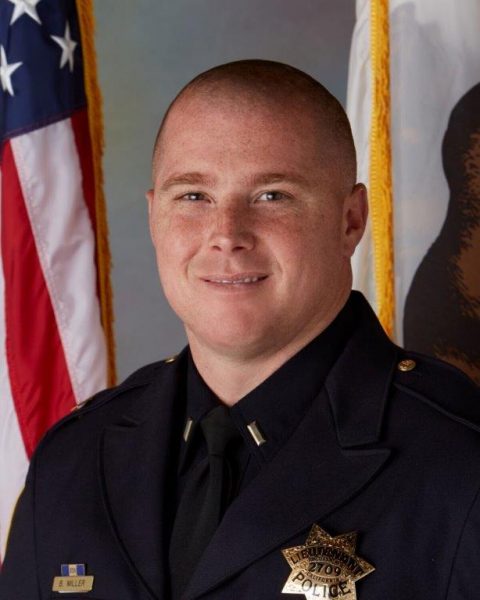 "I'm very lucky to have a fulfilling job that is different every day. I have a lot of responsibility in my job, but with that responsibility, I am able to help people, and have a relationship with those in my community." - Deputy Chief Brian Miller