Floods can happen anywhere and wreak havoc in a short time - just one inch of floodwater can cause up to $25,000 in damage. Through the years, Petaluma has seen our fair share of flooding. We are continually working to keep our community safe by minimizing flood risk and damage throughout the community.
Flood management is a worldwide topic that is addressed in a variety of ways. Please take a moment to review the information below to understand current flood management systems and how Petaluma fits in.
What is a Flood Map?
Floods are unpredictable to some extent. Because flood risk is always changing, tools, like flood maps, are used to determine which areas have the highest risk of flooding. These maps help communities understand their risk and take actions to protect their families, homes, and businesses.
A "floodway" is an area where flooding is expected to occur on a regular basis. A "floodplain" is any land area susceptible to being inundated by floodwaters from any source.
CLICK HERE to learn more. CLICK HERE to view the FEMA Flood Insurance Rate Map for Petaluma.
WHAT HAS THE CITY DONE TO REDUCE FLOODING?
Over the years, our City has invested significant time and resources into creating a more flood-safe environment for our community. In addition to creating strategic maps, we have completed projects designed to contain, channelize, and manage the flow of water through our rivers and creeks. Some of the most recent projects include:
Payran Reach

- Designed to protect homes and businesses from flooding, which included widening of the River and constructing flood walls and a public path along the River to increase the carrying capacity of the river channel and to improve public access to the River environment and better link existing neighborhoods.

Denman Reach

- Designed to decrease flooding along Industrial Avenue. This project included the purchase of 5 parcels along the river, then widening and deepening the water's floodplain to allow it to spread in open space rather than homes and businesses in the event of a flood.

Capri Creek

 - Designed to reduce out-of-bank flooding during larger storms east of North McDowell Boulevard to Maria Drive.
WHAT STEPS IS PETALUMA TAKING TO PLAN FOR FLOODING?
In order to plan for flooding, Petaluma, following the standards set by FEMA, is:
Creating Updated Floodplain Maps - Updating our floodplain maps using upgraded modeling technology which will help us better understand flood risks in Petaluma. Once updated, we will use the model to help inform Land Use as it is outlined in our General Plan.
Developing Sea Level Rise Scenario - Creating a Sea Level Rise scenario which will allow us to understand the potential impacts to our Community given certain assumptions on sea level rise particularly in the areas of Petaluma affected by incoming tide levels.
WHAT KIND OF TECHNOLOGY ARE WE USING FOR FLOODPLAIN MAPPING?
We are thrilled to be updating our floodplain maps using the U.S. Army Corps of Engineers (USACE) Hydrologic Engineering Center's River Analysis System (HEC-RAS) computer program. HEC-RAS uses 2-dimensional topography technology that takes into account both the Floodway and the land that surrounds it, modeling how and where waters are likely to move once the floodline is reached. This method is considered to be much more accurate than previous technologies.
ADDITIONAL INFORMATION
Please click the boxes below to learn about flooding, insurance, and more.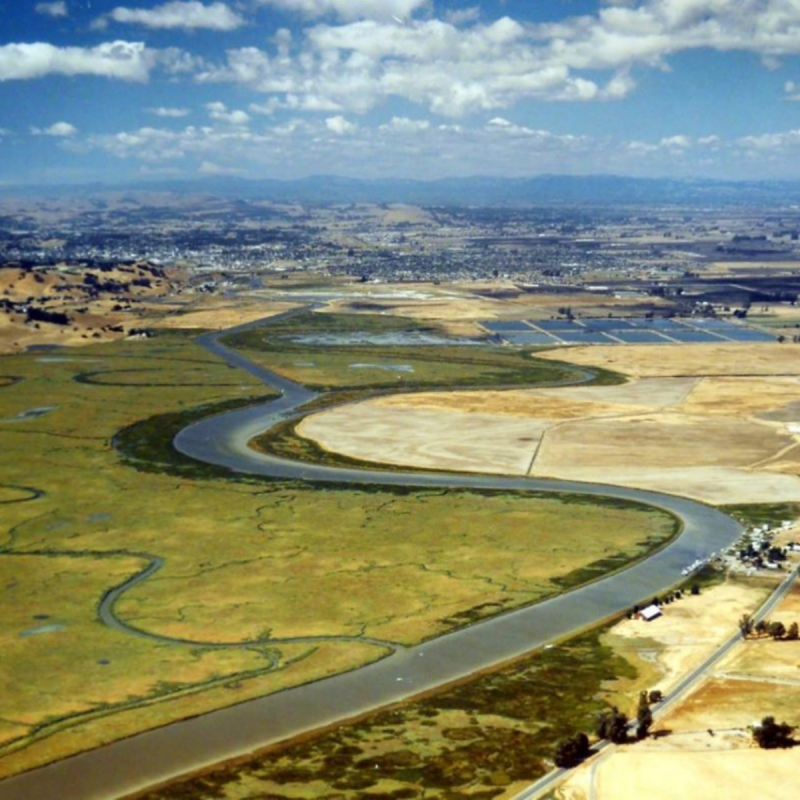 Photo credit: Petaluma Wetlands Alliance