Project Description
The City of Petaluma has received concerns from the community regarding access along Wallenberg Way due to narrow traffic conditions. Our teams investigated and have determined safety upgrades are required.
The current width of the road (curb to curb) is 30 feet. According to City safety codes, 36' of roadway is required to accommodate parking on both sides of a road (8 feet of parking, 10 feet of travel lane in each direction, 8 of feet parking) and 20 feet of clear space is required in order to maintain proper fire access.. Due to this, the Wallenberg Way cannot accommodate parking on both sides of the road.
We will be painting curbs red along portions of Wallenberg Way which will result in removal of parking on one side of the road. This work is being done in order to provide enough space to safely accommodate two-way traffic and emergency vehicle access.
Project Location
Wallenberg Way
Traffic, Parking, and Field Use Impacts
Parking spaces will be removed from one side of the road via application of red curb paint in order to maintain proper access for emergency services.
Project Status
Under Construction
Funding
This project is funded by the City of Petaluma Operations Budget.
BID Details
N/A - The project is being completed by City staff.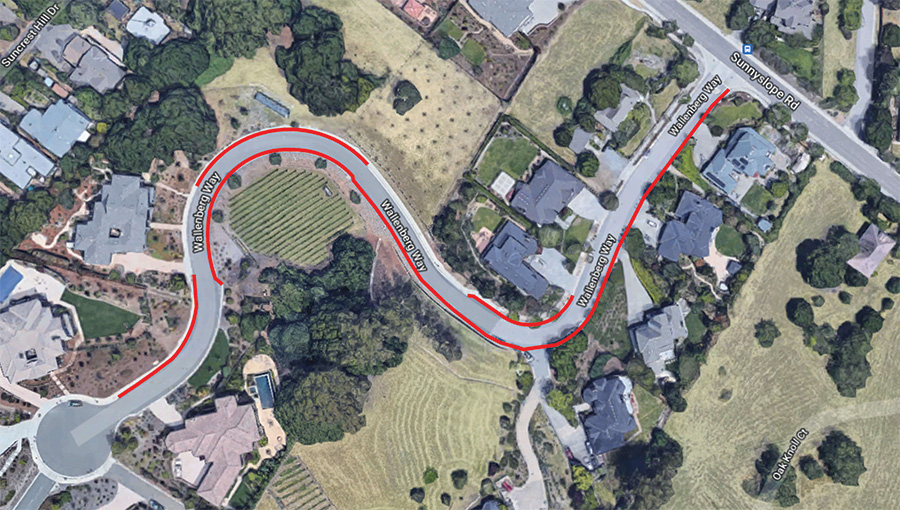 The solid red line indicates the proposed No Parking areas in order to address minimum travel lane widths.
Community Feedback
Please sign up below to receive project updates and comment to let us know what you think. Community feedback will be reviewed and considered by City staff. This feedback form will close March 2, 2023.