Project Description
The Oak Hill Well, as part of the the Well Construction Program, will expand the City's groundwater well network, creating a new reserve water source for use in emergencies and times of severe drought when other sources are diminished or not available. Ultimately, the goal of the Well Construction Program is to help our City utilities infrastructure (and the community with it) become more flexible and more durable to withstand water supply and climate stresses.
Currently, most of Petaluma's groundwater wells are located on the City's east side. The Oak Hill Well site was selected as a priority due to its proximity to the water distribution system and location within a high-yield groundwater aquifer.
Please review the list of frequently asked questions located at the bottom of this webpage to learn more.
Project Update
We are pleased to announce Well Industries Inc. has been selected to create the well for us. They have experience in drilling groundwater wells throughout California and we look forward to them helping us to make this important project a reality.
We expect construction of the well to begin after the holiday season. We will notify the community of next steps when a schedule has been confirmed.
What's next?
The City will offer more opportunities to learn about the project and give input. Stay tuned to this webpage and sign up to receive updates to hear about upcoming events.
Community Input
Thank you to everyone who has expressed interest in the Oak Hill Well project. Please sign up using the form below to receive project updates on information about upcoming community input opportunities.
If you have additional questions, feedback, or concerns, please call or email project manager, Dan Herrera: [email protected], 707-778-4589.
On-Site Walking Tour - November 2023
We hosted an on-site walking tour to discuss the project November 2, 2023. Thank you to all who joined us!
3rd Community Meeting - October 2023
We held our 3rd community meeting on Zoom October 30, 2023 to review the project and construction schedule. Thanks to everyone who took the time to attend. We appreciate the thoughtful questions and input received.
Missed the meeting? No problem! Click HERE to view a recording.
2nd Community Meeting - June 2023
On June 1, 2023 we held our second community meeting (this time virtually via Zoom) to review the project construction schedule, discuss visual elements of the well, explore next steps for the Oak Hill area, and address questions/concerns. Thank you to the 14 community members who joined us.
CLICK HERE to view the PowerPoint presentation.
CLICK HERE to view a recording of the meeting.
1st Community Meeting - August 2022
Thank you to everyone who attended the community meeting on August 11, 2022 to learn more about the proposed Oak Hill Well project. To view the presentation posters referenced during the meeting, CLICK HERE. The frequently asked questions answered at the bottom of this webpage have been updated based on the the meeting's discussion.
Project Location
35 Park Avenue, Petaluma
Traffic Impacts & Benefits
Access to walkways around the Oak Hill reservoir may be impacted or restricted during construction. Walkways will reopen after construction is complete.
Timeline/Project Status
City Council unanimously approved the Oak Hill Well project at the September 12, 2022 meeting.
The California Environmental Quality Act (CEQA) compliance and design has been completed. A mitigated negative declaration/Initial Study was approved by City Council at the September 12, 2022 meeting. It can be viewed here: Oak Hill Municipal Well Project Initial Study / Mitigated Negative Declaration (IS/MND).
The project was paused briefly as the County of Sonoma, in an effort to conserve water during extreme drought, instituted a moratorium on the creation of new wells. This moratorium is expected to expire in May 2023, at which time City staff will begin the bidding process for the well construction project.
We are currently reviewing proposals from contractors and working to ensure those we are considering meet all our requirements. Construction of the well is expected to begin in late fall of 2023 and anticipated to be completed by spring of 2024.
Community outreach will continue throughout the design and construction phases to update and inform the neighborhood. Please sign up using the form on this webpage to receive project updates and information about upcoming community input opportunities.
Funding
Water Enterprise Funds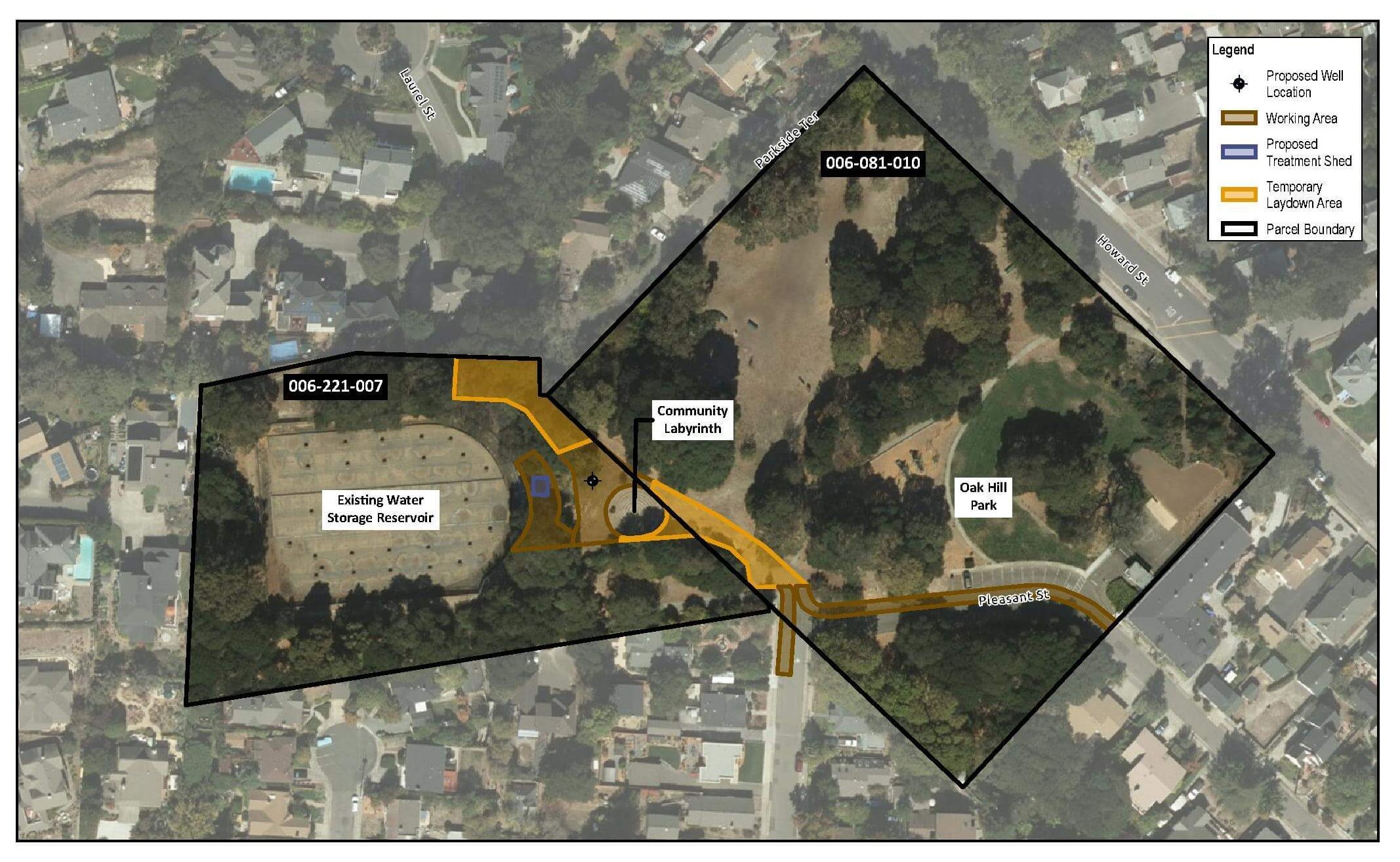 Sign Up to Receive Project Updates
Oak Hill Tank Replacement Project
Oak Hill Tank is an important part of the Petaluma's water distribution and pressure system, including fire protection, for the downtown area. The tank was decommissioned in 2015 due to required maintenance and upgrades. We look forward to working with our community to create a new tank that better serves the needs of Petaluma.
Learn more and sign up to receive updates on the Oak Hill Tank Replacement project webpage: cityofpetaluma.org/oakhilltank