Project Description
We are excited to share a new addition to the intersection of Bassett & Upham Streets: a temporary mini traffic circle demonstration. This mini traffic circle demonstration project is designed to help slow traffic and increase safety for all road users. We are installing the circle temporarily and, over the next 6 months, will gather feedback from the community to determine how the circle is working for the neighborhood.
The City is committed to creating safer streets, and doing so in a way that best suits the needs of the community. Studies show that traffic circles are a great way to slow down traffic and improve safety.  The temporary mini traffic circle demonstration at Bassett & Upham will be a small "quick build" project, meaning it can be installed and removed quickly and with minimal costs.
CLICK HERE for a great video from Pittsburg, PA demonstrating how mini traffic circles function.
This temporary demonstration approach will give the community a chance to see if a traffic circle is a good fit for the neighborhood. If it is, the City will move forward with a permanent (or "hard") installation, which might include not only the traffic circle but also landscaping and/or painted features to help beautify the public right of way.
Demonstration projects such as this one give the community a chance to experience a proposed change, then provide feedback. The City can then use this feedback to help determine if it makes sense to move forward with a more permanent solution.
Why Bassett & Upham?
This location was selected due to concerns from local residents regarding traffic speed and the proximity of the location to Petaluma High School, City Hall Park, and St. Vincent's Church Plaza. Over a week-long observation period of this 25mph zone, City teams surveyed 3000 cars, of which 300 traveled at speeds warranting tickets, with top speeds clocked at up to 63mph. This, coupled with complaints received by City regarding high speeds, and identification of Bassett as a recommended walking route by the Safe Routes to Schools Engineering Evaluation, inspired the City to try out the mini traffic circle demonstration at this location.
The City's Police and Fire Department have reviewed the project's design and will be monitoring its performance.
Please try it out and let us know what you think! We look forward to working together with you to make our roads safe for all who travel them.
Feedback
Please fill out the form below to share your thoughts about and experience of the temporary traffic circle at Bassett and Upham. After 6 months, we will review your feedback and determine if this solution will work for the long-term.
Traffic Impact
There will be minor delays during construction.
Address
Intersection of Bassett and Upham
Project Status/Timeline
The temporary mini traffic circle demonstration was installed the week of April 11, 2022. Over the next 6 months, we will gather feedback from the community to determine how the circle is working for the neighborhood.
Funding
This project is funded by Traffic Impact Fees and Street Maintenance.
Bid Details
The temporary installation will be performed by City crew.
Bassett & Upham Feedback Form
Please fill out the form at the bottom of this page to share your feedback with City staff.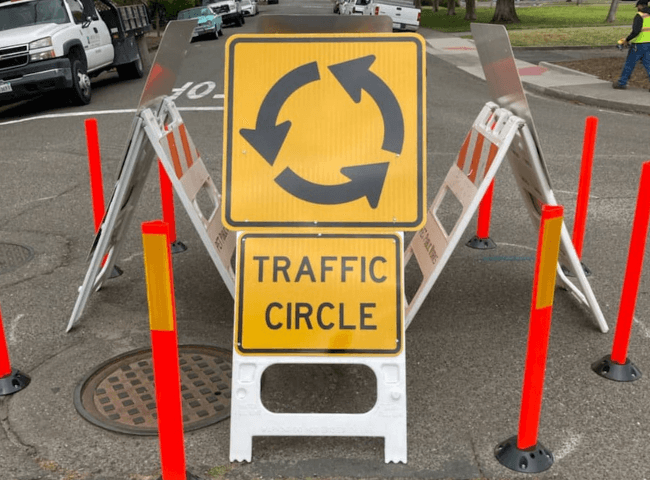 What is a Roundabout or Traffic Circle?
Roundabouts and Traffic Circles -- a type of circular intersection where road traffic flows in one direction around a central island – are much safer and more efficient than conventional intersections. They promote a continuous flow of traffic and decrease congestion on approaching roads. Modern roundabouts are also designed to be safer for cyclists and pedestrians than conventional intersections because road traffic tends to move at a slower speed (15 to 20 miles per hour) than at intersections with traffic lights or stop signs. Traffic circles are used on lower volume neighborhood streets to calm traffic.
Where are the Four Roundabouts in Petaluma?
There are four roundabouts in Petaluma at South McDowell Blvd., Corona Road, Magnolia Ave. and Ely Road. There is also a temporary mini traffic circle demonstration projects at Bassett and Upham Streets. (Demonstration projects are designed to give the community a chance to experience a proposed change and provide feedback to help us determine if a project is a good fit for a neighborhood.)
What are the Benefits of Roundabouts and Traffic Circles?
Using roundabouts and traffic circles are beneficial because they:
Help to calm traffic
Result in reduced speeds
Eliminate left turns which increase safety because crashes, if they occur, will be at an askew angle not in a "T bone" fashion
Require less maintenance
Have lower yearly operational costs
Reduce greenhouse gas emissions by reducing vehicle idling time
Reduce ambient noise associated with a stop condition
Tips for Using a Roundabout or Traffic Circle
Wondering how to safely navigate a traffic circle? Here are some essential tips to remember:
Vehicle Drivers
These rules also apply to motorcycle riders and to bicyclists who choose to ride around the roundabout.
Slow down as you approach the roundabout. Always watch for pedestrians in the crosswalks.
Yield to traffic in the roundabout. When entering the intersection, always yield to vehicles and cyclists already within the circle. Traffic on the left always has the right of way. Note that drivers may not signal correctly, or at all.
Circulate counter-clockwise around the circle. Never turn left into the roundabout.
Use your turn signal when you exit. While still in the roundabout, use your turn signal to indicate your exit. This notifies drivers waiting to enter the roundabout when they can safely proceed.
Cyclists and Pedestrians
Bicyclists have the same rights as vehicles in a roundabout and must abide by the same rules of the road. Cyclists can either ride through a roundabout with traffic or walk their bicycles through the pedestrian crosswalks.
Pedestrians should use the designated crosswalks to navigate around the circle. Before entering the crosswalks, they should look for approaching vehicle traffic.
Pedestrians and cyclists must never go to the center island in a roundabout. This is extremely dangerous.
For more information about roundabouts, including research, safety and educational materials, go to: https://safety.fhwa.dot.gov/intersection/innovative/roundabouts/